Washington Reacts to Bolton's Replacement of McMaster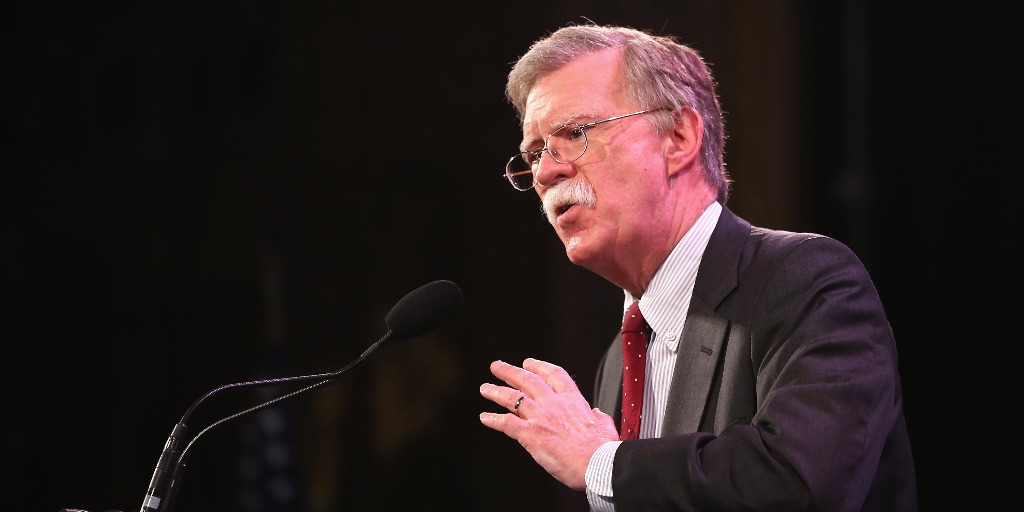 Washington is reacting to the news that Lt. Gen. H.R. McMaster will be replaced by John Bolton – news delivered by a tweet from President Donald Trump – the same way he announced the departure of Secretary of State Rex Tillerson. Cipher Brief experts weighed in on what this would mean for Iran, North Korea and national security in general. Their conversations are adapted for print below.
Ambassador Joseph DeTrani, former U.S. Special Envoy for Negotiations with North Korea
I worked with John Bolton at the State Department when I was the envoy. I have a high regard for him and get along with him very well. Bolton is a hard-charging guy, and for him U.S. interests are number one writ large, which they should be. I thought he did a good job at State and was a strong proponent of U.S. and allied interests at the United Nations.
I think Trump's appointment of Mike Pompeo to State and now John Bolton as national security advisor sends a clear message to Iran and certainly to North Korea that we have two senior advisors to the president who are not happy with the way things have been going for the past few years, especially with North Korea's nuclear weapons and ballistic missile program. In these two senior positions, you're going to find two very proactive advisors who believe we can't be patient with these sorts of developments—we have to be more proactive in addressing and resolving them to the interests of the United States and our allies.
Many of the voices commenting on Bolton's appointment see him as a warmonger. Do you?
Well, for one he is very outspoken. I don't think he keeps anything too close to the chest—if he believes it, he's out there saying it. So, I think his candor is somewhat striking for diplomats and others who want to be a little more circumspect in their approach to the issues. John Bolton isn't. He's very straight, very linear from Point A to Point B, and I think that's offsetting or disturbing for some people.
To me, I'd rather deal with someone who is putting their views on the table so you know where you are, and I always found that in John Bolton. When I worked with him, we were all pushing toward common goals.
Bolton's approach can be perhaps a little different, and he wants to get there faster and didn't have much patience for nice talk and diplomacy if it was going to take away from the speed with which we could accomplish the goal. I can see how that's off-putting for people, but it really didn't bother me. I prefer working with people who are that straight.
Mary Beth Long, former Assistant Secretary of Defense for International Security Affairs and former CIA officer
John Bolton is certainly neither an outsider to Washington or to foreign policy, and is well known for his conservative views, having honed his skills at State Department. John has experience in international organizations and arms control, and his last post, as U.S Ambassador to the United Nations in New York, provided him first-hand experience negotiating with the Russians and Chinese. He generally is considered a hawk. On North Korea, he seems particularly realistic about the limitations on our ability to dissuade Kim Jung Un from advancing his nuclear and missile programs.
Will he scrap the Iran deal?
He's certainly been one of its most vocal critics. Unless there is an ability to address its critical flaws through text changes, mutually agreed reinterpretations, or supplemental language with teeth, I cannot see him advocating that we keep the current arrangement. At bottom for John, the current deal does NOT make America safer and Iran's behavior in the region has only gotten dramatically worse. He is clear that the last administration should never have agreed to it or paid Iran to accept it (and, don't forget, return U.S hostages). In the end, the deal won't stand.
Jane Harman, a nine-term member of Congress, President and CEO of the Wilson Center
"The 'Deep State' is an invention of Cambridge Analytica. But deep experience and circumspection are crucial in a National Security Adviser.  McMaster had both. Circumspection is not a word generally associated with John Bolton."
John McLaughlin, former acting director of CIA
Trump will now be surrounded by people with very similar views on key issues such as Bolton and CIA Director Mike Pompeo, who he's nominated to replace Rex Tillerson as Secretary of State. This can be a problem and can close off options unless Bolton rises to the occasion as a national security advisor — whose principal job is always to tease out a range of views and present them fairly to the president and lay out the pros and cons of each option.
That is when the national security process has worked  best under leaders like Brent Scowcroft and Bob Gates. Bolton is untested in that capacity and so much will ride on whether he has the temperament and ability to orchestrate such a process.
Norman Roule, former senior CIA Mideast official and National Intelligence Manager for Iran
John Bolton arrives with the reputation as a hawk who reportedly (and repeatedly) clashed with subordinates and intelligence officials whose views differed from this own. These disputes were certainly well covered in the press at the time of his nomination as ambassador to the United Nations. His frequent media appearances and 2007 book "Surrender is Not an Option" also provide rich insights into his thinking. For the second time, we have a national security advisor whose views may be plumbed by reading his book.
National security advisors generally fall into two categories: a few visionary foreign policy figures such as Henry Kissinger or Brent Scowcroft, while others focus on coordinating the complex machinery that produces U.S. foreign policy. John Bolton certainly understands process. No one could spend time at the United Nations or State Department without learning how to navigate systems, but even at these assignments, he demonstrated a desire to seek a larger voice on policy.
Foreign interlocutors may be wondering what sort of concessions might chip away at his hostility to the nuclear deal. After all, the president and his congressional allies promised to tear up the Iran deal but have yet to do so. Sadly, the time for half-measures has probably passed. It is hard to imagine that the Iran deal will survive without significant Iranian concessions on missiles, extension of some elements of the nuclear deal, and reigning in its Revolutionary Guard.
And so, in the absence of a more robust diplomatic effort from Europe, we should perhaps spend our energy wondering what will happen when the deal collapses. How do we develop a meaningful sanctions regime which constrain Iran's adventurism without provoking a regional conflict? In terrific example of bad timing, European Union foreign policy chief Federica Mogherini just injudiciously commented that there are no EU plans for new sanctions on Iran over the latter's non-nuclear misbehavior.
We need to remember that whatever lays in store for Iran, Tehran brought this on itself. The Iran nuclear deal gave Tehran the opportunity to become a responsible country. It responded with an expansion of its domestic missile program, detentions of westerners, an unprecedented proliferation of advanced missile technology and Revolutionary Guard operations. It spent billions abroad which it could have used to better its own economy. Its support for a dictator accused of routinely using chemical weapons on his own people may represent the deepest stain on the regime.
Tehran will want to see how Europe, Moscow and Beijing respond to the appointment, as well as whether the North Korea issue develops in a way that might divert U.S. attention. This said, I can't help expecting that Iran's Supreme Leader Ali Khamenei will worry that new sanctions could undermine the regime at a time when his own succession is increasingly being discussed.  Iran's President Hassan Rouhani will likewise wonder whether his legacy will wilt as did that of former President Mohammad Khatemi. I can imagine that some in Tehran may be wondering – and hopefully beginning to debate – whether Iran's aggressive activities are worth the likely impending economic pain.
Rob Richer, former chief of the CIA's Near East and South Asia Division
John Bolton is a choice of concern as National Security Advisor.  He is mercurial, does not play well with others, is a hardline advocate for confrontation with Iran and is not someone who listens to opinions contrary to his own.  With his appointment as national security advisor, we have a second bully in the White House.
David Shedd, former Acting Director of the Defense Intelligence Agency
While the departure of H.R. McMaster as national security advisor was the subject of considerable speculation over the past several months, he served the president well by providing leadership in the aftermath of a National Security Council crisis at the outset of his administration. Despite handling an extraordinarily difficult portfolio, HR's focus on applying rigor and enabling the development of a national strategy during the first year of the administration is deserving of recognition and the gratitude of the nation.
As for the appointment of Ambassador John Bolton, his selection as the National Security Advisor should be seen as a reenforcement of the administration's resolve to apply clear lines of demarcation in terms of expected behavior across the board concerning America's adversaries.
Ambassador Bolton's views inter-alia on North Korea, Iran, Russia, China and international terrorism are well known for being unambiguously clear. As National Security Advisor, he will align himself with the hardline pragmatists of the administration when it comes to the range of policies applied to our adversaries and decisive in his counsel where he sees opportunities for the administration to seize opportunities to expand American influence abroad.
Ambassador Bolton has long argued that the Joint Comprehensive Plan of Action (JCPOA also known as the Iran nuclear deal) was an agreement that was highly advantageous to the Iranians. As such, I suspect he will associate himself with those in the administration that believe we should withdraw from the JCPOA altogether and resort to the containment of Iran's nuclear ambitions by escalating sanctions against them not only related to the nuclear file but addressing their missile program and Iran's active role as a supporter of international terrorism.
His clarity of thought on North Korea in calling for an unequivocal denuclearization of North Korea by the Kim Jong Un regime bodes well for holding Trump to clearly stated objectives concerning the proposed meeting between the president and dictator Kim Jung Un. In his role as the National Security Advisor, Ambassador Bolton will not shy away from giving the President clear and unambiguous counsel on national security matters even if the President is uncomfortable with the advice that he is receiving."
Emile Nakhleh, retired senior CIA officer and founding director of the CIA's Political Islam Strategic Analysis Program Office
John Bolton's appointment does not bode well for the Iran nuclear deal. I would not be surprised to see Bolton and (Secretary of State nominee Mike) Pompeo persuade the president to decertify the deal.
Following the decertification, I expect John Bolton to begin beating the drums of war against Iran. He does not seem to have learned any lessons from the tragedy of the Iraq war. By contrast with other appointees, Bolton is highly ideological and narrow-minded toward other religions, cultures, and races.
Based on my experience on the eve of the Iraq war in the fall of 2002-winter of 2003, Bolton was one of the strongest advocates for war against Iraq regardless of the position of the United Nations Security Council. He wasn't at all enamored by Secretary of State Colin Powell's going to the UN Security Council to make a "convincing" case for war against Iraq.
Bolton does not value the issue of human rights as an important factor in our international relations. He will be comfortable coddling dictators in the Middle East and will not hesitate to insert the United States in regional religious, sectarian, and political conflicts. Bolton believes that the military option should precede diplomacy in settling international disputes to which this country is a party.
In sum, John Bolton's appointment as National Security Adviser is a sad day for America because he echoes the worst instincts of the president. On Bolton's watch in the West Wing, I am afraid the rest of the world will view America as an isolationist bully and no longer a partner and a leader on major global issues, many of which are central to our national security.