Violence in Mexico Surges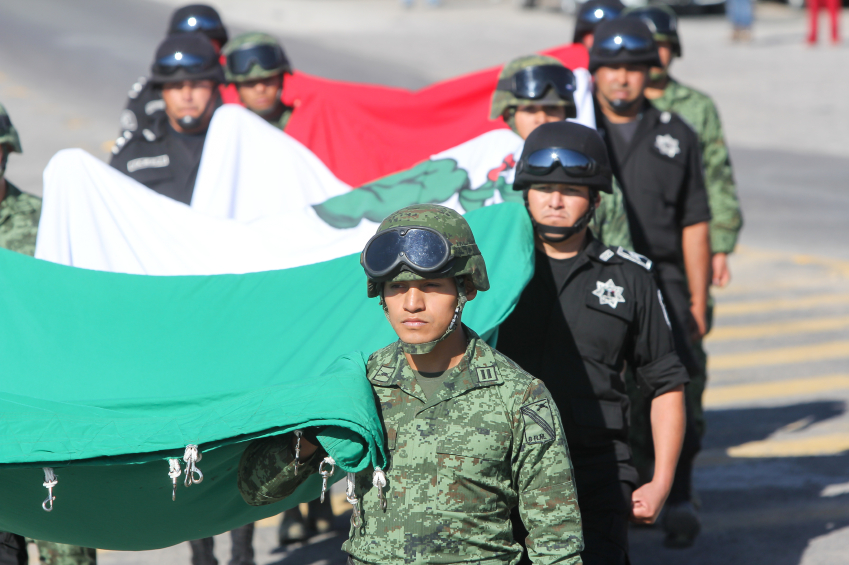 Mexico's homicide rate is surging. Government and independent sources are reporting an up to 18 percent increase for 2016, compared to last year.
This comes on the heels of a multi-year decline in criminal violence in many parts of the country. It has been more than six years since Mexico's murder rate shot up so "dramatically," notes former U.S. Ambassador to Mexico (2002-2009) Antonia Garza.
The U.S. has given Mexico $139 million this year to help "advance justice sector reform, modernize Mexico's borders (north and south), and support violence prevention programs." This aid is part of the Mérida Initiative, a $2.5 billion, eight-year bilateral security agreement that went into effect in 2008 and that Ambassador Garza helped spearhead.
So why is violence on the rise, and why isn't billions of dollars of U.S. aid sufficient in boosting security?
The answer lies largely in the failure of well-intentioned policies. Former Mexican President Felipe Calderón started the country's war on drugs in earnest in December 2006, when he sent 6,500 federal troops to Michoacán state to eliminate cartel operations there.
During his six years in office, Calderón's method of ending drug violence was to use federal forces to wipe out drug lords and patrol cities, while getting state and local law enforcement officers to clean up their acts – that is, end the cycle of corruption and involvement with criminal organizations – and also aid in the eradication of Mexico's leading criminals.
Mexico's current president, Enrique Peña Nieto, has more or less carried out this same approach. But hitting drug cartels at the top only creates eventual fragmentation, Dwight Dyer told The Cipher Brief. Dyer, who is the former Head of Analysis at Mexican national intelligence agency Cisen, explained that when ring leaders are captured, groups tend to break up quickly into smaller factions, resulting in more competition and leading to more violence.
The Jalisco New Generation Cartel (CJNG), for example, is a splinter group that gained strength in a power vacuum. "In the early 2010s, the CJNG was thought to be a local ally of the much larger Sinaloa Cartel, but with the passing of its archrivals Los Caballeros Templarios in Michoacán state, in 2014-15, and the arrest of Joaquín 'El Chapo' Guzman [head of the Sinaloa Cartel], it has come into its own and seems to be challenging the Sinaloa Cartel in various locales," says Dyer.
CJNG is now "amongst the most murderous" criminal organizations, say Garza and Stephanie Leutert, a Mexico Security Initiative fellow at the University of Texas at Austin. It is expanding its reach to areas not previously known for extreme violence, "from Colima to Michoacán to Veracruz," they say.
Dyer notes CJNG is also spreading into Tijuana, in Baja California state, on the U.S.-Mexico border. The Baja State Secretariat for Public Security reported an increase in homicide rates in the first seven months of this year, compared to last year.
In addition to this seemingly effective but in reality insufficient policy of targeting criminals at the top of the totem pole, the Calderón-era of judicial reform has yet to prove fruitful.
A series of reforms, passed in 2008, intended to create more transparency in the judiciary and transform it from "a closed inquisitorial system toward an adversarial model," explains Kimberly Breier, Director of the U.S.-Mexico Futures Initiative at the Center for Strategic and International Studies (CSIS), in a recent article. However, writes Breier, that model has "yet to be fully implemented" and there remains "slow progress on rule-of-law issues."
Dyer comments that without reform of the justice system, it does not matter how much money is thrown at federal, state, and local forces – the violence won't end. "If there is something that Mexican politicians-cum-criminals have never stopped fearing, it is federal courts in Texas," he said.
Compounding the failures of Mexico's judiciary is widespread corruption within President Peña Nieto's ruling Institutional Revolutionary Party (PRI). Recently, the Governor of Veracruz, Javier Duarte, was linked to organized crime and expelled from the PRI. Two other outgoing PRI governors are facing charges of fraud. And President Peña Nieto faces the highest disapproval rating recorded for any Mexican president, at 66 percent.
Then there's the fluctuating economy, which, when weak, can exacerbate corruption amongst politicos and law enforcement, enabling criminal groups and violence to flourish.
Low oil prices have had a drag on the Mexican economy, given the country's role as an energy supplier. The 2008 financial crisis in the U.S. also took its toll, since America is Mexico's largest export market.
This October, the International Monetary Fund (IMF) lowered its 2016 GDP growth forecast for Mexico by 0.2 percent, to 2.4 percent. Credit rating agency Moody's downgraded Mexico. In August, S&P Global Ratings revised the country's outlook from stable to negative, citing substandard growth and rising sovereign borrowings.
The connection between economics, corruption, and a failed strategy to eliminate drug cartels has diminished the effectiveness of U.S. financial aid to help Mexico fight its war on drugs. According to Breier, the United States, instead, should look to other methods of weakening organized crime influence. "Success will depend primarily on U.S.-Mexican intelligence and law enforcement partnerships and the mutual sharing of information," she said.
The U.S. could also do more to curtail drug demand in the United States. "Violence in Mexico is largely fueled by two illicit trades: drugs moving north and weapons moving south," Dyer points out.
An economically more vibrant, politically stronger, and less violent Mexico is in the interest of the United States. Mexico is a huge export market for America, and thus, a source of millions of U.S. jobs. Plus, a better situation at home means fewer Mexicans crossing the border into the United States looking for jobs – a major concern for President-elect Donald Trump.
It is unclear if Mr. Trump will continue the Mérida Initiative of security cooperation or come up with a new approach to assist Mexico with its critical security needs. What is clear is that Mexico's current efforts are not working.
Kaitlin Lavinder is a reporter at The Cipher Brief. Follow her on Twitter @KaitLavinder.