Network Take: Trump Defends His Right to Share Information with Russia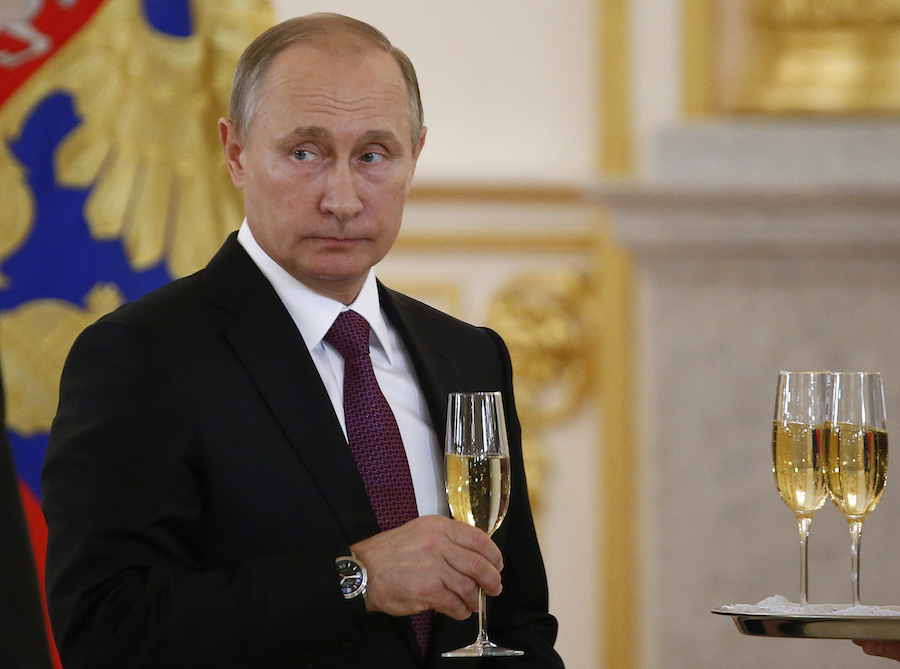 President Donald Trump is defending his "absolute right" to share information for "humanitarian reasons" with Russia following a meeting with Russian Foreign Minister Sergei Lavrov and Russian Ambassador to the U.S. Sergey Kislyak last week. In a series of tweets on Tuesday, Trump said he had shared "facts pertaining to terrorism and airline safety" and wanted Russia to "step up their fight against ISIS & terrorism."
It follows a story from The Washington Post and New York Times, that Trump revealed highly classified information to the Russian foreign minister and ambassador during a May 10 meeting.
The Post, which broke the story, said that the information Trump disclosed came from a U.S. ally that had not granted permission to share it, referring to "code-word information" or information of the highest classification levels. The Post quoted unnamed U.S. officials as saying that Trump's reveal imperiled a key source of intelligence with direct access to the inner workings of the ISIS leadership.
Trump "went off script" at the meeting with Lavrov and Kislyak and discussed details of an ISIS plot to hide bombs inside laptops and blow up passenger planes.
The New York Times also reported that Trump revealed the highly sensitive information to the diplomats, raising the prospect that the Russian intelligence would try to track down the allied intelligence agency's source. The Times then reported Israel was the ally that collected that intelligence.
If true, a former senior Western intelligence official told The Cipher Brief, there will be questions if "the rules of handling sensitive intelligence have been broken" and if "a sensitive human source could be endangered by a potentially hostile party."
If there is a danger that the information could threaten the security of the source, there could be "all sorts of repercussions," added the official. The source may have to be "resettled at the expense of the U.S." and the partner may "insist on much more restrictive intelligence sharing arrangements," he said.
"Trust between the partner and the U.S. would doubtless be damaged for years to come," he added. But should the information not expose the source, foreign partners will want to "maintain a relationship" with the U.S. "pretty much at all costs," said the official, given the "value of the intelligence that the U.S. provides."
H.R. McMaster, the President's National Security Advisor, said on Tuesday that "the President in no way compromised any sources or methods" and stood by earlier comments that "the premise of the Washington Post article was false," but would not clarify if the information was classified or not. The conversation was "wholly appropriate," said McMaster, who was in the room during the President's meeting with Russian officials.
The National Security Advisor, instead, pointed to leaks that lead to the Post story. "Our national security has been put at risk by those violating confidentiality and those releasing information to the press," he said.
On Monday, McMaster told reporters at the White House the President's conversation with the Russian officials "reviewed a range of common threats to our two countries including threats to civil aviation."
"At no time, at no time were intelligence sources or methods discussed and the President did not disclose any military operations that were not already publicly known," he said.
Earlier, The White House also released a statement from Secretary of State Rex Tillerson, who said the meeting focused on "a broad range of subjects" including "common efforts and threats regarding counter-terrorism." The statement also reiterated that "they did not discuss sources, methods or military operations."
Trump's meeting came one day after the President fired FBI Director James Comey, and was attended by the Russian officials, aides, and a photographer for the Russian state-owned TASS news agency, with no U.S. media present at the meeting.
The President has the power to declassify almost any information, but what type of security implications could these revelations carry? The Cipher Brief's Managing Editor Pam Benson asked key network experts to find out. 
The Cipher Brief: How is this likely to affect intelligence sharing with our allies, our partners? Will it be disruptive? Is this likely to have a negative impact on future intelligence sharing?
Michael Morell, former Acting Director, CIA: I think that one of the potentially damaging impacts of President Trump's disclosure is its impact on our partners who share with us.  There is something in the Intelligence Community that we call the third country rule. The third country rule says that when one country gives another country intelligence, the receiving country can't share that intelligence with a third country without the originating country's approval. That was violated in this case. What the President did here is going to send a signal to all countries that they need to be extremely careful about what they share with the United States, particularly sensitive information.  It's going to give them pause about whether they should share with the United States or not.  That is potentially damaging to U.S. national security.
Rob Richer, former CIA Associate Deputy Director for Operations and formerly Chief of Russian Operations: There is already a note of caution among our allies in dealing with Trump and his immediate circle. While all are mindful that to directly confront or disagree with Trump is not something they can do and still maintain strong relations, we will find that our friends overseas will exercise caution in their dealings with Trump due to this newest concern and his behavior during his first few months as President. If this disclosure is true, key intelligence partners will sanitize, generalize, or simply not share critical intel with the White House to protect their sources and methods.
I just returned from the Middle East and there is a sense of bewilderment, some distrust, and an increasing level of concern in Trump's stability and inability to be consistent on foreign policy issues. Further, that he is increasingly being seen as petty and vindictive. The saving grace for the Administration are those in key positions. [Mike] Pompeo at the [Central Intelligence] Agency, [Secretary of Defense James] Mattis, who has been unusually quiet of late, Tillerson and [Secretary of Homeland Security John] Kelly. Foreign leaders are working with them on key issues trying to circumvent the unmapped minefield which is the White House.
James Jeffrey, former U.S. Ambassador to Iraq and Turkey: The story alone will be problematic for allies, but if in fact no sources and methods were blown and the country providing the intelligence is ok, damage should be limited.  
TCB: Even though National Security Advisor McMaster is quoted as saying there were no sources and methods revealed, are you concerned that sensitive information could compromise the operations of the country that provided the details?   
Morell: Yes I am, because while the Russians certainly have an interest in defeating ISIS and in protecting all of us from the threats they pose, the Russian intelligence services will not be able to help themselves. Their culture and their tradition will be, we need to figure out what this source or what this method is to make sure that it's not also collecting on Russian activities in the Middle East, in Syria. So the Russians are going to try and figure out who it is, or what it is, either a person or a method. In trying to do that, they could well disrupt the source and the information the source provided. I'm not at all confident that the fact the President didn't share the source or method doesn't mean the Russians won't try to figure it out, and it doesn't mean that won't be damaging.
Richer: Yes, I am concerned! While sources and methods were reportedly not disclosed, the nature, limited knowledge of the information, or sensitivity of the information could be as damaging as source or method identifying.  In short, McMaster's response is misdirection.
Jeffrey: I can't answer without getting into details. The problem is the leaker probably was not in the room with the president and probably in the Intelligence Community. That community has understandably very strict definitions of what is intel and what compromising it entails. The rest of us who use or used this information, both with each other and with foreigners, have a much less absolute standard of risk and "cost – benefit" in dealing with material either that might be classified or using declassification authority to deploy it. (This is how all that stuff was sent to Secretary of State Hillary Clinton). Again, the country providing the details will make its judgment, but as per above, considerable damage is done with all other partners just by this story coming out. 
TCB: If this is true, what message does this send to the Kremlin? Does it make a difference if it was accidental or does that message stay the same?
Morell: I don't believe the President did this with intent. I don't think he knew he was making a mistake. He thought he was doing the right thing. He didn't know any better.
I think that it was a reflection probably of two things.  One is that he doesn't use talking points. When Presidents have any meeting, particularly a meeting with a foreign official, their staff hand them very carefully crafted talking points: issues to raise, issues to stay away from; on those issues to be talked about, what to say, what not to say, what to be careful about. We know this President doesn't do that – and this is a reflection of his off-the-cuff approach to conversations, to press conferences and all sorts of things. That's number one.
The second thing it is reflective of is that I believe President Trump does not see Russia as an adversary, as do almost all of his national security advisors or all of his national security advisors. He simply doesn't see them as an adversary. So I think he is at ease when he's in a conversation with the Russians.  When you see somebody as an adversary, particularly of the magnitude that most national security officials see Russia, you would be extraordinarily careful in what you said. I think that's part of what happened here. 
How the Russians see this? I really can't say. They were in the room.  They'll read it however they want to read it.   
Richer: In terms of the message this sends to the Kremlin, the Russians are sitting back and watching the reality show which is the White House. They have gotten away with interfering with our election, are in the ascendency on several regional issues of concern to the U.S. – Syria, N. Korea, etc. – and the President has shown himself to be unwilling to confront [Russian President Vladimir] Putin. 
In terms of the disclosure/sharing of the information being accidental, if it was accidental, it speaks to a very naive President and a staff which is not helping the President understand sources and methods and what should and should not be shared.    
As an intelligence officer who led the Russia program, I'd best describe the situation as the Russians having their cake and eating it whole.
Jeffrey: For most Americans, the Russian hacking of the DNC is a serious issue.  President Trump's continued treatment of it as a non-Issue by firing the guy leading the investigation [FBI Director James Comey] and having a really friendly meeting in the Oval Office with the very Russians involved in the hack, at least peripherally, while sharing intel with them (not illegal but judgment in question here), is all disturbing.  
Elaine Shannon is a contributing national security editor at The Cipher Brief, and Leone Lakhani (@LeoneLakhani) is an executive producer and reporter.