Mueller Takes Over Russia Probe; Trump Denies Collusion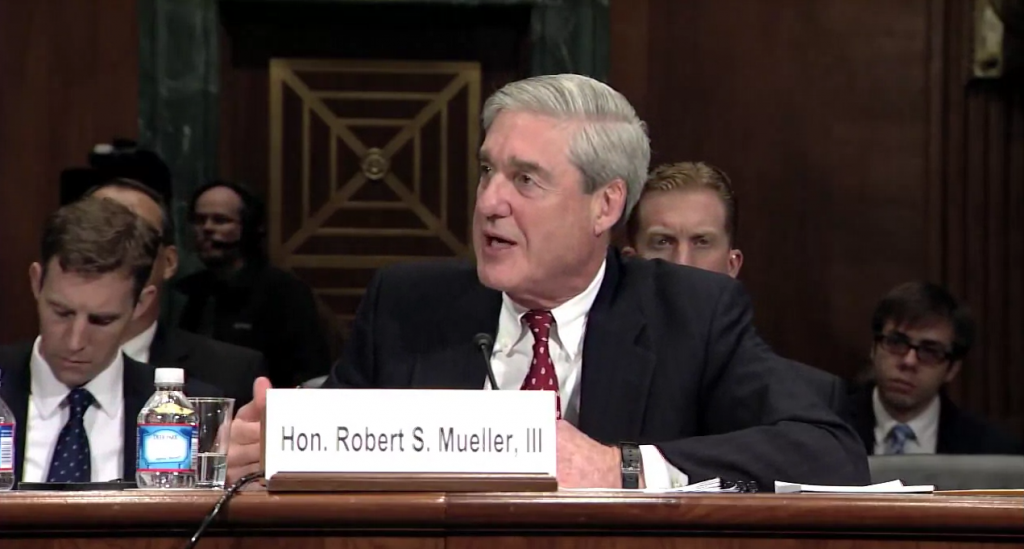 On the night of March 10, 2004, Deputy Attorney General James Comey and FBI Director Robert Mueller sped to George Washington University Hospital and stopped two of President George W. Bush's aides from getting the signature of Attorney General John Ashcroft, gravely ill, on a legally dubious National Security Agency domestic wiretapping program. 
The next day, Comey and Mueller went to the White House and threatened to resign. President Bush conceded and told his aides the wiretapping program had to comply with the law. When Mueller retired from the FBI in 2013, Comey replaced him.
Late on Wednesday, Mueller resurfaced – this time, as Justice Department special counsel to investigate what Deputy Attorney General Rod Rosenstein called "Russian government efforts to influence the 2016 presidential election and related matters."
Mueller is being called on to resolve, among other things, the most potentially explosive question facing the nation:  whether President Donald Trump's decision to fire Comey last week (May 9) was an effort to scuttle the Russia investigation.
The appointment of Mueller, a highly-regarded, fiercely independent career prosecutor and investigator, is not considered a win for President Trump, who reacted with a terse statement:
"As I have stated many times, a thorough investigation will confirm what we already know – there was no collusion between my campaign and any foreign entity.  I look forward to this matter concluding quickly.  In the meantime, I will never stop fighting for the people and the issues that matter most to the future of our country."
But FBI agents and federal prosecutors said that no one should prejudge Mueller's conclusions.
"He'll give it a fair balanced look," said John Perren, a former Assistant Director in the FBI's National Security Branch.  "He's probably the most apolitical individual I've ever come across."
"He brought us through a helluva transition after 9/11," Perren added.   "He instituted a cultural shift throughout the bureau, turned us from reactive to proactive and turned us from a law enforcement to an intelligence threat-focused agency and ushered us into the new way of business."
Mueller is "the right person – very high integrity,"  Elaine Lammert, the FBI's former Deputy General Counsel, said.
John Carlin, former Assistant Attorney General in the Justice Department National Security Division, said Mueller's return to the scene presented "no downside. There is no one better to select both in terms of expertise and integrity. "
"The appointment of Bob Mueller as special counsel is a sign of the seriousness of this investigation and raises the stakes for everyone within its scope," Matt Olsen, former Director of the National Counterterrorism Center, told The Cipher Brief. "No one is more respected in law enforcement circles than Mueller."
Mueller's reputation for probity can be expected to blunt criticisms that he is not being given complete independence from the Department of Justice.  He will report to Rosenstein, who appointed him. (Attorney General Jeff Sessions recused himself from the Russia matter earlier this year, although he participated in Trump's decision to fire Comey.)
Shortly before Trump fired Comey, Rosenstein sent a memo to the President sharply criticizing Comey for his actions in the investigation of Hillary Clinton's emails.
Suspicions over Trump's motives deepened when Trump told NBC's Lester Holt that he sacked Comey for "grandstanding" and, in the next breath, complained that the Russia probe "should have been over with a long time ago." 
A new firestorm ignited Tuesday when the Washington Post reported that Comey had written a memo charging that last February 14, Trump pulled him aside and asked him to end the FBI investigation of former national security advisor, Michael Flynn, whose alleged financial ties to Russia and Turkey are under scrutiny.
Leaders of the House and Senate intelligence committees, which are looking into the Russian attempts to influence the election, praised Mueller's selection but said they would continue their own investigations.
"It's hard to think of a better choice for this difficult task, and I appreciate the fact that former director Mueller will be taking over the existing criminal investigation rather than trying to set up some sort of extraordinary structure for this," former NSA and CIA director Michael Hayden told The Cipher Brief.
"We still have the challenge of what the Congress is trying to do, especially the work of the House and Senate intelligence committees. We need to keep a close eye on this as well to determine whether or not we might require some sort of special commission so that the American people have as complete a view as possible of what the Russians did and who may or may not have collaborated with them," Hayden said.
Elaine Shannon is a contributing national security editor at The Cipher Brief.