Land, Sea, and Air: U.S. Military Readiness in the Navy and Marine Corps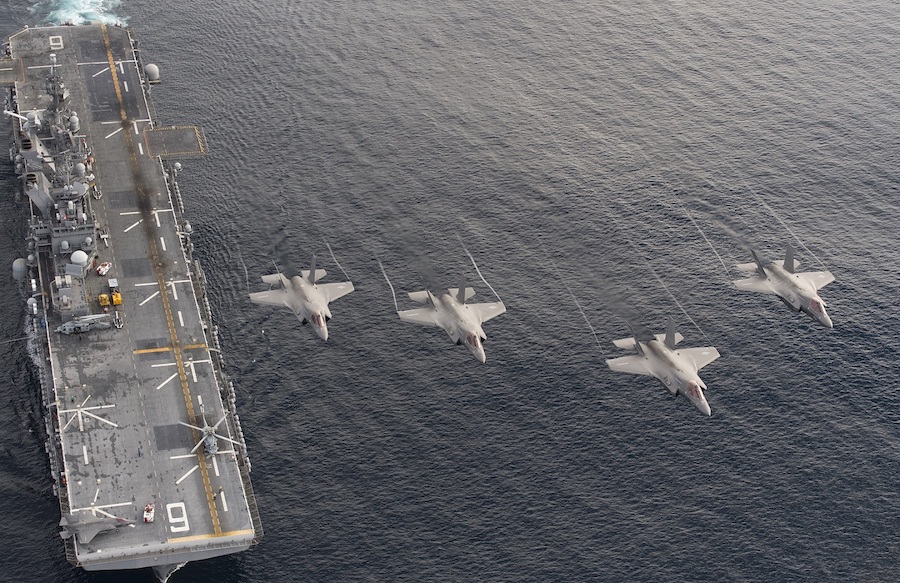 The crash of a MV-22B off of Okinawa on December 13, 2016 occurred during one of the most difficult tasks a Marine aviator can do in peacetime: night time midair refueling. While the Marine Corps will not release more details until an investigation is complete, this episode, and another involving an F/A-18 where the pilot was killed, have many wondering if Marine aviators are getting enough flight time.
This is indicative of a greater problem faced by all branches of the military: sustained deployments and trimmed budgets originating with the 2013 sequester mean less time and resources for training and future planning. Overtime, this undermines the readiness of the armed forces and is felt by each military branch in different ways. In this feature, The Cipher Brief examines the state of readiness in the United States Marine Corps and Navy as we recently did for the Army and Air Force.
In broad terms, military readiness is defined by a unit's ability to carry out what it was designed to do, and what it is being asked to do. The criteria include the training of personnel, number of personnel, and equipment quality and quantity. Each branch measures differently based on its core mission, and the platforms and personnel types it has available to it. Increased training and new equipment improve readiness, while extended deployments without adequate rotation of units diminishes readiness. The complexity of determining readiness means there is a variety of opinions, ranging from it being a military-wide crisis to being in need of perennial adjustment and alignment. The bottom line, however, is that the task of maintaining and improving readiness is never complete.
The Marine Corps and the Navy assess their own readiness along very different terms that are in line with their force structure and core missions. This in turn affects what aspects of readiness are most difficult to maintain.
Marine Corps
The Marine Corps ethos—every Marine is first and foremost a rifleman— means that readiness begins with the individual Marine. As the nation's crisis response force, the Marine Corps defines readiness such that all of its units, whether deployed or un-deployed, should be at full readiness. In allotting resources, the Corps places readiness ahead of capacity or capability, and in a tight fiscal environment, this comes at the price of decreased investment in future capabilities and platforms.
Despite placing readiness at the forefront of its priorities, the Marine Corps is still having trouble meeting readiness goals. This past year, Marine Corps Assistant Commandant General John M. Paxton, Jr. told Congress "approximately half of our non-deployed units are suffering from some degree of personnel, equipment, or training shortfalls." Marine Corps aviation in particular suffers from shortfalls; only 43 percent of aircraft are ready for combat. Sustaining combat with this many aircraft means lowering the number available for training. According to Paxton, Marine aviators are at historic lows for monthly flight time. The cumulative effect of increased wear and tear, less time for maintenance, and less time and aircraft available for training increases the probability of accidents, as described above, and increases the risk to Marines.
Navy
The U.S. Navy assesses readiness around each ship. Therefore, when one out of the Navy's 274 ships is not ready, it has a much more profound impact than when a squadron of fighter jets is not ready. The Navy's mission is to project U.S. power, whether it be securing international sea trade in peacetime, or dominating the air and sea and supporting land forces in times of war. With a constant need for the Navy's ships and sailors, it is becoming more difficult for the Navy to conduct operations while planning for the future. CSBA President Thomas Mahnken told the Cipher Brief, "Without significant changes to the fleet's size, operational tempo (OPTEMPO), or maintenance budget, the Navy will be at risk of suffering a precipitous drop in readiness in the years to come."
As it stands today, the Navy does not have enough ships to meet its wartime mission goal of sustaining two major regional conflicts, and it hardly has enough to sustain its operations level today. The current level of 274 ships is well short of the requirement of 308. In practice, this means longer deployment times for sailors and increased wear and tear on ships at sea. Current budget proposals seek to remedy this, but the lead time needed for building new ships means this is a problem that will take several years to correct.
Readiness is always in flux. It can be built up or worn down. All branches of the armed forces face serious readiness challenges, and it is an issue that cannot just be solved with a bigger budget. Retired Lt. General George Flynn, USMC told The Cipher Brief "…there will never be enough money within the Department of Defense for all things.  Choices will have to be made.  You can have anything you want, but you can't have everything." The lasting effects of the sequester are not just the cuts to spending, but also the limits it placed on long term planning. This is the key to having the force we need, when we need it.
The Cipher Brief previously published analysis on the readiness of the U.S. Army and Air Force. That feature can be found here. Lt. Gen. (Ret.) Guy Swan's take on Army readiness is here, and Lt. Gen. (Ret.) Dave Deptula's views on Air Force readiness are here.
Will Edwards is an international producer at The Cipher Brief. Follow him on Twitter @_wedwards.