Do Diplomatic and Defense Vacancies Risk U.S. Security?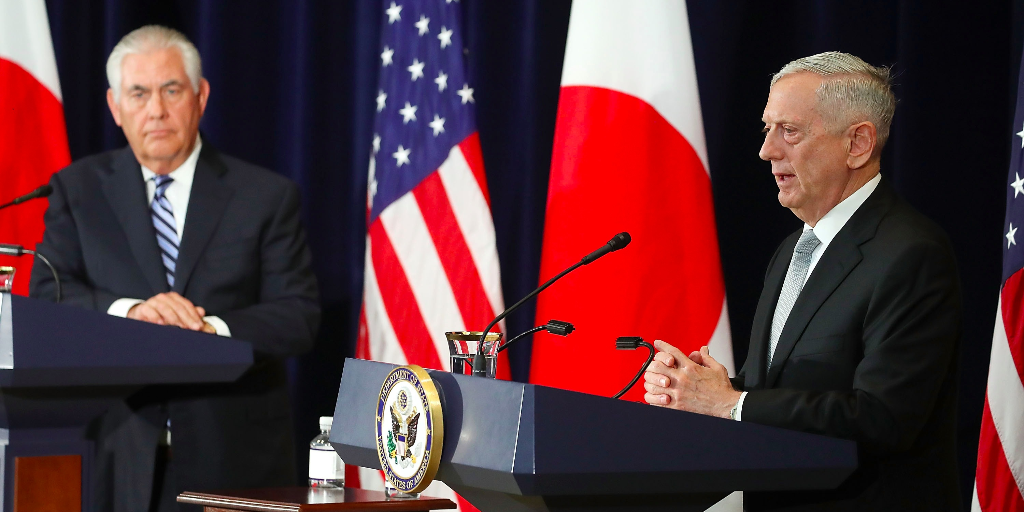 When a new U.S. president takes office the January after an election, his or her administration takes over not only the world's strongest and most powerful military, but also a robust and complex foreign policy bureaucracy. From the moment of inauguration, the work done by the incoming president's transition team in selecting, vetting, and nominating political appointees, as well as career professionals, who share the president's policy agenda, is then meant to swiftly translate into getting those appointees confirmed by the Senate and installed throughout the dozens of agencies that make up the federal government.
As of September 15th, President Donald Trump had nominated 347 individuals, 140 of which had been confirmed. Compare this to the same point in the presidencies of George W. Bush and Barack Obama: by mid-September, Bush had nominated 573 with 316 confirmations; Obama 450 with 321 confirmations. And out of Trump's numbers, only 24 individuals have been confirmed at the Department of State (compared to 83 and 86 respectively by the former presidents) and 15 at the Department of Defense (compared to 22 and 33).
These undersecretaries, assistant secretaries and ambassadors, who lead teams of career employees at their agencies or embassies, are the president's "trusted entity within the department," says Loren DeJonge Schulman, who served as senior advisor to National Security Advisor Susan Rice and chief of staff to the assistant secretary of Defense for International Security Affairs. "They are his face in the organization, they are the connectivity between the political side at the White House and…the civil servants that work with them."
Todd Rosenblum, Cipher Brief expert and former senior political appointee at the Departments of Defense and Homeland Security himself, also drew an important distinction between these political appointees and the career civil servants who do not change with administrations: "political appointees reflect the values and goals of the President.  Career officials are fiercely non-political in the work place."
The President's appointees serve as architects for the administration's policies, and the career employees – who bring the day-to-day expertise and institutional knowledge of the issues – work with them to implement them. Indeed, it is this "alchemy of political outsiders and the expert insiders," in Schulman's words, working together that make U.S. foreign policy and national security tick.
But Secretary of State Rex Tillerson does not necessarily see it that way. He has initiated a comprehensive review of the Department of State's staffing structure, which, according to reports, could take up to a year to complete. Coinciding with the White House's proposed radical cuts to the Department's budget, many fear that appointments aren't slow in coming – rather, they simply will not be made.
Ambassadors are also key nodes of this complicated policy network. While in country, they work hand-in-hand with the regional and functional assistant secretaries and deputy assistant secretaries of multiple agencies back in Washington to communicate the president's policy to their foreign counterparts – and communicate those counterparts' messages back to Washington.
However, while the U.S. currently has a confirmed ambassador to such key entities as Canada, NATO, Pakistan, the United Kingdom, and the United Nations, key slots remain unfilled. U.S. allies and partners such as South Korea, Saudi Arabia, Turkey, and Five Eyes member Australia do not even have ambassadors nominated. Afghanistan, Germany, India, and Russia have nominations but no Senate confirmations; the nominations for Germany and India were only put forward on the 5th of September. The confirmation hearing for Jon Huntsman, the nominee to be ambassador to Russia, will be held Tuesday.
This begs the question: do these vacancies create vulnerabilities for U.S. foreign policy?
"Well, the world doesn't wait for us," Ambassador Richard Boucher, who served as ambassador to Cyprus, assistant secretary for South and Central Asia, and spokesman for six different secretaries of state, told the Cipher Brief. "The world doesn't wait for our nominations, the world doesn't wait for our Senate, and the world doesn't wait for an [internal] management study."
Without key appointments, the United States risks losing its strategic advantage, according to our experts. These vacancies hamstring the U.S.' ability to develop key regional and functional strategies; improvise and take risks to seize policy opportunities; lead global crisis responses; and speak with an empowered voice both at home and abroad.
"The fact is that when you're acting, you're a caretaker," says Boucher, who has been in positions both in an acting capacity and confirmed. "You're not undertaking new initiatives," he says, because that is the role of the president's appointed representatives. In his view, "you're not out there looking and pushing for opportunities the same way as you are once you're empowered and confirmed."
Managing strategic relationships with foreign counterparts is also very dependent on personal relationships, according to both Boucher and Rosenblum. Boucher notes that many countries prefer "a point person that they talk to, that they can just call." Rosenblum concurs, saying "personal dynamics matter greatly."
And, when countries feel that they are getting mixed messages from major actors in U.S. national security – as many have felt happened during the North Korean crisis with UN Ambassador Nikki Haley, Secretary of Defense James Mattis and the President himself – it is important to have one person who allies can contact to receive a unified, coordinated American answer.
In times of crisis, the White House and Cabinet-level secretaries are fully engaged, but they cannot do it alone.   Having issue experts involved – those who churn the day-to-day policy – often allows the United States to turn a crisis into an opportunity. According to Boucher, having mid-level policymakers who represent the President's vision and values allows an "international response where the United States is the organizer." Without it, he says, "the secretary of state is reacting" instead of leading.
And global leadership also involves having deep and close relationships with more than just the major players. Take, for example, the South China Sea. Boucher points out "the South China Sea is not just U.S.-China; it's the U.S., China, Vietnam, Philippines, Indonesia, Cambodia, Singapore, India." To adequately build and lead a response to an event there – positive or negative – requires maintaining relationships between the United States and foreign counterparts from all players in the region, including smaller countries that tend to get overlooked, especially when larger countries (Saudi Arabia or India, for example) still do not have Ambassadors.
Boucher underlines the risk in neglecting these regional partners: "they wonder if their interests and their dealings with the United States are going to be abandoned. Countries do take this personally." Indeed, he warns, "not staffing sends a signal to places; you're not important, this doesn't matter to America."
And to take it one step further, "not staffing on this scale sends a signal that diplomacy is not important to us, and that is bad for the United States."
So, if these vacancies are a risk, what is being done to address the problem? The impetus lies with the Trump administration – only it can select and nominate individuals. But Congress also has a large role to play.
"Congress has the strongest hand in setting deadlines for the reorganization, holding Administration priorities hostage until core positions are filled, and ensuring long-term, enduring national values and interests are preserved at State and elsewhere," Rosenblum said.
The Senate can also review and confirm appointees quickly. But these are no small tasks for a deeply divided legislature.
So, can the U.S. afford to wait?
Sure, says Boucher. "Just push the pause button on world events. For a year."
Callie Wang is vice president of analysis at The Cipher Brief.