Shifting Sands: Saudi Arabia's Succession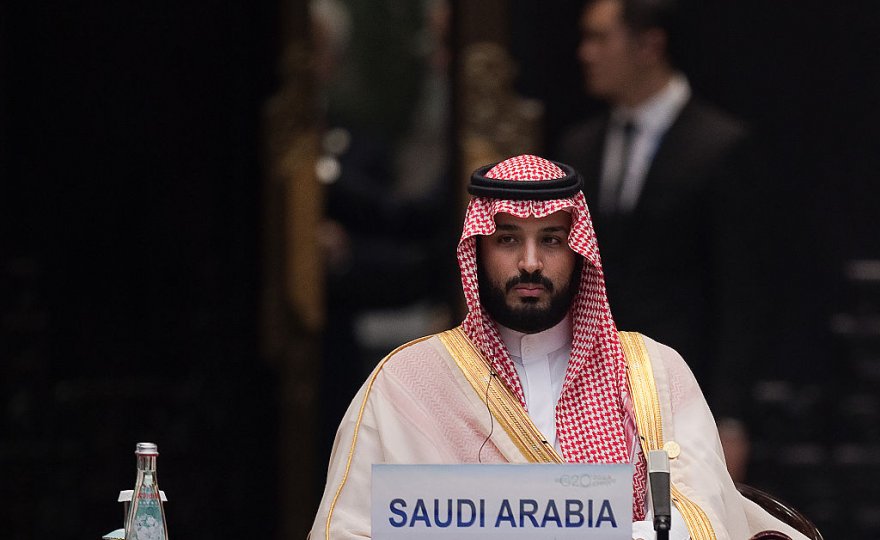 Saudi Arabia underwent another dramatic shift in mid-June when Saudi ruler King Salman bin Abdulaziz Al-Saud elevated his son, Prince Mohammad Bin Salman (MbS), to the position of Crown Prince in place of his elder cousin Mohammad bin Nayef (MbN). At first, it appeared that Nayef supported the move when the Saudi press released a video in which Nayef kissed his younger cousin's hand and declared his loyalty to him. However, a couple of weeks ago, reports began to surface that Nayef had actually been forced to accept his demotion, stripped of his role as interior minister, and confined to house arrest.
MbS' rapid ascension through the ranks of the Saudi royal family began in January 2015 when King Salman assumed the throne following the death of his half-brother King Abdullah. Salman swiftly moved to appoint his son as Minister of Defense and put him in charge of overseeing the country's economic portfolio. In April 2015, King Salman reshuffled the dynastic line of succession, naming Nayef as Crown Prince and MbS as Deputy Crown Prince. The latest shake-up has forced Nayef out of the fold completely and cleared the path for MbS to consolidate power and eventually succeed his 81-year-old father.
But Nayef's dismissal and MbS' rise have also raised questions about unity within the Saudi royal family, the management of Saudi Arabia's counterterrorism efforts, and the direction of Saudi foreign policy moving forward.
First, while it may be difficult to discern the mood of the ruling Al-Saud family, it seems that Nayef's ousting has sowed at least some internal discord. Although MbS' selection was backed by 31 of the 34 members of the country's allegiance council – a body comprised of senior members of the royal family charged with supervising succession decisions – Nayef has been confined to house arrest since his deposition.
"The restrictions placed on the elder prince suggest fear that some members of the sprawling royal family are upset with the change, and that public appearances by him could exacerbate such sentiments," The New York Times reported in June.
"It's an indication that MbS does not want any opposition," said a senior United States official quoted by The New York Times. "He doesn't want any rear-guard action within the family. He wants a straight elevation without any dissent — not that MbN was plotting anything anyway."
Second, there is the issue of how Nayef's removal from his post as Minister of the Interior will affect U.S.-Saudi counterterrorism coordination.
"The United States had worked closely with MbN and his staff for years to develop counter-terrorism strategies, train field operatives, and share intelligence," writes Tom Lippman, Cipher Brief expert and award winning journalist who specializes in Saudi Arabia. "He was a trusted partner in the effort to contain terrorism in the Middle East and Europe."
And although robust counterterrorism cooperation between the two countries is likely to continue, "What the United States loses is the personal rapport with MbN and the knowledge of Interior Ministry operations that have been developed over the past decade," says Lippman.
Third, MbS' climb also essentially grants the prince unbridled authority to continue his assertive foreign policy doctrine. Over the last two-and-a-half years, MbS has wasted little time in pushing the Kingdom from an interested bystander in many regional conflicts to an active participant, but so far has not achieved desirable outcomes. Soon after taking the reigns as Minister of Defense, MbS orchestrated the Saudi-led incursion into Yemen to fight Iran-backed Houthi rebels, which many deem a disastrous decision. The recent severing of ties with Qatar – again, spearheaded by Riyadh – has resulted in a stalemate and has been challenged both in the region and in Washington.
"Under Mohammed bin Salman, Saudi Arabia has embarked in a far more bellicose foreign policy," Perry Cammack, a fellow in the Middle East Program at the Carnegie Endowment for International Peace, told The Cipher Brief. "Unfortunately, the early returns have not been encouraging, based on two signature initiatives: the war against the Houthis in Yemen, which began in 2015, and the more recent Saudi- and Emirati- led economic blockade of Qatar."
Despite the uncertainties that come with a changing of the guard in the Kingdom, Saudi Arabia continues to remain a critical U.S. ally in a region flush with turmoil.
And inside the Kingdom itself, it seems that the Al-Saud family continues to enjoy popular support. As one Saudi journalist noted to me, "Saudi Royal succession is very interesting subject to write about, but, frankly only to the outside and not for the Saudis. The general outlook here is that as long as the Al-Saud family are ruling, then who is ruling has minimum impact."
Bennett Seftel is deputy director of analysis at The Cipher Brief. Follow him on Twitter @BennettSeftel.