Iran Nuclear Deal Falls Short on Missiles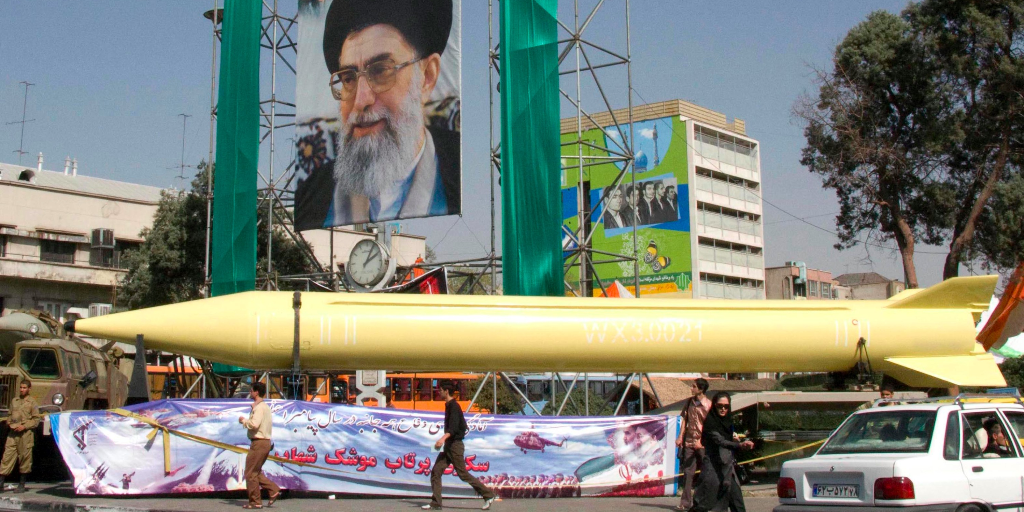 As part of the 2015 Iran nuclear deal, the Islamic Republic agreed to suspend activities related to its development of ballistic missiles capable of carrying nuclear warheads, or so it seemed. In the year and a half that has passed since the Joint Comprehensive Plan of Action (JCPOA) went into effect, Iran has conducted a series of provocative ballistic missile tests, eliciting strong condemnations from the U.S. and raising the level of alarm on the international stage.
The parameters of the JCPOA were outlined in United Nations Security Council Resolution (UNSCR) 2231, which also terminated several previous UN resolutions that had been implemented over the last decade to constrain Iran's nuclear and ballistic missile ambitions. One of the resolutions that was repealed – UNSCR 1929 – barred Iran from conducting ballistic missile tests and other countries from providing any assistance to Iran's ballistic missile program.  It stated, "Iran shall not undertake any activity related to ballistic missiles capable of delivering nuclear weapons, including launches using ballistic missile technology, and that States shall take all necessary measures to prevent the transfer of technology or technical assistance to Iran related to such activities."
UNSCR 2231 does include a section prohibiting Iranian missile tests, but it frames the issue a bit differently, as it "calls upon Iran not to undertake any activity related to ballistic missiles designed to be capable of delivering nuclear weapons, including launches using such ballistic missile technology." While the changes to the language appear minimal, the variance has led to alternative interpretations of what constitutes a violation of the provision.
Steve Ward, former CIA senior analyst and Iran expert, notes that UNSCR 2231 "only calls upon Iran to abstain from ballistic missile testing and development," an important textual change from UNSCR 1929, which said "Iran shall not undertake any activity…"
"If [U.S. Secretary of State Rex] Tillerson were better informed, he would know that the topic of limiting Iran's missiles was raised early in the negotiations and that Iran resisted its inclusion, which otherwise would have been a deal killer," says Ward.
The Obama Administration, which helped negotiate the Iran deal, maintained the language in UNSCR 2231 was meant to carry the same meaning as UNSCR 1929. However, after gauging the reactions of the international community to Iran's ballistic missile tests this year, it appears that this position is primarily held by the Trump Administration and some U.S. allies including the UK, France, Germany, and Israel.
"Despite the assurances from the Obama Administration to the contrary, others, notably the Russians, have pointed to the fuzziness of that language and basically have characterized it as more of a guideline than a rule," says David Cooper, professor and Chair of the Department of National Security Affairs at the U.S. Naval War College.
"So it's hard to escape the conclusion that either the Obama administration never really was focusing on the missiles, or if they did think they had addressed them effectively, then they seem to have been bamboozled," asserts Cooper.
Since the JCPOA went into effect, Iran has worked diligently to bolster its ballistic missile capabilities generating concern amongst the U.S. and its allies. Currently, "Iran has several short-range ballistic missiles (SRBM) that can reach from 150 to 700 kilometers," explains Ward. "Iran also has two operational medium-range ballistic missiles (MRBM) with ranges up to 2,000 kilometers, the Shahab-3 and Sejjil… [and] has slowly been developing variants of the Shahab-3, such as the Qadir, Emad, and Khorramshahr, for many years without fielding a new system," he says.
With this assortment of short and medium range ballistic missiles, Iran can directly threaten its regional adversaries, namely Saudi Arabia and Israel, who are also key U.S. allies in the Middle East.
"Iran wants missiles in order to hold at risk the cities and population centers of those who might attack Iran or those of allies who might attack Iran," Richard Nephew, former Principal Deputy Coordinator for Sanctions Policy at the State Department and a lead sanctions expert for the U.S. team negotiating with Iran, told The Cipher Brief.
"Iran's missile program began in the 1980s in response to missile attacks from Saddam Hussein in Iraq. The Iranians want the ability to deter similar attacks in the future. This is why, notwithstanding the warnings, they have persisted," Nephew says.
The Trump Administration and Congress have responded to Iran's numerous missile tests by slapping additional sanctions on Tehran. In February, days after Iran tested its Khorramshahr MRBM, the White House sanctioned 25 Iranians and companies that assisted in Tehran's ballistic missile program. More recently, in July, the U.S. Treasury department sanctioned six Iranian subsidiaries of the Shahid Hemmat Industrial Group, which, according to the Treasury Department, has been "central" to Iran's ballistic missiles program.
For its part, Congress overwhelmingly passed a comprehensive sanctions bill targeting Russia, Iran, and North Korea in late July that President Trump signed into law in early August. Regarding Iran specifically, the bill calls for the President to sanction individuals who help advance Iran's ballistic missile program by providing material support, financial assistance, technical training, or any other service that would further Iran's ballistic missile capabilities.
But U.S. sanctions alone may not be enough to deter Iranian behavior or its desire to expand its ballistic missile arsenal. The JCPOA provided sanctions relief for Iran that has infused Iran with cash and has opened its economic doors to country's around the world, hindering the impact of U.S. unilateral sanctions.
"We are unlikely to be able to use sanctions to stop Iran from seeking to possess missiles outright," says Nephew. "Now, we need to seek arms control arrangements to hold Iran's missile program in check as much as possible."
Furthermore, Iranian President Hassan Rouhani has vowed to respond strongly if the U.S imposes the latest set of sanctions approved by Congress.
"If America wants to go back to the experience (of imposing sanctions), Iran would certainly return in a short time – not a week or a month but within hours – to conditions more advanced than before the start of negotiations," Rouhani proclaimed before the Iranian parliament during a live broadcast on state television, as reported by Reuters.
Although the Iranian leadership has refuted accusations that Tehran is aiming to develop nuclear weapons, these ballistic missile tests seem to indicate otherwise.
"No nation has pursued indigenous intermediate or longer range ballistic missiles that was not also seeking nuclear weapons in tandem," says Cooper.
In the end, Iran's longer term objectives may be to follow in the footsteps of North Korea by establishing ballistic missiles capabilities and producing nuclear weapons that would simultaneously help ensure regime survival and threaten adversaries in the region and beyond.
"Once these longer range missiles are tested, become operational, and the nuclear program produces a warhead for them that can threaten Europe and the U.S., [Iran] may be satisfied," says Nick Hansen, a former U.S. Army imagery analyst who has covered the Iranian missile threat extensively. "They are surely watching what North Korea can accomplish with just the threat of an intercontinental ballistic missile (ICBM)."
Bennett Seftel is deputy director of analysis at The Cipher Brief. Follow him on Twitter @BennettSeftel.