Decisions Loom for Qatar as Arab Countries Harden Stance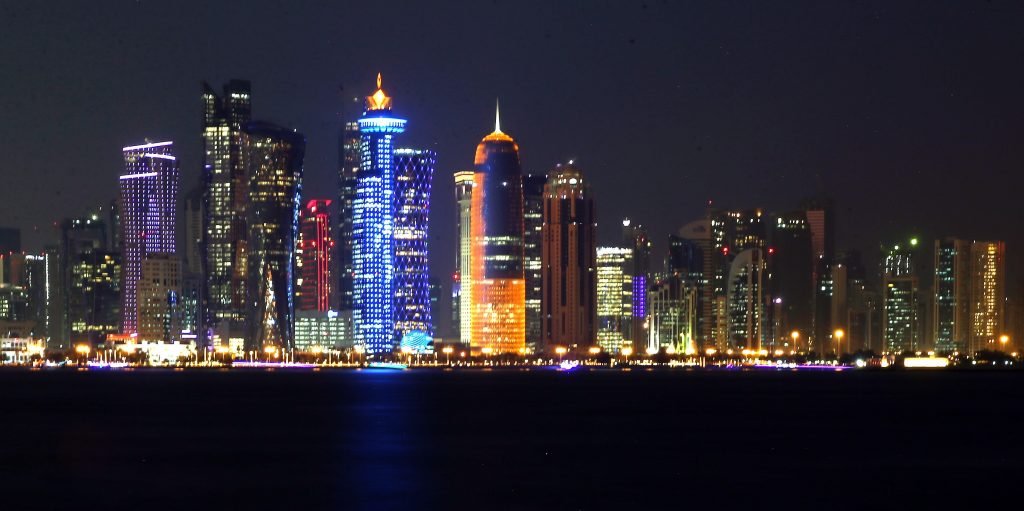 The tense standoff between Qatar and a group of Middle East countries that includes Saudi Arabia, Egypt, Bahrain, and the United Arab Emirates is nearing the one-month mark with no resolution in sight. Events began to unfold on June 4 when the Arab nations abruptly severed diplomatic ties with Qatar, citing Doha's support for Iran and the Muslim Brotherhood as well as U.S. designated terrorist groups such as Hamas, Hezbollah, al Qaeda, and ISIS, which they say destabilize the region. 
For weeks, it was unclear what would be required of Qatar to ameliorate the situation, drawing criticism from U.S. Secretary of State Rex Tillerson for the lack of any progress to resolve the problem.  Last Friday, the four countries finally sent Qatar a list of 13 onerous demands that it must accept within ten days for relations to be normalized.
Although friction between Qatar and its neighbors has only recently captured news headlines, Qatar's regional behavior has concerned both the U.S. and its Middle East allies for years. The small Gulf country has carved out a unique foreign policy footprint as it has balanced its support for Islamist groups throughout the region and burgeoning economic cooperation with Iran, with its participation in the Gulf Cooperation Council and hosting a critical U.S. air base.
Qatar has openly bankrolled several Islamist groups in the Middle East, including the Muslim Brotherhood, Hamas, Hezbollah, and various factions fighting in Syria. Several Brotherhood leaders, including the group's religious ideologue Yusuf al-Qaradawi, maintain residences in the country as do several top Hamas officials, such as the group's former leader Khaled Meshaal. Qatar also financially backed Mohammed Morsi, the former President of Egypt and leader of the Muslim Brotherhood, during his short tenure in office from 2012-2013.
"In my view, the embargo of Qatar by its neighbors is primarily due to concerns over its financial and political support for extremists and the use of its soft power to promote an ideology that is seen as a threat to regional stability," Marcelle M. Wahba, former U.S. Ambassador to the UAE told The Cipher Brief.
Moreover, Al Jazeera, has provided a platform for Islamists and extremists, such as al-Qaradawi, to espouse their radical ideology, which often promulgates brash anti-American, anti-Saudi, and anti-Israel rhetoric.
"The potential impact of Qatar's influential media on radicalization of audiences throughout the Middle East is a huge concern for stability in the region at a time when the Islamic State in Iraq and the Levant [ISIL] and al Qaeda remain active in war-torn countries," explains Wahba.
There is also the issue of Qatar's strong economic ties to Iran, which is based upon the two countries sharing a key gas field. These circumstances have pitted Qatar against its Gulf neighbors who have attempted to isolate and push back against Iran's meddling throughout the region.
As part of the effort to resolve the crisis, Qatar's Foreign Minister Sheikh Mohammed bin Abdulrahman Al Thani traveled to the U.S. Tuesday to meet with Tillerson. The Secretary of State also met with Kuwaiti Minister of State for Cabinet Affairs and Acting Minister of Information, Sheikh Mohammad Abdullah Al-Sabah, to reaffirm his support for Kuwait's efforts to mediate the row.
On Thursday, Qatar's Foreign Minister called the steps taken by Saudi Arabia, the UAE, Egypt, and Bahrain "acts of aggression that breach international law" and the demands issued by the countries "a clear effort to undermine Qatar's foreign policy and national sovereignty."
With respect to Iran, Al Thani told attendees at an Arab Center event in Washington that Qatar has always taken a "straightforward" approach to Iran since "Iran is our neighbor and we have to have a constructive and positive relationship with them … based on mutual respect and non-interference."
When asked about his country's overall foreign policy approach, Al Thani said Qatar has an "open door policy" where "adversaries can come and meet in Qatar" and that the country has been "doing this for two decades."
Moving forward, al Thani explained that Qatar "doesn't see any solution other than a political solution" and that the Qatari government "is willing to sit down with its neighbors and negotiate but not compromise [its] national sovereignty. "
Al Thani also described his meeting with Tillerson earlier this week as "excellent and constructive" and maintained that the U.S. must play a "crucial" role in resolving this crisis.
The U.S. retains a strong interest in seeing this dispute ended as quickly and peacefully as possible since Qatar houses the United States' largest air base in the Middle East at Al-Udeid, where the U.S. initiates operations in Afghanistan, Iraq, and Syria. And the U.S. has a long standing partnership with the Gulf Cooperation Council (GCC), an organization comprised of six Sunni Arab countries that has worked to counter Iran's regional influence since its establishment in 1981.
Adding to the urgency to mend this rift is Senator Bob Corker, the chairman of the Senate Foreign Relations Committee, who vows to "withhold consent" from all U.S. arms sales to Persian Gulf countries until an agreement is reached. "[The conflict] only serves to hurt efforts to fight ISIS and counter Iran," wrote Corker in a letter to Secretary Tillerson. "Before we provide any further clearances . . . on sales of lethal military equipment . . . we need a better understanding of the path to resolve the current dispute and reunify the GCC."
It is unclear whether Corker's statements pertained to the recent $110 billion in weapons sales agreed upon by the U.S. and Saudi Arabia.  
According to Gary Grappo, former U.S. Ambassador to Oman, resolving the crisis will be difficult, particularly since "as the demands are currently written, it is highly unlikely that Qatar would be able to accept them."
But Secretary Tillerson believes that Qatar can take proactive measures, stating, "while some of the elements will be very difficult for Qatar to meet, there are significant areas which provide a basis for ongoing dialogue leading to resolution."
Matters were further complicated when Saudi Foreign Minister Adel al-Jubeir told reporters while in Washington Tuesday that the demands were not negotiable. "It's up to the Qataris to amend their behavior… If they don't, they will remain isolated, Jubeir said. "We don't have to deal with them."
Perhaps the most concerning part of this situation is how it will affect the future state of the GCC. Even if the other Gulf countries eventually bring Qatar back into the fold, feelings will be hurt, honor tarnished, and trust lost.
"Don't forget, folks in this part of the world tend to have very long memories and don't forget when they've been embarrassed or when actual physical harm has been brought to them," says Grappo. "Even if the crisis is resolved, depending on how it is resolved, there could still be lingering hard feelings, making it very difficult for the GCC to cooperate in the way it has in the past."
In the end, Qatar will have to decide whether to diminish ties to Iran and relinquish support for extremist groups – moves that could reverse years of efforts undertaken by Doha to carve out an influential foreign policy course.
"Look, a lot of countries in that region, from time to time, have played both sides of the street, let's be honest," said former Secretary of Defense Bob Gates during a conference hosted by the Foundation for Defense of Democracies in May. "But once they've been attacked themselves, or once they see the danger, they have become aggressive and unambiguous in their willingness to take on the terrorism problem, and I think that's what we need to expect from Qatar.""
"It would be nice to have it happen before Qatar itself is attacked," Gates concluded.
Bennett Seftel is deputy director of analysis at The Cipher Brief. Follow him on Twitter @BennettSeftel.