South America Faces Fears of Fragility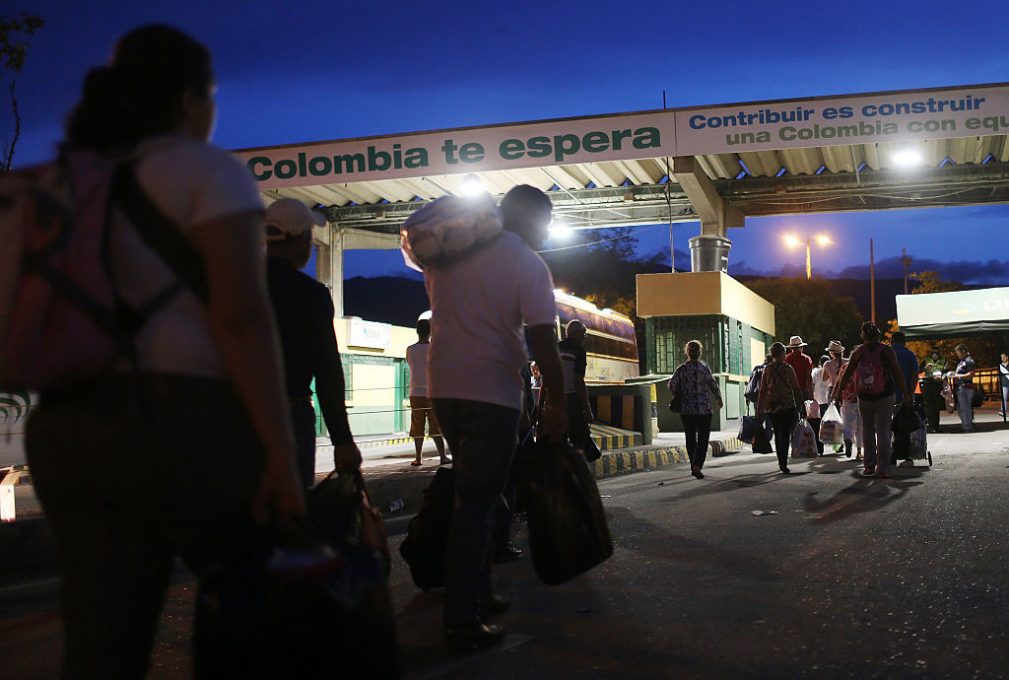 Venezuelan President Nicolás Maduro has called for military exercises on August 26 and 27, after U.S. President Donald Trump said on Friday he would not rule out a "military option" to quell the turmoil in the South American country. Vice President Mike Pence, who is traveling through South America this week, has stressed that the U.S. prefers the conflict be resolved by peaceful means, but he also vowed to end "the tragedy of tyranny" in Venezuela, while speaking on Sunday in a joint news conference with Colombian President Juan Manuel Santos.
Venezuela's dual political and economic crises are hitting hard some of America's biggest allies in the region, including Colombia and Brazil, as waves of migrants flee Venezuela's violence and lack of basic necessities. Around 200,000 Venezuelans fled the country in 2016, double the average rate per year between 1999 and early 2015, according to the Migration Policy Institute (MPI).
Official data show an uptick in Venezuelan migrants heading for Colombia, with a growing number staying. Nearly 67,700 Venezuelans who went to Colombia in 2016 remained, compared to 13,500 in 2012, and applications for permanent residency have more than doubled since 2012 to around 15,500 in 2016.
"An influx of significant numbers of poor Venezuelans would impose a tremendous burden on the government of Colombia at the national and regional levels," former U.S. Ambassador to Venezuela Patrick Duddy told The Cipher Brief in May.
"Colombians are already dealing with a very complicated situation in their own interior," he continued, noting, "They are trying to implement the peace agreement with the FARC while continuing to fight drug traffickers. But there are also continuing issues with the National Liberation Army – the ELN – and there are reports that the coca cultivation has surged. Beyond all of this, Colombia already has to deal with millions of their own internally displaced citizens."
Colombia claims the dubious title of country with the most internally displaced persons in the world – 7.3 million individuals as of last year, or more than 15 percent of the national population, reports MPI, more than war torn Syria.
Despite these figures, this year's Fragile States Index (FSI), which is produced by the Fund for Peace and measures countries' vulnerabilities and overall risk for fragility based on a series of stability indicators, shows Colombia has made significant improvements over the past year. This is in part due to the peace agreement with the FARC, reached in December last year, but also "comes on the heels of a much longer trajectory of improving governance and legitimacy in Colombia," Fund for Peace Executive Director J. J. Messner told The Cipher Brief. The conflict with the FARC had made Colombia's ranking on the index artificially high for years, Messner said, and now, Colombia is essentially returning to where it should be, given the country's sound governance structures and relatively high level of development.
Although "the trend is accurate," Sergio Guzmán told The Cipher Brief, "Colombia still has the underlying causes of the conflicts: rural violence, poverty, lack of state presence, lack of infrastructure, illicit economies like illegal mining and drug trafficking."
Moreover, Colombia is not free of corruption, no matter how much progress the country had made over the years. Guzmán, a Colombia analyst at Control Risks in Bogotá, noted that a Colombian senator supporting President Juan Manuel Santos's reelection for 2018 was recently arrested, which will likely lead to revelations of "some very uncomfortable facts about the current administration."
Senator Bernardo Miguel Elias was arrested on charges he accepted bribes from Brazilian engineering firm Odebrecht, a company that allegedly helped finance Santos's two successful election campaigns in 2010 and 2014.
For its part, Brazil is battling a whole host of corruption scandals – part of the reason why Brazil, unlike Colombia, was severely downgraded on this year's FSI, receiving the designation as one of the most-worsened countries from 2016 to 2017.
Political turmoil roiled Brazil last year, with President Dilma Rousseff's impeachment and her equally unpopular vice president, Michel Temer, taking over. Calls for Temer to resign have grown louder, after a recording that apparently shows Temer approving hush money payments was released in May. On May 24, Temer had to deploy federal troops to the capital Brasília to quell antigovernment protests.
"The FSI data strongly suggest that the rapid economic growth that characterized Brazil in the 2009-2014 period was not accompanied by similar strengthening of state and civil institutions," wrote George Lehner, a Fund for Peace board member, in the FSI report.
To make matters worse, Brazil's "rapid economic growth" has been significantly slowing down. Brazilian GDP is expected to grow by just 0.5 percent this year, and joblessness hovers around 11 percent, which makes "achieving some degree of economic probity… an immensely tall order," co-founder of the Rio de Janiero-based Igarapé Institute, Robert Muggah, told The Cipher Brief last year.
But there's another emergent economic power in South America that is developing closer ties with the United States: Argentina. The country ranks as "more stable" on this year's FSI, while Brazil is in the "warning" zone. Vice President Pence was in Argentina this week meeting with President Mauricio Macri, who after coming to power in 2015, implemented a series of economic reforms to support what is typically regarded as a pro-business agenda – including cutting government spending, reducing taxes on exports, and ending economic distortions that had caused years of high consumer prices. At a talk in Washington in April, President Macri said his country needs to move toward a substantially more open economy.
Beyond economics, Argentina could be a close U.S. ally vis-à-vis Venezuela. Argentina has been hit with a wave of Venezuelan migrants, although not to nearly the extent as Colombia, and President Macri has made clear his thoughts on the Maduro regime. "That's not a democracy; that's not working," he said at the talk in Washington.
Chile – where Vice President Pence is on Wednesday – could also align with the U.S. positions on trade and Venezuela. The country has been largely improving on the FSI since 2012 and sits with Argentina as one of the more stable countries in South America, trailing only behind Uruguay, which is ranked in the "very stable" category.
But while close ties with the more stable southern countries is a goal of the U.S. administration, the focus remains on Venezuela. Until the chaos there subsides, the knock-on effects to U.S. allies Colombia and Brazil will likely worsen. Moreover, there's a growing concern of a terror-narcotics nexus in Venezuela, where alleged terrorists aid in transporting cocaine through Venezuela and onto the United States. According to former DEA official and The Cipher Brief expert Mike Vigil, the U.S. has "identified a lot of high ranking individuals within the Venezuelan government who are engaged in the drug trade," including members of the National Guard.
To top it off, other countries that are not so friendly to the U.S. are moving in. Russia has been financing Venezuela's debt by providing loans to keep the country running, and China is "Venezuela's largest source of external funding," noted Ambassador Duddy. "We need to pay attention," he said. "More than 42 percent of all U.S. exports are sold to the Western Hemisphere."
Kaitlin Lavinder is a reporter at The Cipher Brief. Follow her on Twitter @KaitLavinder.