Mexico's Violence Spikes, Fueled by Drug Trafficking, Kidnapping, Corruption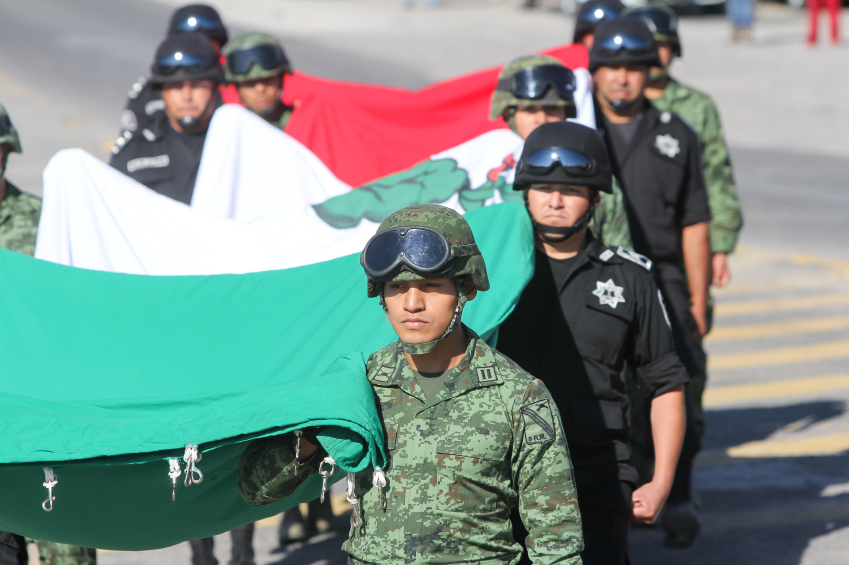 Homicides in Mexico surged by 255 percent from 2015 to 2016, and extortion cases increased by 30 percent, according to a recent American Enterprise Institute report. In cities previously identified as success stories – Tijuana and Ciudad Juárez, for example – violence has returned to record levels.
This year, the Fund for Peace Fragile States Index ranked Mexico as most-worsened country, tying with Ethiopia for the bottom spot. This comes on the heels of a decade-long trend of improvement. The organization's executive director, J.J. Messner, attributes this year's result to "a surge in violence … as well as high-profile cases of organized crime that included the abduction of 43 students in Guerrero." That abduction occurred in 2014.
The heightened violence and instability is "something that's been cooking for … about three years at this point," said Rachel DeLevie-Orey, the associate director for resilience at the Atlantic Council's Adrienne Arsht Center on Latin America. However, "we've seen boil over effects happen quite recently," she told The Cipher Brief.
After the first two years of Enrique Peña Nieto's presidency, which started in 2012, the government collapsed, according to DeLevie-Orey, "in terms of moral and real authority." Peña Nieto's approval rating plunged to a record low of 12 percent in January of this year.
The unveiling of widespread corruption at the federal, state, and local levels, and a lack of substantive judicial reform are partly to blame. In addition, violence from organized crime has not abated under Peña Nieto – in fact, the number of major cartels operating in Mexico has grown from four in 2006 to nine today.
"As far as the federal government's security strategy is concerned, the Peña Nieto Administration basically continued the [former President Felipe] Calderón Administration's policy, with minor changes," former head of analysis at Mexican national intelligence agency CISEN, Dwight Dyer, told The Cipher Brief.
Part of that strategy consisted of eliminating notorious drug kingpins, with much success. However, "The relentless pounding of top leadership also breeds an underworld power vacuum, where rivalries, ambitions, and greed all inflame intracartel backstabbing and leave splinter groups locked in bloody battles," said former U.S. Ambassador to Mexico Antonia Garza and Stephanie Leutert, a Mexico Security Initiative fellow at the University of Texas at Austin.
"These fragmented groups have also increasingly adopted gruesome tactics and ventured into additional activities to beef up their revenue – such as extortion or kidnapping – that are often far more damaging to Mexican communities than standard drug trafficking," they noted.
The Cartel de Jalisco Nuevo Generación (CJNG), for example, has consistently expanded its territorial reach since 2010. Last year, with the arrest and extradition of Sinaloa Cartel leader Joaquín "El Chapo" Guzmán, the CJNG has "started to challenge the Sinaloa organization for control of different areas, creating more violence," Eric Olson, deputy director of the Wilson Center's Latin American program and senior advisor to its Mexico Institute, told The Cipher Brief.
Not all of Mexico's problems are internal, though. "The United States shares a lot of responsibility," said Olson. "But the focus tends to be the other way around. We tend to want to address the problem of illicit drugs in the region and are less convincing when it comes to the home front," he said.
In reality, "violence in Mexico is largely fueled by two illicit trades: drugs moving north and weapons moving south across the border," according to Dyer.
The Trump Administration recognizes this. "We need to confront we are the market," Secretary of State Rex Tillerson told a press conference with Mexican Foreign Secretary Luis Videgaray in May. If it weren't for the United States, "Mexico wouldn't be suffering from violence due to drugs," Tillerson said.
"There's an opioid epidemic in a lot of cities in the U.S.," commented former chief of the U.S. Border Patrol, Mike Fisher, "and a lot of that heroine is coming from Mexico."
Olson said around 80 percent of the heroin supplied to the U.S. now comes from Mexico, and "We've seen a real uptick in methamphetamine trafficking with laboratories in the Sinaloa and Colima area."
Preliminary data shows drug overdose deaths in the U.S. last year probably exceeded 59,000, the biggest annual jump ever recorded in the country. "The death count is the latest consequence of an escalating public health crisis: opioid addiction, now made more deadly by an influx of illicitly manufactured fentanyl and similar drugs," reported the New York Times.
The problem is, we're not doing anything about it, Homeland Security Secretary John Kelly said at an Atlantic Council event in May.
U.S. President Donald Trump has vowed to end America's "terrible drug epidemic," but no concrete policies have been implemented.
In fact, Trump's election seems to have made Mexico worse off, at least in the short term. The peso plummeted after the U.S. presidential election, due to uncertainty over the future of the North Atlantic Free Trade Agreement (NAFTA) and future relations between the U.S. and Mexico. The peso is now recovering, but uncertainty remains, and "people don't want to take economic risks when they don't know what the economic and financial climate will look like, when they're hearing such volatile statements coming from the U.S., its [Mexico's] most important trade partner," said DeLevie-Orey.
Trump and Peña Nieto had their first face-to-face meeting on the sidelines of the G-20 summit in Hamburg, Germany, this month. The conversation focused mostly on NAFTA, which Trump had earlier threatened to pull out of. NAFTA renegotiations are to start in August.
Both sides agreed to work together on security, according to a statement from Peña Nieto's office, and Peña Nieto praised the Trump Administration's decision to maintain a program that allows some immigrants brought into the U.S. illegally by their parents to stay.
Still, experts told The Cipher Brief future relations between the neighbors are unclear.
Mexico's presidential election next year could throw the relationship into further chaos. "A move to the left [would] certainly put Mexico on a collision course with the U.S. and the current incumbent, increasing economic uncertainty for the next Mexican administration," wrote George Lehner, a member of the Fund for Peace's Board of Trustees and a partner with law firm Pepper Hamilton.
In the meantime, Peña Nieto will be more or less a lame duck all next year, said DeLevie-Orey, adding, "I don't think people are seeing Peña Nieto as a leader who has tremendous impact at this point."
Nevertheless, the U.S. and Mexico will continue working together on security. The military-to-military relationship remains strong, noted Fisher, and, "The U.S. has always recognized that U.S. safety and security and stability rests in no small measure on the security and stability of Mexico," said Olson. 
Kaitlin Lavinder is a reporter at The Cipher Brief. Follow her on Twitter @KaitLavinder.