Great Power Politics in Latin America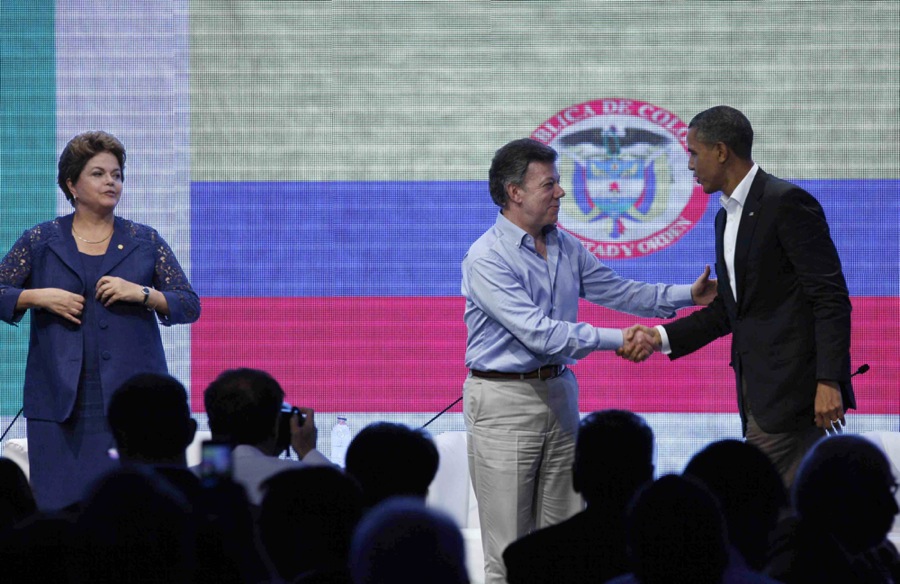 Latin America is challenging the status quo.  Rather than be seen as one more area for competition between the United States and China – two of its largest trading partners – key dynamics are making the future of great power politics in Latin America harder to predict.
The previous, commonly-held narrative around U.S.-Latin American relations is fraught with feelings of manipulation and neglect, and that China was more than happy to step in to fill the vacuum created by the United States, taking advantage of the region's resources and commodities. 
In the mid-2000s, the so-called "pink tide" of left-wing, often anti-U.S. governments rose to power, led by Venezuela, Bolivia, and Argentina.  Recent years have seen the United States focused primarily on the Middle East and the pivot to Asia; its southern neighbors often felt like an afterthought.  Meanwhile, Beijing's interest in raw materials – oil, gas, minerals and soya – continued, particularly as the global financial crisis caused traditional export partners to lower demand.
But that narrative is being challenged by key dynamic shifts in Latin America.
U.S. policies regarded by experts as more constructive than solely counter-narcotic efforts – though those remain in place – and a strong diplomatic push to normalize relations with Cuba have led to an increase in favorable views of the U.S. by Latin Americans.  According to a poll by Latinobarómetro, between 2008 and 2016, respondents with a positive view of the U.S. increased from 58 percent to 74 percent.
Meanwhile, an impending implosion in Chavista Venezuela and the dissolution of other leftist regimes in the region – often plagued by scandal – have given voice to an outcry against a lack of transparency and economic mismanagement by governments.  This has fueled the rise of more market-friendly economies and leaders in Argentina, Brazil, and Peru, weakening the anti-American counter-narrative and shifting countries' positions vis-à-vis China.
"Indirectly, Chinese money has helped weaken the accountability of populist leaders of regimes, such as Venezuela, to their institutions and populations, short-circuiting corrective mechanisms in those countries, where, under normal circumstances, leaders exercising poor governance and unsustainable policies are reined in by their own people and institutions," Dr. R. Evan Ellis told The Cipher Brief in March.  "By helping to decouple populist leaders from the short-term consequences of their policies, Chinese commodity purchases and loans have increased the risk of profound crises within those regimes."
But Ellis, a professor at the U.S. Army War College, writes that China has reacted quickly to the shifting ground in Latin America.  "In short, from the north of the Latin America to the south, China's business and political relationships with the continent seemed to be coming apart.  What a difference a couple of months make."
He tells us that China has undertaken a "charm offensive" in Latin America, sending a flurry of diplomatic leaders and even President Xi Jinping and Premier Li Keqiang themselves throughout the region to secure investment and infrastructure deals.
In Ellis' view, "China's interests in the region are primarily economic in nature, but this does not make them any less strategic, nor any less impactful for the region or the position of the United States."  Chinese investment has strategically acquired access to three key elements in Latin America: raw materials, markets and technology.
But while China has had to take quick action to manage through these changes in government, the United States welcomed it with open arms.  According to Shannon O'Neil, the Nelson and David Rockefeller Senior Fellow for Latin America at the Council on Foreign Relations, "if you look at Argentina, Brazil, Peru, as well as many others, they join countries like Colombia, Chile and Mexico who have quite open and constructive relationships with the United States."
This is a positive development, she says. "Overall, as the Obama administration or the next president looks around the world, this is a place where there is a lot of stability, there are fairly strong democracies, there's some economic growth—it's slow, but it's solid, and there's a lot of pragmatic leadership that the United States can work with."
But even with these dynamic changes in the region, nothing will remain static because of one enormous wildcard: The U.S. election. While a Hillary Clinton administration would likely extend or expand the policies of the Obama administration, Donald Trump has advocated building a wall on the U.S.-Mexican border and promised to reverse the diplomatic normalization with Cuba. Despite these greater winds of change in Latin America, the U.S. election has the potential to change the game entirely.