Will U.S. Human Rights Efforts Wilt Under Trump?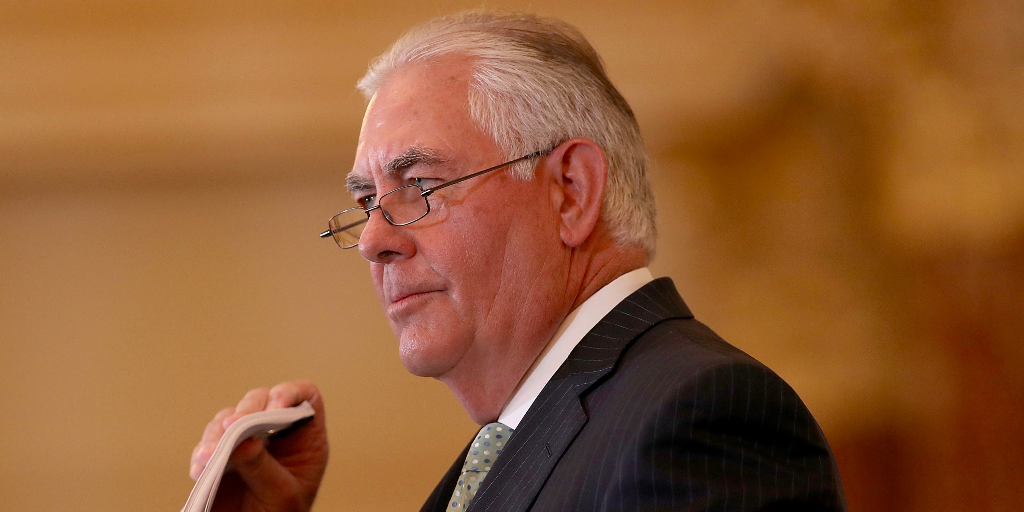 In remarks to his staff at the State Department this May, Secretary of State Rex Tillerson appeared to announce a departure from decades of U.S. foreign policy. While lauding the fundamental American values of "freedom, human dignity, and the way people are treated," Tillerson went on to say that "those are our values…not our policies" and that the full-throated promotion of such values can create "obstacles to our ability to advance our national security interests."
To many, this speech – in combination with statements from President Trump both during the campaign and in office – indicated the administration's deep ambivalence, if not hostility, towards the pursuit of a values-based foreign policy and the international promotion of human rights. However, in a surprise move late last month, the administration denied Egypt $96 million in economic aid and $195 in military aid citing, in part, the country's poor human rights record.
At just eight months old, it is too early to know whether the Trump Administration will ditch issues like human rights in favor of hardnosed realpolitik, or continue almost four decades of values-driven American foreign policy. But, as the Trump foreign policy unfolds, it is necessary to ask how such values serve to further American interests, and what their abandonment would mean for the United States.
The traditional argument for integrating fundamental American values – particularly human rights – into U.S. foreign policy is simple. That the United States has a moral duty to promote these universal values, which underpin its own domestic and international legitimacy. As former Ambassador Charles Ray puts it, U.S. foreign policy embraces such moral imperatives because "it's the right thing to do. Flawed though we may be, our ability to admit our flaws, and sometimes even take action to remedy them, stands as a beacon to the rest of the world."
This basic sentiment of moral obligation has played a role in American society since John Winthrop told early Massachusetts settlers that their community would be a shining "city upon a hill" watched by the world – and part of U.S. foreign policy since the Revolution. According to Ray, it was President Jimmy Carter's decision to incorporate human rights into his foreign policy in the 1970s that "committed the executive branch for the first time." Following in that tradition, President Barack Obama promised to double down on this commitment after his election, telling State Department employees that "our support for these principles is not a secondary interest… it is a top priority that must be translated into concrete actions, and supported by all of the diplomatic, economic, and strategic tools at our disposal."
This is a view of American foreign relations that President Donald Trump and his supporters have consistently rejected. Beyond Tillerson's remarks to his staff about deemphasizing human rights, reports suggest that the State Department is considering removing references to democracy and human rights promotion from its mission statement. For his part, Trump has expressed a consistent and remarkable ambivalence towards authoritarian leaders, like Filipino President Rodrigo Duterte, whom he invited to the White House despite Duterte's brutal anti-drug campaign that has led to thousands of extra-judicial killings in the Philippines.
In a trip to Saudi Arabia – ranked by Freedom House as one of the 11 least free nations in the world – Trump told Gulf allies that "we are not here to lecture," echoing the foreign policy of former President Richard Nixon and his Secretary of State Henry Kissinger, which refrained from scolding foreign leaders over human rights in favor of securing material U.S. interests.
However, despite the lofty rhetoric, America's values-based foreign policy has rarely been purely moral in nature. The promotion of international human rights and democratic ideals is an expression of core American beliefs, but it is also an extremely practical tool that can accelerate and enhance U.S. diplomatic and military objectives. "Human rights," says military consultant and senior fellow at CSIS Edward Luttwak, "are an extremely effective tool of foreign policy."
This is not necessarily because the promotion of human rights and other core values will actually produce transformative change in other countries. Although such change may eventually occur, the more immediate value of integrating human rights and democratic ideals into U.S. foreign policy is to offer U.S. policymakers an extremely cheap and extremely effective international public relations tool, which can be used both to punish enemies and relieve pressure on allies.
This tool, says Luttwak, offers American leaders "the option for continuous modulation… For offending countries that are useful to the United States, we can set the volume very low, but for countries that are bothering us we can raise the volume." At the lowest levels, this volume control can be set at rhetorical criticism, but through the use of State Department human rights reports, designation lists, and even the solicitation of international bodies like the UN, punishment can be ratcheted up to the level of crippling sanctions.
Despite its apparent ambivalence to human rights and democracy promotion, the Trump Administration may now be realizing the utility of this powerful diplomatic tool. The decision to suspend U.S. military and economic aid to Egypt last month was ostensibly in response to a law restricting the activities of nongovernmental organizations in the country. However, similar laws have been on the books for years and the government of President Sisi – who Trump lavishly praised during a visit in May – has repressed, jailed, and killed thousands of political opponents since he took power in 2013. More likely, the sudden interest in Egyptian human rights abuses is inspired to Cairo's alleged connections to North Korea and sluggish progress on combatting ISIS in the Sinai. Similarly, the administration has leaned heavily on Iran's human rights record as a way to push continued U.S. sanctions against the country while – so far – confirming Tehran's compliance with the nuclear deal.
These signs suggest that the Trump Administration's use of human rights and democratic values in foreign policy may not depart so drastically from convention. In Luttwak's view, this would simply fit the old ideal scenario where "you preach human rights and you bomb them in the afternoon."
However, a key tenet of using values in foreign policy is that your values are perceived as legitimate and correct, and more fundamentally, that you are perceived to believe in them. During the 2016 presidential campaign, Trump said, "I don't know that we have a right to lecture [other countries]… Just look about what's happening with our country." President Trump may need to walk back such sentiments if he decides to use American values to strengthen his foreign policy.
Fritz Lodge is a Middle East and international economics analyst at The Cipher Brief. Follow him on Twitter @FritzLodge.