Kelly Downplays Trump Views at Hearing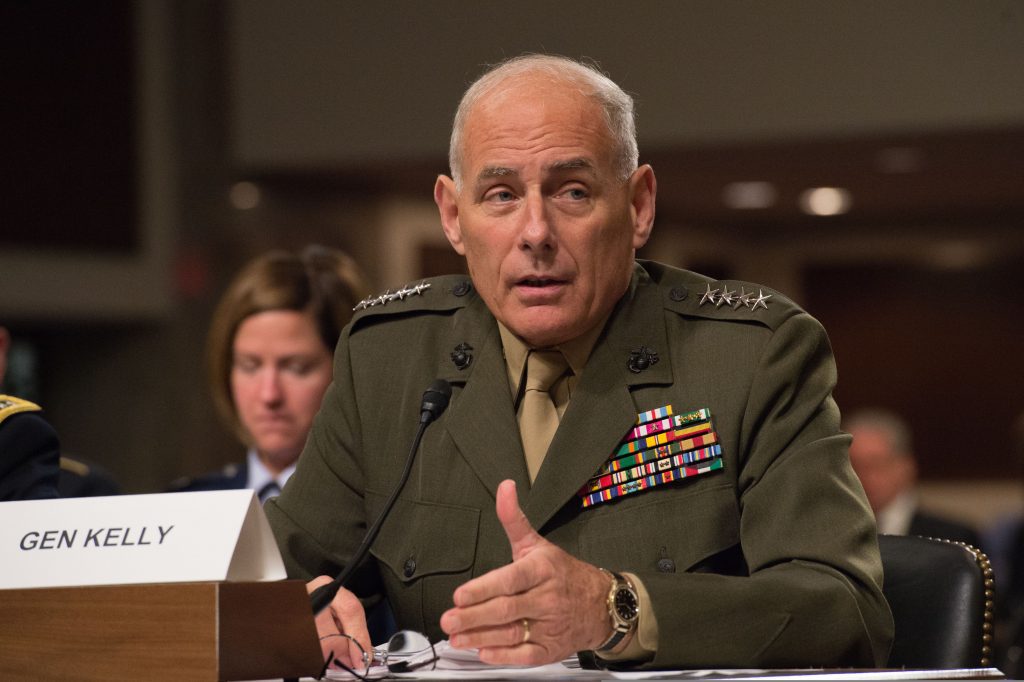 When President-elect Donald Trump nominated retired Marine Corps General John Kelly to be the next Secretary of Homeland Security, the selection was met with approval by Senators on both sides of the aisle. That support was evident during his confirmation hearing before the Senate Homeland Security Committee on Tuesday, a session that only lasted a little over two hours.
Kelly, a retired U.S. Marine Corps 4-Star General whose military career spanned four decades, ended his service as commander of U.S. Southern Command.
In his opening statement, Gen. Kelly said he had "never had a problem speaking truth to power" and believed that "those in power deserve full candor and my honest assessment and recommendations."
During the course of the hearing, he downplayed a series of Trump policies that were floated by the President-elect during his campaign, including a potential Muslim registry and prospects of using controversial harsh interrogation techniques, ones that Committee Chairman John McCain (R-AZ) referred to as torture.
While campaigning, Trump said he may "bring back" waterboarding or other more extreme tactics in the fight against terrorism. But Kelly said he would abide by U.S. laws. "I don't think we should ever come close to crossing a line that is beyond what we as Americans would expect to follow in terms of interrogation techniques," he said. He went on to agree that the Geneva Conventions should continue to serve as a guide for the United States.
Questioned about a Muslim ban, Kelly said, "I don't think it's ever appropriate to ever focus on something like religion as an only factor."
He also downplayed the significance of building a wall on the U.S.-Mexican border, another Trump campaign pledge, saying "A physical barrier in and of itself will not do the job. It has to be a layered defense," in reference to fighting drug trafficking.
"If you were to build a wall from the Pacific to the Gulf of Mexico, you'd still have to back that wall up with patrolling by human beings, by sensors, by observation devices," he added.
He said he would let the law "guide me" on dealing with the deportation of undocumented immigrants, admitting that it "probably would not be at the top of the list."
In contrast to Trump's position on Russia's role in the U.S. election, he said he accepted the findings of last week's intelligence community report on Russian interference "with high confidence."
---
The Cipher Brief's Leone Lakhani sat down with Todd Rosenblum, who worked with General Kelly while he was the Former Acting Assistant Secretary of Defense for Homeland Defense and Americas' Security Affairs, to learn more about the potential Secretary of Homeland Security.
The Cipher Brief: You knew General Kelly when he was heading Southern Command. What's he like as a person?
Todd Rosenblum: He's a man of deep conviction. He's very passionate about what he does. He obviously is a lifelong military person, having 40 years of uniform service. My experiences with him took place over two years of time, when he was the Commander of U.S. Southern Command and I was Acting Assistant Secretary of Homeland Defense and Western Hemisphere policy.
We collaborated regularly on issues like countering crime, entry into the United States, on humanitarian affairs, disaster relief, et cetera. He's a real straight-shooter, someone who believes firmly in what he's doing, and can be outspoken about his passion, but it's much appreciated, and it's with an appropriate balance.
TCB: In his opening statement he said, "I have never had a problem speaking truth to power." Is he the type of person who would challenge the President? We saw him downplay a few of the policies and ideas that Mr. Trump floated during his campaign, the possibility of using waterboarding, for instance, a Muslim ban or registry. 
TR: Each relationship between a president and a cabinet secretary is going to be different, and there's going to be different levels of tolerance for pushback and challenge. So I can't speak to that definitively other than to say, John Kelly in his work at the Pentagon was comfortable being a strong advocate for his positions to his leadership up the chain which would be the Vice Chairman and the Chairman of the Joint Chiefs of Staff and ultimately, the Secretary of Defense.
As we saw in the hearing today, he did take positions that ran counter to positions that the President-elect had taken during the campaign. That's the evidence I have to date that he's willing to stake out positions based on his beliefs, and he will not just parrot what would be the party line.  
TCB: One of the topics that came up repeatedly was about building a wall on the U.S.-Mexican border, which again was one of Trump's key pledges. Kelly was asked about it, and he responded in terms of fighting drug trafficking specifically, but nonetheless he said a wall is not enough.
TR: The issue of the approaches to the Homeland is something he's deeply familiar with, has strong views, good understanding, and understands both the limits and the potential for increasing border security. He's speaking in this case with great authority about the limits and opportunities of focusing on building a wall.
He speaks with both complexity and coherence in saying it's not simply about building a wall. I appreciate that, and I think it reflects someone who's had responsibility and knows the limits of simply building fences as a way to provide security.
TCB: He's always been very outspoken about convergence, however.
TR: Yes, and that's something where I have a different view. Overwhelming, arrivals into the Homeland are economic migrants.  We have a very small percentage of drug traffickers and those who facilitate human trafficking and smuggling.
But on the issue of convergence with terrorism and terrorist organizations, we haven't seen it. It doesn't mean we cannot rule out the possibility 100 percent, but there's really no evidence to date that the drug trafficking organizations want any involvement with terrorist groups. I think we need to be more cautious when we talk about convergence.
TCB: Let's talk about cyber security. It is, of course, a key challenge. The DHS has been instrumental in creating a cyber defense strategy? What's his background in cyber, if at all? Is it adequate?
TR: I think his background in cyber is limited to his role as the senior military assistant to the Secretary and then as Commander at Southern Command, on the need for network hygiene, something everyone needs to do. But I'm not aware that he has background in terms of cyber policy, deterrence, building in resiliency, redundancy, et cetera. These are perhaps the highest or certainly a central mission for the Department of Homeland Security.  I suspect when he assumes the position, he's going to have a bit of a learning curve on these issues, both in terms of the span and scope of what DHS does to protect dot.gov and also to be the nation's primary liaison and partner with the private sector on protecting the dot.com world.
TCB: Given your experience in the field, how should he tackle the cyber response?
TR: It's going to be a bit of a transformation for him.  Where in the military community there is clear direction, guidance, and the execution of orders, it's much messier in dealing with the civilian side—not dot.gov but dot.com, the relationship with the private sector. I think he should really go on a listening tour right away to hear from, not just Silicon Valley on the advances of technology, but also in terms of what companies—large and small, our critical infrastructure owners and operators—the challenges they face in the private sector, where they want to cooperate with the government and where there is not cooperation and there are inherent constraints that will always limit their cooperation.  That's going to be an adjustment for him and something he should do up front, because otherwise you could make the wrong assumption about how much the private sector is willing to work with the government and in collaboration with competitors in the business world.
TCB: Finally, his illustrious career, what do you think he'll bring to the table?
TR: I think he will bring to the table someone who's got vision about operations. In his case, he brings the defense operations, military operations perspective, but a lot of the DHS portfolio is operational. Whether you're talking about disaster response by FEMA or the border security operations done by ICE and CBP or the domestic enforcement missions of ICE and Homeland Security investigations, he already comes to the table with a very good feel about what's needed to both plan, execute, and repeat operations in a way that's very effective, integrates forces across different types of organizations and can build those bridges in strategic planning capabilities that DHS is making progress on, but still has a long way to go. 
Leone Lakhani is executive producer and reporter at The Cipher Brief. Follow her on Twitter @LeoneLakhani.