Dollars and Sense: Military Spending During an Economic Downturn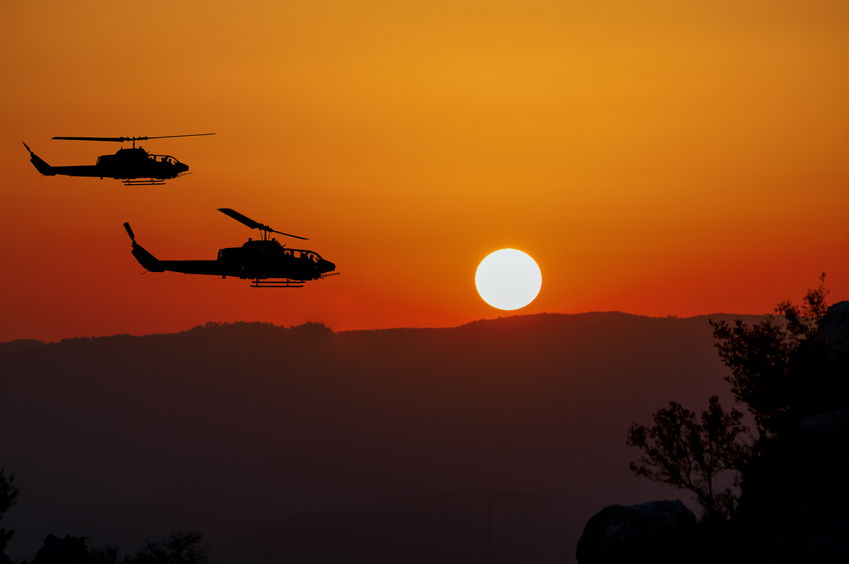 The relationship between military spending and GDP growth in peacetime seems an easy equation. When a country's economy is healthy and growing, it can splurge on fancy new equipment and a larger standing army. When growth has slumped and government revenues decline, that country should tighten its belt and focus only on the most critical expenditures. For most, this basic math holds true.
However, for some, the equation is flipped. Rather than follow a more or less parallel path, the lines of GDP growth and military expenditures veer off in opposite directions. This seemingly inverse relationship might be expected of a country at war, fighting an existential threat, yet the same phenomenon can be seen in nations that are not locked in a clear struggle for survival.
Today, Russia and the Kingdom of Saudi Arabia provide two examples of this kind of mismatch between domestic economic imperatives and their military and foreign policy objectives. What is it that drives these nations to prioritize military foreign policy imperatives over the health of their own economy?
Russia's position is especially stark. According to Christopher Chivvis, Associate Director of the RAND Corporation's International Security and Defense Policy Center, "the Russian economy faces a triple whammy of Ukraine sanctions, low oil prices, and an overall poor business climate." These three factors have conspired to cut the knees out of the Russian economy, which has now been in recession for nearly two years. In 2015, annualized GDP growth actually fell by 3.7 percent, and the Russian Ruble collapsed against the dollar, reaching its lowest levels since the Russian financial crisis of 1998. The Russian economy is forecasted to stabilize somewhat this year, but GDP is still expected to shrink by at least 0.6 percent, and in August, Russian real incomes dropped by 8.3 percent compared to last year, a deeper drop than at any point since the 2008 global financial crisis.
The government of President Vladimir Putin has responded to this ongoing economic crisis by pledging to cut government budgets 10 percent across the board. Putin even slashed his own salary by 10 percent last year. However, notes Chivvis, "the Russian military has been spared the belt-tightening measures that might normally be expected in the face of such economic difficulty." To be sure, the U.S. dollar value of Russian military expenditures did decline in 2015, but much of this is due to the devaluation of the ruble. Ruble-denominated expenditures actually rose by 33 percent during 2015, and over the past month, Putin has doubled down on Russia's expensive involvement in the Syrian civil conflict, supporting Syrian advances in Aleppo with some of the heaviest bombing of the war.
Saudi Arabia, on the other hand, faces a different set of problems. Endowed with nearly $600 billion in foreign exchange, the Kingdom is far better placed to weather low oil prices than other producers like Russia. However, oil revenues make up anywhere between 77 and 88 percent of the Kingdom's total income, and low oil prices have led to ballooning budget deficits. Paying off those deficits has already depleted foreign exchange by over $120 billion – reserves stood at $724 billion in 2014 – and the IMF predicts GDP growth will shrink to 1.2 percent this year, down from 3.5 percent in 2015.
To counter these economic headwinds, the youthful Mohammed bin Salman – Deputy Crown Prince and son of the current King Salman bin Abdulaziz al Saud – is looking to shake up the Kingdom with a revolutionary package of reforms. Dubbed "Vision 2030," this plan seeks to cut the fat out of the Saudi budget – civil service wages, wasteful state subsidies, etc. – while completely redirecting the Saudi economy away from petroleum revenues. Yet military expenditures are seemingly immune to this wave of reform and cuts. As budget deficits widen, military spending is roughly $56 billion dollars, a full 25 percent of all budget expenditures.  
The most immediate reason for this focus on military spending and hardware is the Saudi military intervention in neighboring Yemen. Following the capture of the Yemeni capital Sana'a by Houthi insurgents in 2014 – whom Saudi Arabia believes to be a proxy of Iran – Riyadh began an aerial campaign to restore the former government of President Abd Rabbuh Mansur Hadi to power. However, as Director of the Gulf and Energy Policy Program at the Washington Institute for Near East Policy and Cipher Brief expert Simon Henderson writes, "the challenge is how to do all this – war and economic transformation – in a period of sustained low oil prices."
As Saudi Arabia enters a period of deep economic and societal change, why does it engage in foreign military adventures and pour a full quarter of its budget into military spending? Why does Russia do the same?
Of course, the answer to this question is different for each country. In Russia, military strength and foreign posturing serve a purpose as domestic theater, as well as foreign policy tools. "Absent opportunities to strengthen the economy through further economic integration with the outside world," writes Chivvis, the Russian government can "attempt to distract attention through foreign adventures."
Similarly, palace rivalries may play some role in Mohammed bin Salman's enthusiastic pursuit of military growth and the Yemen intervention as he works to assert his authority over the Crown Prince, Mohammed bin Nayef.  After more than a year of war in Yemen and little to show for it, the young prince has begun to back off involvement in the country.
However, at the heart of both countries' policies lies the perception of a real existential threat. Vladimir Putin views the U.S. and NATO through a Cold War lens as bitter geopolitical rivals. Gazing through that lens, military expenditures, military reform, and expensive incursions into places like Syria and Ukraine are necessary to balance against powerful competitors.
For Saudi Arabia, the specter of Iran casts a long shadow. After the U.S. signed the JCPOA nuclear pact with the Islamic Republic and lifted some targeted sanctions on the country, Riyadh sees itself fighting alone against a rival whose influence now spreads from Iraq to Syria, Lebanon, and Yemen. In the face of such a threat, spending on military readiness becomes a mandatory expense, and intervention in neighboring Yemen becomes an effort to keep the enemy off your doorstep. 
Fritz Lodge is an international producer at The Cipher Brief.