Clapper: Trump Jr. Emails "Only One Anecdote in a Much Larger Story"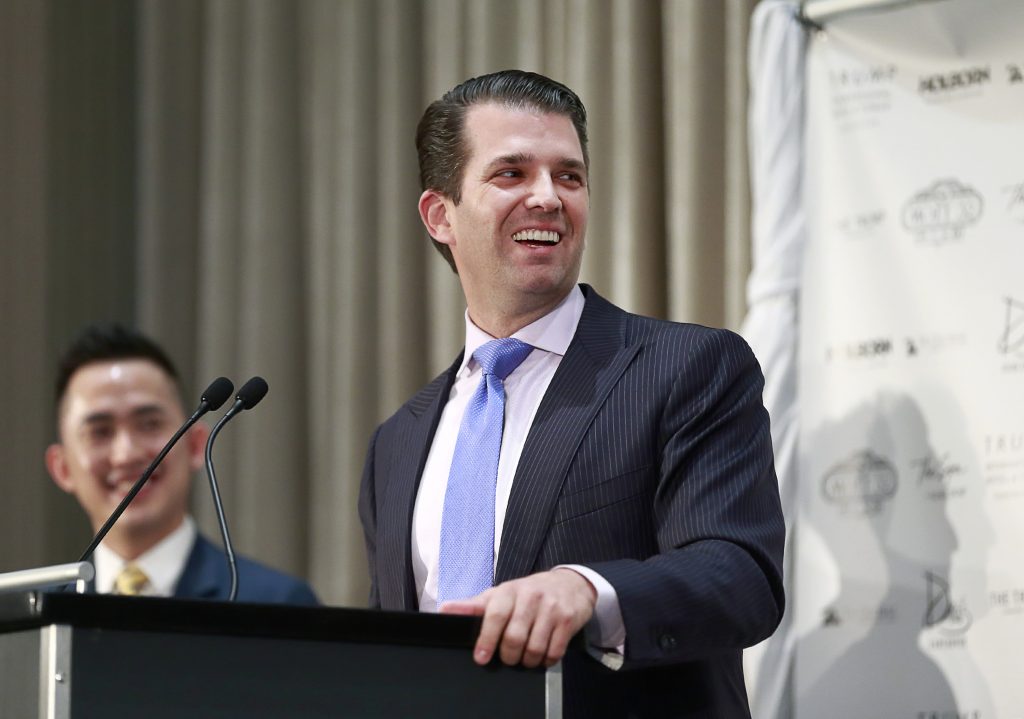 Donald Trump Jr. eagerly accepted help connected with what he was explicitly told was the Russian government's effort to boost his father's campaign, a move that former top Intelligence Community officials said comes straight out of the Russian playbook on tradecraft and raises alarming new questions about Russian interference in the 2016 election.
"I'll leave it to the special counsel to determine whether the legal threshold of collusion was breached, but from this layman's point of view, it certainly appears that way to me," former Director of National Intelligence James Clapper said.
Former Acting Director of the CIA John McLaughlin said that based on what has been reported about the emails Trump Jr. released on Tuesday, "it looks to me like an elaborate operation carried out through intermediaries to probe the receptivity of the Trump campaign to assistance from the Russian government during the campaign."
"It is not unusual for it to be carried out through such a long chain of intermediaries, because the tradecraft objective here is to separate the original ambition as far as possible from the ultimate result so it becomes very hard to trace back, as it is in this case, exactly what happened and who did what," he said.
This email exchange is "huge," former CIA Acting Director Michael Morell said, given it "shows that a senior member of the Trump team" knew in early summer of 2016 that "the Russians were working on behalf of Trump."
"Any person with integrity would have picked up the phone and called the FBI, and they would not have attended the meeting," Morell said. "The fact that Donald Jr. did not call the FBI — and the fact that he went ahead with the meeting with such enthusiasm — shows a willingness to collude with a foreign government, even though there was probably no actual collusion during the meeting itself, if it played out as described."
According to a declassified U.S. intelligence agencies' report on Russian hacking and efforts to meddle in the 2016 election, Russian President Vladimir Putin ordered a cyber and influence campaign aimed at interfering in the United States election and boosting candidate Donald Trump's chances.
Daniel Hoffman, a former Chief of Station with the CIA, said this incident should shine a light on the Kremlin and its objectives. "Russia was mounting cyber and more traditional HUMINT operations against our electoral process. They wanted to muddy our democratic institutions and one of the ways to do so was to make it appear one campaign was talking to Russians about another campaign. While our media may be focused on other angles of this story, we need to remember what I believe was a purposely not so veiled, but highly sophisticated part of Russia's strategy, singularly focused on doing harm to its 'main enemy,'" he said.
The Trump Jr. emails are likely "only one anecdote in a much larger story," according to Clapper. This email exchange occurred in June 2016, "before the campaigns heated up, and the Russians became steadily more aggressive with their campaign to interfere in the election," Clapper pointed out. What emails and meetings took place following this one?  he asked.
"I can't believe that this one exchange represents all there is, either involving the President's son or others associated with the campaign," Clapper said.
The Russians apparent effort in this case "certainly comports with their traditional tradecraft practices," Clapper noted, and given the focus then and now on sanctions relief, the Kremlin "sought to gain leverage and influence anyway they could."
This effort to interfere in the United States' election plays into Putin's foreign policy aims for the country, as well as for the West at large.
"Putin wants to weaken the United States. Creating political turmoil here does that — it means we are not able to focus as we should on the important economic and national security issues facing the country, to include Russia's malign behavior in the world. I am certain that Putin is quite pleased with all of this," Morell said.
Delving into the emails
According to the exchange posted by Trump Jr. and the New York Times, publicist Rob Goldstone sent the president's son an email with the subject line, "Russia – Clinton – private and confidential" last June. He stated that he was writing at the request of Emin Agalarov, a pop star in Russia and the son of Aras Agalarov, a Russian real estate mogul who in 2013 was involved with Trump Sr. in bringing the Miss Universe pageant to Moscow and who was awarded an Order of Honor of the Russian Federation from President Vladimir Putin.
Goldstone said that the "Crown prosecutor of Russia" met with Aras and "offered to provide the Trump campaign with some official documents and information that would incriminate Hillary and her dealings with Russia and would be very useful to your father."
"This is obviously very high level and sensitive information but is part of Russia and its government's support for Mr. Trump," he wrote. Trump Jr. replied less than 20 minutes later, "if it's what you say I love it especially later in the summer."
Goldstone then arranged a meeting between Trump Jr. and a person he described as "the Russian government attorney who is flying over from Moscow." Trump Jr. confirmed the meeting in an email, saying that then-Trump campaign chair Paul Manafort and Trump's son-in-law and now-senior advisor Jared Kushner would attend the meeting as well.
A message with the subject line "FW: Russia – Clinton – private and confidential" was forwarded to Manafort and Kushner confirming the time of the meeting last June. Trump Jr., Kushner, and Manafort met with Russian attorney Natalia Veselnitskaya on June 9, 2016.
It is not clear what alleged damaging material on Clinton was being suggested by Goldstone's initial email. According to Veselnitskaya, she did not discuss anything about the presidential campaign, while Trump Jr. said she offered only "vague, ambiguous" statements related to Russian individuals funding the Democratic National Committee, and that "it quickly became clear that she had no meaningful information."
"That strengthens my sense that it was more of an effort to just see if they could get a bite, and then having gotten a bite, that raises another question — was there another phase to this that we haven't seen yet?" McLaughlin said.
The use of Veselnitskaya — a Kremlin-connected lawyer who has lobbied against the Magnitsky Act, which punishes designated Russian officials who are thought to have been involved with human rights violations by withholding visas and freezing financial assets — is significant and easy to read from the Russian perspective, Hoffman noted.
"I think the chain of personal connections is important and casts a spotlight on what looks to me like a Russian government operation to sow distrust of our electoral process rather than some random meeting," he said. "I have a theory, that Russia would have wanted us easily to conclude Kremlin-connected lawyer Veselnitskaya was linked to the Russian government. Given Veselnitskaya's ties to real estate developer oligarch Agaralov and his publicist Goldstone, this would be a basic analytical problem the Russians would be feeding us, equivalent to a first grade math problem, not advanced calculus, in the counterintelligence world."
"Had the Russians wanted to disguise this, they could have used someone less obvious to make the meeting like an American or third country national.  It may appear counterintuitive, but I believe that is precisely what they wanted, to create the suspicion of not just a Russian but a Russian government footprint in our electoral process.  There would be just enough not so plausible deniability for President Putin while he deployed Russia's most effective weapon to soil our democratic institutions — Russia's own government," Hoffman added.
President Trump said in a statement, "my son is a high quality person and I applaud his transparency." Trump Jr. released the 13-month old emails Tuesday to try to preempt the New York Times report.
New questions emerge
This revelation leaves a number of key unanswered questions for investigators to delve into, according to the former IC officials.
Special counsel Robert Mueller is overseeing the investigation into whether there was any coordination between Trump's campaign and Russia to interfere in the 2016 U.S. election, and there are several congressional inquiries as well.
Morell said that if he were conducting the investigation, his next steps would be to find out who Trump Jr. may have forwarded the email about the Russian government trying to help his father, whether there were similar meetings with Russians, and if any information was ever passed in one direction or another. And he said the investigators must pursue these questions: "Did Trump himself ever know? Is that why he is so paranoid about the Russia investigation? Is that why he so wants to get along with Putin? And did a clear willingness to collude become a collusion at some point?"
"What I find striking — and alarming — is less that these senior Trump officials stepped over the ethical line, but that they don't seem to even understand that such a line exists," Morell said.
According to Clapper, the question to ask is, "when will the Republicans collectively say 'enough'?"
"We are headed for a constitutional crisis, in my view," Clapper wrote in an email.
What the U.S. must focus on now is trying to understand Russia's motives and where the Kremlin might be headed in the future, Hoffman said.
"There's a value as well, of sharing this Russian tactic with our closest foreign liaison partners to determine whether they have likewise spotted anything similar," he said. "The U.S. IC would need to collect intelligence and produce analysis to confirm this theory of Russian government culpability."
"Historically, this sort of an offensive HUMINT influence operation is absolutely in Russia's intelligence playbook," Hoffman said.
Mackenzie Weinger is a national security reporter at The Cipher Brief. Follow her on Twitter @mweinger.