Day 1: Dispatch from RSA Conference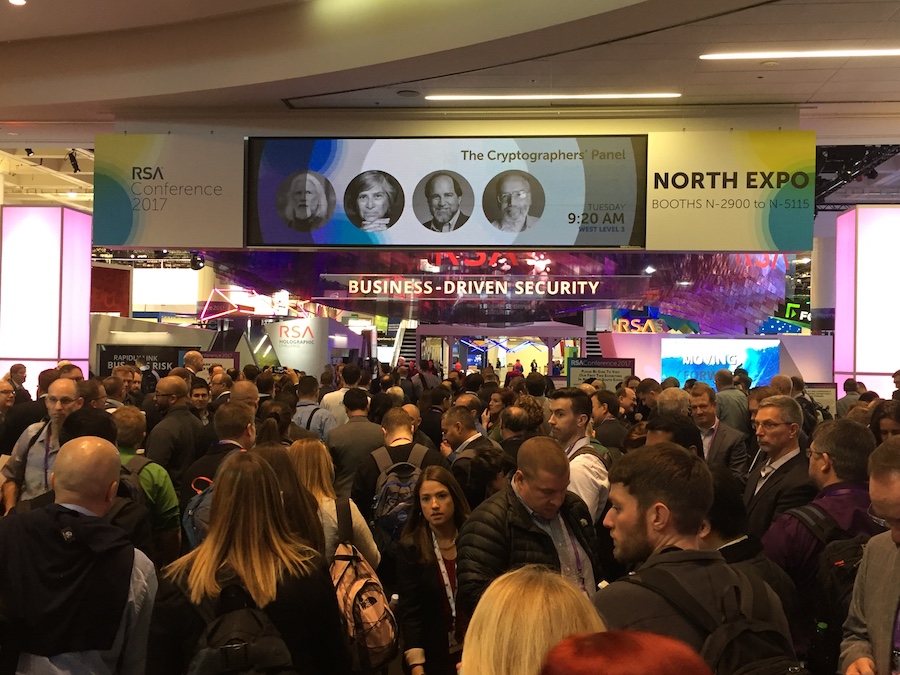 This week I'm attending the annual RSA Conference in San Francisco, where government and industry leaders have come together to discuss the looming challenges and newest tools in cybersecurity.
Throughout the week, I'll be speaking with experts, bringing you insights on the threats emanating from cyberspace, ranging from ransomware and the Internet of Things to cyber warfare, espionage, and everything in between.
The conference kicked off at the intersection of practicality and idealism—technological approaches to privacy. Ever get the feeling that someone is watching you? It's probably because they are, albeit through the troves of personally identifiable information you unknowingly leave behind every time you go online.
Ari Schwartz, the managing director of cybersecurity services at Venable, laid out the top ten privacy issues in cybersecurity to watch for in 2017:
bottom-up privacy by design
data breach reporting
identity management
EU privacy laws
information sharing through the Department of Homeland Security and the Department of Justice,
analysis versus threat sharing
rules on "hacking back"
encryption policy
vulnerability disclosure
government hacking.
But despite all these issues, how does one actually implement privacy protections? The practical implementation involves technologies that will assist companies in maintaining compliance with privacy laws – while still salvaging their bottom line. These technologies will enable Internet companies to recognize, respect, and respond to each user's personal context and ensure meaningful consent of the use of the users' data.
One such technology was Prifender, which uses artificial intelligence to discover and map personal information across networks while associating identities with their respective obligations in order to create a data profile for any individual across any network, system, or platform. This user profile would then allow companies to determine whether they are compliant under the more than 100 cross-border laws that govern data privacy—ultimately saving them losses from fines.
I had the opportunity to speak with Ryan Gillis, the Vice President of Cybersecurity Strategy and Global Policy at Palo Alto Networks, about policy recommendations he might have for the Trump administration. Gillis pointed to bipartisan continuity in cybersecurity policy throughout both the Bush and Obama administrations, suggesting the same is likely to continue under President Trump. The policy centers around the Department of Homeland Security—an intentionally non-military body operating in a federated space—taking the lead in securing the nation's connectivity by closely partnering with the private industry that owns and operates the vast majority of the country's critical networks.
I also sat down with Kenneth Geers, a Senior Research Scientist at Comodo and an ambassador to the NATO Cooperative Cyber Defense Center of Excellence. As a veteran of the National Security Agency (NSA), Geers told me about the overlap between geopolitical events and network breaches, namely for cyber espionage, but also as part of the "preparation of the battle space" for cyber-enabled warfare. For example, Geers described the evolution of the simple yet broad-based distributed denial of service (DDoS) attacks that hit Estonia in 2007 and Georgia in 2008, to the sophisticated and coordinated onslaught of the disruptive Russian cyber campaign and accompanying information operations during the 2014 Ukrainian elections.
Geers also discussed the intelligence benefits of encompassing traffic analysis around the globe, giving a birds-eye-view of network intrusions coinciding with current events—a capability only possessed by a few governments. While Russia appears to be taking an aggressive posture in cyberspace—particularly involving upcoming elections in Europe—Geers maintains that cyberspace closely reflects the democratic model, and it is dictatorships that are most vulnerable in the instance of cyber warfare. Why? Dictatorships, he says, rely on centralized and secret communications with fewer nodes to target – giving them less strategic depth.
Tomorrow, I'll further explore the depths of cyber policy, and the intrusion tactics of nation-states and criminal syndicates alike.  And I'll have more exclusive interviews with some of the cybersecurity industry's top thinkers. Stay tuned.
Levi Maxey is the cyber and technology producer at The Cipher Brief. For more coverage of the RSA conference, check out his dispatches from Day 2, Day 3, and Day 4 of the conference.
You can follow Levi on Twitter @lemax13.