State Department Special Envoys – Focus or Fat?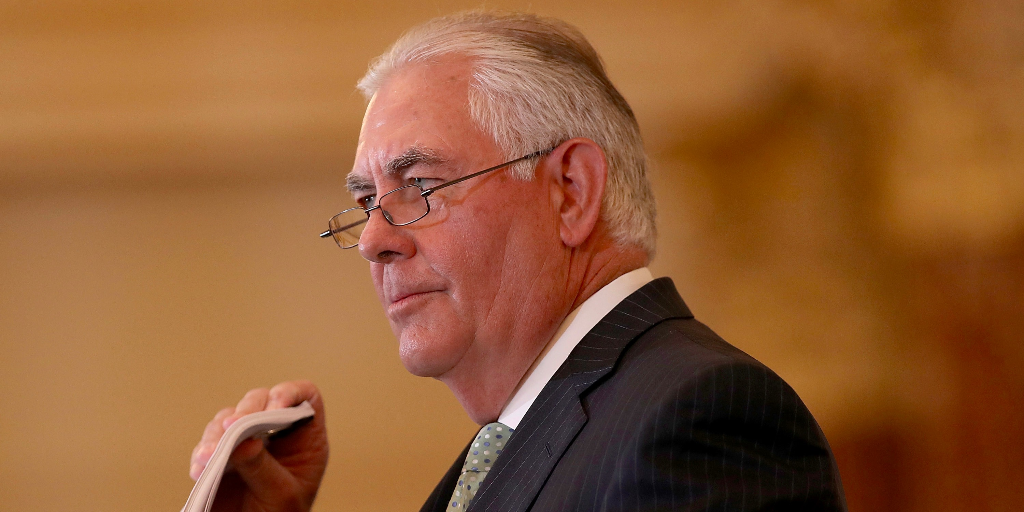 Secretary of State Rex Tillerson wants to eliminate dozens of special envoy positions at the State Department. Some would be removed altogether, like the special envoy for closing the Guantanamo Bay detention facility in Cuba, reflecting President Donald Trump's rejection of the Obama Administration's failed attempt to shut the prison. Others would have their responsibilities transferred to a regional or functional bureau.
"The Department will be able to better execute its mission by integrating certain envoys and special representative offices within the regional and functional bureaus, and eliminating those that have accomplished or outlived their original purpose," Tillerson wrote in a letter to Senate Foreign Relations Chairman Bob Corker this week. Parts of Tillerson's plan need congressional approval.
Corker, the Republican senator from Tennessee, welcomed Tillerson's proposal. "Through the years, numbers of special envoys have accumulated at the State Department, and in many cases, their creation has done more harm than good by creating an environment in which people work around the normal diplomatic processes in lieu of streamlining them," he said. There are around 70 special envoy positions active today.
During a Senate Foreign Relations Committee hearing in July, Maryland Senator Ben Cardin, the leading Democrat on the committee, said, "we have too many special envoys." But he also expressed concern about eliminating some positions. "On the other hand, there are areas that I want to have special attention, where I don't think you get it unless there's a point person within the State Department to deal with it, and I don't have that comfort level as to how we're going to resolve this."
One example is with climate change. Tillerson wants to remove the special envoy for climate change and special representative for the Arctic, letting the Bureau of Oceans and International and Scientific Affairs take over. Caitlin Werrell, Co-Founder and President of the Center for Climate and Security, told The Cipher Brief envoys are an important part to "anticipate and mitigate" risks from climate change.
"If getting rid of the special envoy for climate means we're just going to send a low level delegation to climate negotiations, then that's a failure," said Andrew Holland, a senior fellow for energy and climate at the American Security Project.
Another example is the special representative for Afghanistan and Pakistan, which Tillerson wants to eliminate, moving responsibilities to the Bureau of South and Central Asian Affairs. Former CIA Chief of Station and Middle East expert Daniel Hoffman told The Cipher Brief in July that Afghanistan needs a dedicated special envoy to "focus on Afghanistan's internal challenges and simultaneously engage regional and international power brokers both to maximize collaboration and limit deleterious outside influence."
On Pakistan, "One of the things that seems to be missing right now is a clear point of contact or Pakistan manager within the Trump Administration," said Daniel Markey, Academic Director of the Global Policy Program at the Johns Hopkins School of Advanced International Studies.
Farah Pandith, the former special representative to Muslim communities (a special envoy position that Tillerson wants to retain and even expand) and a Cipher Brief expert, explained, "it's not necessarily bad to kill positions, but it is bad to kill a position if you don't actually understand the advantage of having that position."
"You have to look at why we created positions and is that issue still there," Pandith told The Cipher Brief, adding, "if [a] person isn't focused 24/7 on the job and you're giving the functional piece of that – the area expertise – to somebody who also has a whole lot of other things to work on, how much attention is that issue really getting?"
For example, Tillerson wants the lead coordinator for implementation of the Iran nuclear deal to be removed, with a transfer of responsibilities to the Bureau of International Security and Nonproliferation. Trump has called the agreement the "worst deal ever." Tillerson's proposed realignment seems to signal that less emphasis will be placed on the issue.
Tillerson is also calling for the special envoy for Syria to be removed, and the work transferred to a deputy assistant secretary in the Bureau of Near Eastern Affairs. However, experts told The Cipher Brief this restructuring could simply signal greater efficiency, rather than less focus on the issue.
"The Syria coordinator undercut[s] the regional assistant secretary who is far better resourced and placed to see problem X or problem Y in a broader regional [context]," Ambassador James Jeffrey, the former U.S. ambassador to Iraq and Turkey, told The Cipher Brief.
A number of former State Department officials, including Jeffrey, told The Cipher Brief they don't believe in special envoys writ large. "Frequently, they are created just to demonstrate that the USG [U.S. government] is paying special attention to an issue that is important to a lot of Americans," the former assistant secretary of state for African affairs in the George H. W. Bush Administration, Ambassador Herman Cohen, said. "In most cases, the regular diplomatic persons in our embassies and the [regional] bureau[s] can handle most situations" – like with the special envoys for the Great Lakes and the two Sudans, which Tillerson wants to remove, handing their duties over to the Bureau of African Affairs.
"Tillerson has done the right thing," said Cohen.
And in some cases, the special envoys will remain – at least for now. The envoy for the global coalition to defeat ISIS, for example, will be maintained and "reassessed as ISIS becomes more of a diffused threat," according to Tillerson.
The restructuring is also a way to meet Trump's demand for deep budget cuts – up to 30 percent – at the State Department.
It comes at a time when many experts agree that the biggest issue is the lack of high level appointments to key positions at State. "There are numerous ways the government can arrange itself," to deal with specific issues, like climate change, said Werrell. "Envoys are an important part of that," she said, but so are "other key diplomatic positions, many of which remain unfilled under this Administration, and that is worrying."
Kaitlin Lavinder is a reporter at The Cipher Brief. Follow her on Twitter @KaitLavinder.