Will Trump Take Action on Guns After Las Vegas Shooting?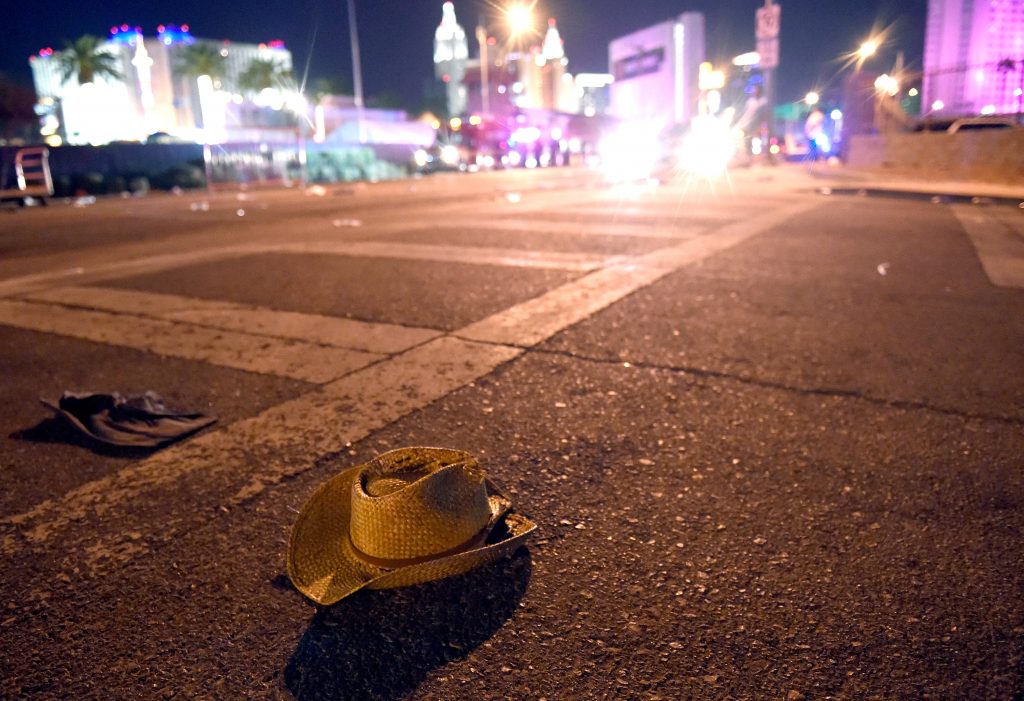 Renewed calls for more stringent gun control legislation echoed throughout Washington on Monday, following Sunday night's mass shooting in Las Vegas.
"It's time for Congress to get off its ass and do something," Democratic Senator Chris Murphy said Monday. Murphy has been one of the most vocal advocates for gun control in Congress since the 2012 Sandy Hook Elementary School shooting in Newtown, Connecticut – the state that he represents.
A gunman opened fire from the Mandalay Bay Hotel Sunday evening onto an open-air country music festival, killing more than 50 people and injuring more than 500 – in the worst mass shooting in recent U.S. history.
"I am more than frustrated, I am furious," said Senator Richard Blumenthal, another Democrat from Connecticut, lamenting that Congress has taken no action to limit gun sales since last year's Orlando nightclub shooting, the largest mass shooting in U.S. history until Las Vegas. "Still, Congress refuses to act," he said in a statement.
"When will we stop tolerating such senseless violence?" tweeted Susan Rice, former President Barack Obama's National Security Advisor.
The outrage extended beyond Democratic congressional circles. John McLaughlin, former CIA Acting and Deputy Director in the George W. Bush Administration, tweeted, "Time to ban sale or possession of weapons that have no purpose other than killing people."
Republicans were largely muted on the issue Monday. House Speaker Paul Ryan of Wisconsin ordered flags over the U.S. Capitol to be lowered to half-staff in memory of the victims, and Republican Senator Dean Heller, Nevada's senior senator, called the shooting a "senseless, horrifying act of violence." But there was no mention of taking legislative action to restrict access to guns.
President Donald Trump left out any mention of gun control at the White House Monday, where he called Sunday's shooting "an act of pure evil."
Press Secretary Sarah Sanders refused to engage on the subject.
"There is a time and place for a political debate," she told reporters. "It would be premature for us to discuss policy when we don't fully know all the facts or what took place last night."
After the Orlando shooting in June 2016, two Democratic and two Republican-sponsored gun control bills went to Congress for a vote. The proposals called for banning gun sales to people on the government's terrorist watch list and expanding background checks to gun sales made online and at gun shows. They didn't pass.
The Obama Administration enacted some gun control provisions by executive order after those efforts failed in Congress. Obama required the Social Security Administration to disclose information every quarter to the national gun background check system about people with mental illness.
But President Trump signed a measure shortly after taking office nullifying the measure.
During his campaign, Trump was endorsed by the National Rifle Association (NRA) – one of the largest pro-gun lobby groups in the country. After Trump's win, gun company sales and profits actually plunged as a result of abating fears over stricter gun laws, reported CNN Money.
Monday morning, in the wake of the Las Vegas mass shooting, gun stocks rose – with shares of Sturm Ruger up six percent and American Outdoor Brands up nearly seven percent. Investors appear to be betting that this massacre could lead to tougher gun control regulation.
"My hope is that because of the magnitude of this as the largest mass shooting in U.S. history that it will finally galvanize support for banning at least military assault weapons… just as the largest terrorist attack we had in 2001 galvanized support for a serious counterterrorism policy," McLaughlin told The Cipher Brief.
John Raines, head of political risk at IHS Markit, noted that the one area where gun control advocates may push hard on Congress to enact legislation is on banning 'kits' that can turn semi-automatic rifles into nearly fully automatic weapons. "But gun rights supporters, led by the powerful National Rifle Association, will probably challenge such restrictions and lobby Republican congressmen to allow their sale to continue," said Raines.
More than 10 rifles were found in the hotel room of who police said was the Las Vegas shooter, 64-year-old Stephen Paddock of Mesquite, Nevada, who was found dead after the attack in what authorities believe was suicide.
The Las Vegas police have still not provided details of the weapon or weapons used by Paddock, but audio recordings of the shooting suggest that at least one automatic weapon may have been used – or a semi-automatic weapon outfitted with a kit to make it nearly automatic.
Semi-automatic rifles are legal under most state laws, but nearly fully automatic weapons are technically legal if made before 1986 – meaning it's illegal to manufacture new automatic weapons for civilian use, but there's a loophole for the older versions.
Nevada has some of the least stringent gun laws in America, with people allowed to openly carry weapons, and no requirement to register as gun owners. Nevada also does not require background checks if guns are sold privately.
There is also no limit in the state on ammunition magazine capacities, meaning Paddock could have bought equipment that could hold scores of rounds, which would have allowed him to fire longer without reloading.
McLaughlin offered one glimmer of hope for gun control advocates: "If President Trump is looking for a legacy, this could be it. No president, despite their abhorrence of this, has been able to make much progress on it. He likes to be the tough guy. Why not stand up and be tough on this and say we have to ban these weapons?"
Kaitlin Lavinder is a reporter at The Cipher Brief. Follow her on Twitter @KaitLavinder.