Mattis Hails Nuclear Triad as Pentagon Conducts Review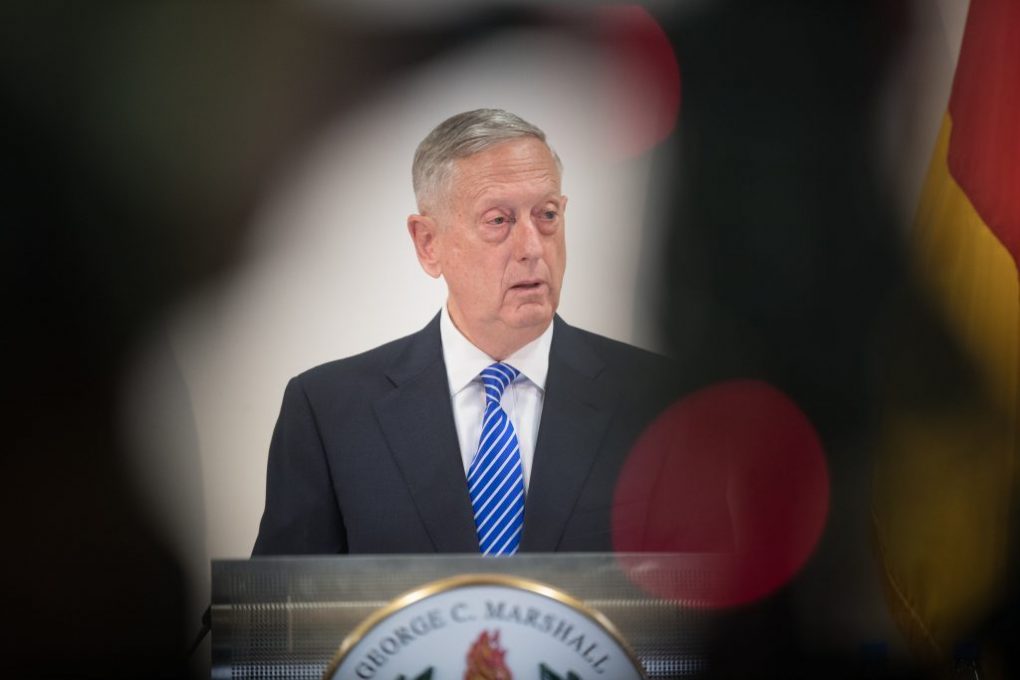 As Defense Secretary Jim Mattis concludes a nuclear-focused trip, his public backing this week of all three parts of the triad likely serves as an important sign for the forthcoming Pentagon review of United States nuclear weapons policy.
In April, the Department of Defense launched a Nuclear Posture Review (NPR) set to be completed this year. Taking a look at U.S. nuclear enterprise as well as future policy, the review is meant to examine everything from the budget to the global nuclear security environment. The NPR, and Mattis' trip, also comes against the backdrop of North Korea's aggressive behavior as well as a needed reappraisal of threats from countries such as Russia, China, and Iran, given that the last review was done in 2010.
Former Chief of Naval Operations retired Admiral Jonathan Greenert said this review has been needed for some time, especially since key elements of the nuclear triad—air, sea, and land based systems—are all due for modernization.
"The question becomes, replace the ballistic missile submarines — well, how many, and what kind? Replace the bomber — how many, and what kind? And modernize the ICBMs [intercontinental ballistic missiles]— should we do it, and what kind? So we're starting to award contracts and head in the direction to replace the triad, and the question becomes to the policy people that promulgate the NPR, and from it, the policy — what is the policy?" Greenert told The Cipher Brief.
Mattis told reporters on his trip that the stops this week at Minot Air Force Base in North Dakota and U.S. Strategic Command in Nebraska would help inform the review. But, notably, Mattis signaled his approval of all three legs of the triad in his public comments on the issue.
In 2015, he had testified before Congress and questioned the need for intercontinental ballistic missiles, saying that removing land-based missiles would "reduce the false alarm danger." Some critics say U.S. ICBMs — always on high alert status, ready to launch within minutes — pose an increased risk that a nuclear war could be set off by mistake, such as if warning systems show an incoming attack that turns out to be a technical mishap.
On Wednesday, after acknowledging he had questioned the triad in the past, Mattis told reporters that "I cannot solve the deterrent problem" by changing it from a triad based system.
"If I want to send the most compelling message, I have been persuaded that the triad in its framework is the right way to go," he said, according to the AP.
Alexander Velez-Green, an expert in Center for a New American Security's Defense Strategies and Assessments Program, said Mattis' statement was "huge, frankly," given that some have been questioning the necessity of the ICBM leg in particular. "I think the correct inference of him saying that is that this is what the NPR will advise," Velez-Green noted.
As for what should be included in the review, Greenert highlighted the need for this review to lay down the administration's view of deterrence and how nuclear weapons fit into it.
"Number one: what is the view of deterrence? Number two: what is the capability that the administration believes they need to meet that deterrent belief or policy? And number three: so what programs, a triad, a dyad, what? And how many of each of those do we need to meet that capability?" he said.
This review is "greatly needed," not only from a budgetary and program standpoint, he said, but also to help ensure to U.S. citizens that "we still have the means to deter and can be effective in spite of this growing North Korea issue." The country has accelerated nuclear and missile tests this year, including two intercontinental ballistic missiles tests in July and its sixth and largest nuclear test earlier this month.
Along with the NPR, the U.S. should also be assessing national missile defense that would address an ICBM. "That should play a part of the overall ability to deter," Greenert said. "Whatever we do has to have an eye toward that."
"Where will that play into it, particularly now that you have a nation like North Korea that most people believe either has or will imminently have an intercontinental ballistic missile able to deliver a nuclear warhead?" he asked.
Velez-Green, meanwhile, said he will be looking for a discussion of tactical nuclear weapons in the review. Having a more diverse nuclear weapons arsenal of smaller, more tailored, and more discriminant nuclear options — such as lower-yield weapons or weapons that can have a more variable burst height — will be essential for the U.S. to fill a gap in its strategy, he said.
"If all we've got are really strong conventional forces and a massive nuclear threat of retaliation, we don't have a way to respond proportionally, and we need that," Velez-Green said. "We need that, I would argue, to deter nuclear first use by adversaries in the first place, and then in the same vein, to prevent them from coercing our allies."
Velez-Green said that the U.S. nuclear forces are "aging, and we need to work now to make sure they keep the deterrent value they've always had." But, he added, "I think we're ahead of the curve. I wouldn't say in any sense that our deterrent has diminished, but I would say that people are right to be looking out a couple decades in the future and saying we need to be proactive now."
The last NPR was done in 2010, and that was a "a very, very different world. This NPR has a chance to update and really get ready for what's to come," Velez-Green said.
What's critical, according to Defense Secretary Mattis, is for the U.S. to maintain a nuclear arsenal that operates as an effective deterrent.
"You want the enemy to look at it and say, this is impossible to take out in a first strike, and the (U.S.) retaliation is such that we don't want to do it," Mattis said during his trip this week. "That's how a deterrent works."
Mackenzie Weinger is a national security reporter at The Cipher Brief. Follow her on Twitter @mweinger.