DHS Social Media Scrutiny of U.S. Immigrants Inspires Confusion, Outrage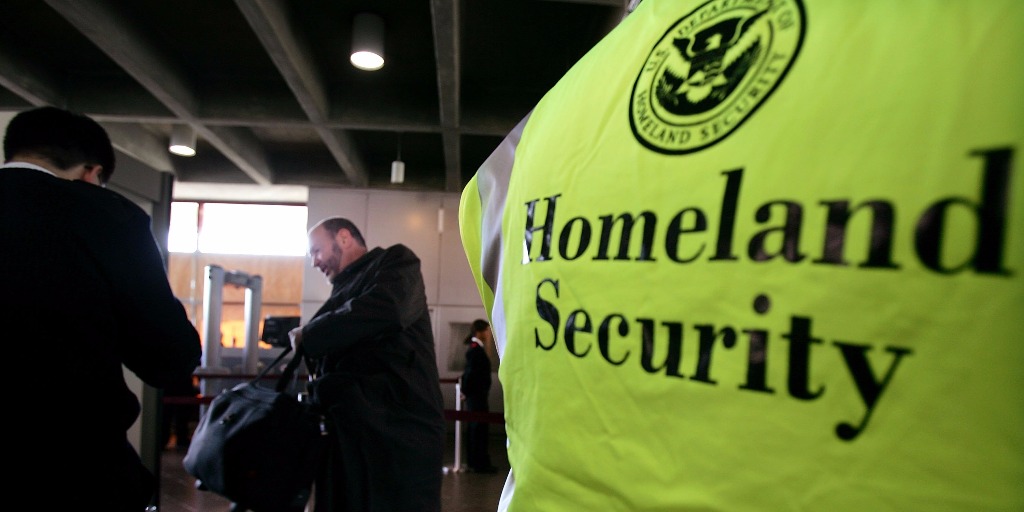 U.S. immigration authorities will soon start to catalog social media handles from permanent residents and naturalized citizens.
The new information requirements expand "categories of records to include the following: country of nationality; country of residence; the USCIS Online Account Number; social media handles, aliases, associated identifiable information, and search results."  The new rules go into effect October 18.
USCIS is part of the Department of Homeland Security, which says the move doesn't represent a significant change in department policy.
"DHS, in its law-enforcement and immigration-process capacity, has and continues to monitor publicly available social media to protect the homeland," DHS representative Joanne Talbot told reporters Wednesday via email.
Rachel Levinson-Waldman, senior counsel at The Brennan Center for Justice at New York University, said that the wording of the new rules was ambiguous. The announcement does not explain whether they are starting to collect new information or whether they are storing information they've already collected in an immigrant's file.
"We have concerns over how much DHS is using social media and what that actually means. But I think there's a big unknown here about whether among the things they are doing is on-going monitoring about naturalized citizens' social media. That would honestly be surprising."
What they were providing was information about storage, which has raised more question than it answers," Levinson-Waldman told The Cipher Brief.
She also said that neither automated systems nor human beings are particularly good at interpreting social media use to prove that a posting indicates an intent to threaten U.S.
"There is insufficient evidence that social media monitoring actually works to justify the intrusion and the cost," she said. "There's not much proof that social media monitoring is actually effective the examples that were raised are often the San Bernardino shooters There may have been private messages they exchange, but there's no evidence that monitoring of public social media actually revealed any important information there. And social media is incredibly context dependent.'
Actions such as liking, retweeting or favoriting, depend "on thinking of the person who is doing it, the relationship they have with the person they are interacting with, somebody might be using a song lyric and not have it recognized that way."
But Cipher Brief Expert Michael Morell, a former acting Director of National Intelligence, said that searching for sympathies with extremist groups posted online could be a useful.
"An individual could have extremist leanings that they have expressed on social media that they have not been smart enough to delete. And that would show up when they have to reveal their social media, in that way it could be potentially effective," Morell said.
"If you are a permanent resident and you are asked to give up your social media, I think that's something for the courts," he added.
Levinson-Waldman said that even people who are in the United States, even temporarily, are protected by the constitution and the bill of rights, and are afforded protection and rights, including rights to free speech and from unlawful government intrusion.
"You don't have to be a citizen to take advantage of the protections of the Constitution," she said.
Levinson-Waldman cited a court decision striking down NYPD surveillance of mosques as important precedent in this case.
"There the court said that when the government is not only engaging in surveillance but engaging in discriminatory surveillance, singling out one group as against another, then the fact that that chills people from exercising their constitutional rights," she said. "I think it's inevitable that it would be targeted at certain marginalized groups, for instance people who are here from Muslim majority countries, given the rest of what the administration has put into place. Then it becomes a bit easier to make a First Amendment claim about being chilled."
Earlier this year, officials started to require applicants for U.S. visas to submit information about their social media accounts going back five years. There are millions of naturalized citizens in the United States, and more than 700,000 people were naturalized last year, according to DHS.
The Electronic Frontier Foundation, a digital rights advocacy group, expressed alarm at the new rules, and said that the increased is part of a years-long trend.
"This chills and deters the free speech and association not just of these immigrants, but also of all the U.S. citizens who communicate with them," EFF senior staff attorney Adam Schwartz told The Cipher Brief in an email.
"Now DHS has put out a notice that it will store this social media information, apparently indefinitely, in "A-Files." This is a government record keeping system that tracks immigrants, including lawful permanent residents and naturalized U.S. citizens. EFF is concerned that this DHS notice indicates a new form of invasive social media surveillance," he said.
Morell said that whether the policy causes harm will be up to the officials enforcing it, and whether they focus on the right things.
"Could it have a chilling effect? Sure, as people are worried about everything they say, will everything they say be used against them? And so I think there's a potential chilling effect," Morell said.
"The ultimate chilling effect will depend on what the government chooses to make an issue. And as long as the government focuses on what it should be focused, which is extremist views and criminal behavior, then I think it won't chill the things that privacy and civil liberties groups are worried about. If you give someone a hard time because they're anti-Trump that's not an appropriate use of this because this would have a chilling effect on something we shouldn't care about."
Wilson Dizard is a national security editor at The Cipher Brief. Follow him on Twitter @willdizard.