UN: Assad Used Chemical Weapons in Syria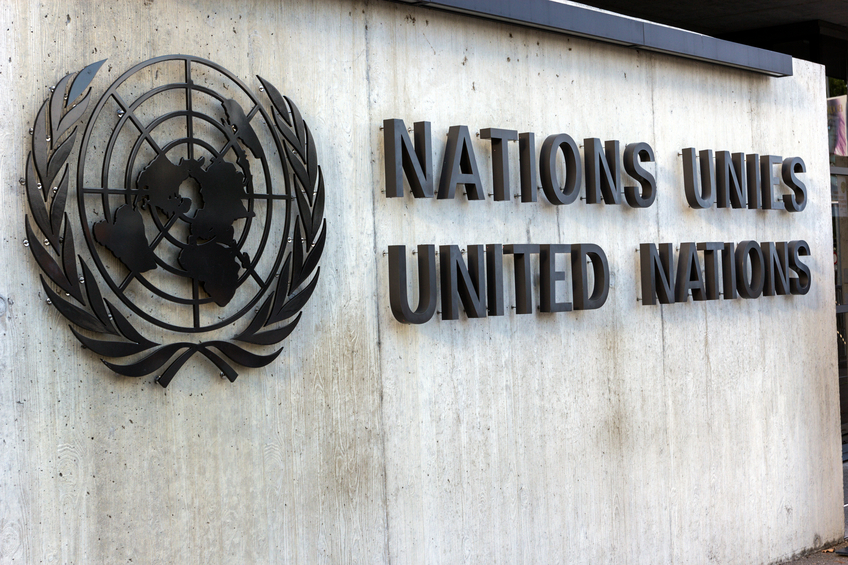 A United Nations investigation for the first time has laid blame for using chemical weapons on Syrian President Bashar al-Assad's regime, according to a new report that found government troops carried out at least two attacks involving chlorine on civilians.
The United Nations has never previously pointed to any specific actors for using chemical weapons in the Syrian conflict before this U.N.-Organization for the Prohibition of Chemical Weapons joint report, which has not yet been officially made public.
"It's long been known that the Syrian government has been using chlorine gas — it's not a secret," Robert Ford, the former U.S. ambassador to Syria from 2011 to 2014 and a senior fellow at the Middle East Institute, said. "What's new now is that the United Nations is confirming it officially, and with its own credibility, is confirming what others have reported."
Investigators examined nine different incidents — eight of which involved the use of chlorine — during the year-long probe, but did not make any official conclusions on six attacks, Reuters reported. The OPCW-U.N. report called for further investigation into three of those incidents.
But from the team's work, which included visits to Syria as well as analysis of hundreds of documents, photos and videos, the Joint Investigative Mechanism (JIM) officially attributed two chlorine attacks on the towns of Talmenes in April 2014 and Sarmin in March 2015 to the Syrian regime. The report also found that ISIS could be the only entity responsible for using poisonous sulphur mustard gas on the town of Marea in August 2015.
"I'm not surprised that they assigned blame in those three cases, and I hope they will continue the investigation and pursue the next three cases in which they believe the evidence is very compelling," said Rebecca Hersman, a former deputy assistant secretary of defense for countering weapons of mass destruction who is now director of the Project on Nuclear Issues at CSIS.
President Barack Obama said in August 2012 that Assad's use of chemical weapons would constitute crossing a "red line," triggering a U.S. military response. The president did not enforce that so-called "red line" after the Ghouta chemical weapons attack occurred a year after his statement and killed hundreds of people, but instead, the U.S. and Russia agreed to a framework for Assad to turn over his declared chemical weapons stockpile. Chlorine was exempt from that deal, due to its industrial and legal uses, but in that agreement, Assad also joined the Chemical Weapons Convention, which prohibits using chlorine as a weapon.
"Because that 'red line' that Obama set was crossed and we allowed that to go without accountability, that's why we are now seeing more chemical weapons in Syria — and that will set a dangerous precedent," Syrian American Medical Society senior advisor and past president Dr. Zaher Sahloul said.
All the incidents reviewed by the JIM occurred after the 2013 agreement for Syria to hand over its chemical weapons arsenal.
Ford noted that with the new report, the White House will no longer be able to claim it got rid of chemical weapons in Syria, and the 2013 deal with Russia and subsequent U.N. Security Council resolution to dispose of Syria's declared chemical weapons arsenal that President Obama and others in the administration have highlighted as a significant achievement, has been "largely undermined." 
"The best now the White House could say is, well, they're not using sarin, just chlorine gas," Ford added. "That's an embarrassment for the White House."
Sahloul, who visited Sarmin less than a month after the chemical attack in March 2015 and testified to the U.N. Security Council on Syria's chemical attacks in April 2015, said it is important for the public to recognize that while there were only two chemical weapons attacks blamed on the Syrian government in this probe, these are just two incidents out of hundreds of others he and other groups have found evidence for.
Sahloul, the co-author of the SAMS report "A New Normal: Ongoing Chemical Weapons Attacks in Syria" that documented 161 chemical attacks from the start of the conflict through 2015, said these violations of international law and of the U.N. Security Council resolution suggest that a "new normal has been established, that a regime can use chemical weapons against its citizens without accountability."
"What people in Syria are expecting is action, and that is protection of civilians from further attacks," he said. "They expect President Obama to spend the few months he has in office stopping these barbaric attacks on these civilians."
U.S. National Security Council spokesperson Ned Price said in a statement the report shows "it is now impossible to deny that the Syrian regime has repeatedly used industrial chlorine as a weapon against its own people."
"The United States will work with our international partners to seek accountability through appropriate diplomatic mechanisms," Price said. "We urge all UN member states and parties to the Chemical Weapons Convention, including Russia and Iran, to participate in this effort." 
The U.N. Security Council is scheduled to discuss, and make public, the report next week.
In the event of non-compliance by Syria with the disarmament deal, the U.N. Security Council resolution stated that it "would impose" Chapter VII measures, which could include military force or further sanctions. 
"What they will ask for, I'm not sure, because Western countries already have so many sanctions on the Syrian government that adding a few more sanctions isn't going to do much," Ford said.
U.S. Ambassador to the United Nations Samantha Power said in a statement that "it is essential that the members of the Security Council come together to ensure consequences for those who have used chemical weapons in Syria. We strongly urge all states to support strong and swift action by the Security Council."
Hersman said if the Security Council is able to get all parties to agree, there are a number of options it can pursue, from sanctions to legal mechanisms such as the International Criminal Court. There should be consequences for the documented behavior, she said, and future deterrence ultimately depends on the willingness to act when perpetrators violate these international norms.
"It seems to strain credulity if the Security Council can come to unanimous agreement up to the creation of the JIM, and then somehow refuse to act when the JIM puts before them credible evidence and very serious reporting that clearly points to attribution," Hersman said.
As for the prospect of calling for all countries — namely, Iran and Russia — to stop sending military support to the Assad government, Ford said it would be "difficult for me to imagine the Russians would not veto that, but we shouldn't prejudge any decision Russia is going to make."
"If the Russians veto, then the Americans are really left with nothing," Ford said. "We almost go back to where we were in September 2013 with the 'red line.' I would be very surprised if the president in the last five months of his administration would suddenly decide there needs to be military action."
Ford said he expects the Syrian government to deny the report's findings, and also to potentially tail off the use of chlorine weapons until there is a better sense of what the Security Council might do.
"Once it becomes clear that the Security Council isn't going to do anything, I suspect we'll see new reports of chlorine gas attacks," he said. "It may look at this chlorine report as something to pay attention to, to be a little more careful, but I don't think it's going to deter the Syrian government from the military campaign, or curtail what the Russians are going to do since they seem pretty determined to use their military force to change directly the balance on the ground."
"Little by little, despite using chemical weapons, the government of Syria is climbing out of its hole and is feeling somewhat more confident breaking out of its isolation there — and that's the bigger picture against which this OPCW reports has to be seen," Ford added.
Mackenzie Weinger is a national security reporter at The Cipher Brief. Kaitlin Lavinder contributed to this report.