Turkey Rocked by Terrorist Attacks This Year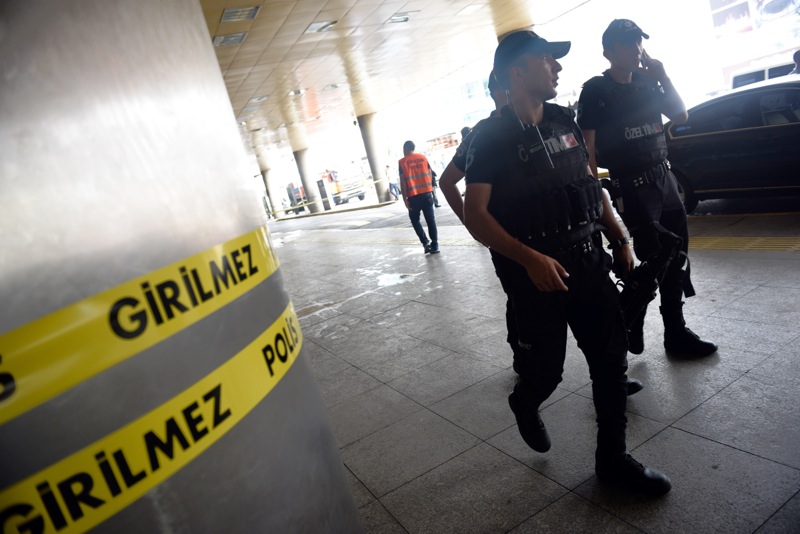 Terrorists killed at least 41 people and wounded hundreds more in a deadly attack on Istanbul's Ataturk International Airport Tuesday evening.
No group has yet claimed responsibility for the coordinated terrorist attack at the third-largest airport in Europe. Three attackers arrived at the airport by taxi and began shooting, officials said, with two in the international terminal and one located in the parking lot. Police engaged the attackers, and the assailants then detonated their suicide vests, according to reports.
Although there have been no claims of responsibility, CIA Director John Brennan said on Wednesday that the terror attack in Istanbul "certainly bears the hallmarks of ISIL's depravity."
"To my knowledge, there is no credible claim of responsibility at this point. But that's not very surprising, because at least in most instances if not all, ISIS has not claimed credit or responsibility for attacks that are perpetrated inside of Turkey," Brennan said at a Council on Foreign Relations event. "I think what they do is they carry out these attacks to gain the benefits from it, in terms of sending a signal to our Turkish partners, and at the same time not wanting to potentially maybe alienating some of those individuals inside of Turkey that they may still be trying to gain the support of."
Turkish Prime Minister Binali Yildirim told journalists that "the evidence points to Daesh (another name for ISIS)," Turkey's Hurriyet Daily News reported. Turkey has been rocked by a number of terrorist attacks this year, with some claimed by Kurdish militants and others blamed on ISIS. Tuesday's attack was the deadliest.
President Recep Tayyip Erdoğan released a statement saying that "we expect that a resolute stance against terrorist organizations should be adopted by the world and especially Western countries with their parliament, media and non-governmental organizations."
Turkey, he said, "will continue its fight against all terrorist organizations at all costs until the end of terrorism." The country has declared Wednesday a day of national mourning.
Meanwhile, White House press secretary Josh Earnest said in a statement on Tuesday that the U.S. "condemns in the strongest possible terms" the "heinous terrorist attack at Istanbul's Ataturk International Airport."
"We remain steadfast in our support for Turkey, our NATO Ally and partner, along with all of our friends and allies around the world, as we continue to confront the threat of terrorism," he said.
And on Wednesday, U.S. Deputy Secretary of State Antony Blinken called the attack "not the act of a martyr" but the act of "murderers." The U.S. stands "in very strong solidarity with our friends in Turkey," he said in Washington, D.C. at a Center for Strategic and International Studies event.
"Our friend, our partner, our NATO ally Turkey once again, the victim of a terrorist attack. This is unfortunately a scenario that we've seen repeat itself all too frequently in recent months in Turkey," he said. "What we saw yesterday was not the act of a martyr, but the act of a murderer, and murderers."
Timeline of recent attacks in Turkey
June 8, 2016: Car bomb in Midyat
Three people were killed by a car bomb in the southeastern Turkish town of Midyat – the second such attack on Turkish police targets in two days.
June 7, 2016: Car bomb in Istanbul
A car bomb attack targeting a police bus killed 11 people in Istanbul, Turkey's state-run Anadolu agency reported, citing police officials. The blast, in the Beyazit neighborhood of Istanbul's historic Fatih district, occurred during morning rush hour. It killed seven police officers and four civilians and left 36 people injured, three of them critically, authorities said. Four people were detained.
March 31, 2016: Car bomb in Diyarbakir
Seven police officers were killed and at least 27 people were wounded by a car bombing close to a bus terminal in southeastern Turkey. The bomb went off as a police vehicle was going past in the Baglar district of Diyarbakir, the capital of its namesake province, about 170 kilometers (100 miles) from the Syrian border, according to Turkey's semiofficial Anadolu news agency.
March 19 2016: Suicide bombing in Istanbul
A suicide bombing took place in Istanbul's Beyoğlu district in front of the district governor's office, in the heart of the city's tourist area, killed four and injuring 36. ISIS claimed responsibility.
March 13, 2016: Car bomb in Ankara
At least 37 people were killed and 125 injured. A car bomb hit an area that serves as a transport hub in the city, where a number of bus lines meet.  Kurdistan Freedom Falcons took responsibility for the attack.
January 12, 2016: Suicide bombing in Istanbul
Ten people were killed and 15 injured, including German tourists, in a suicide bomb attack in Istanbul. The Syrian attacker was affiliated with ISIS and had entered Turkey as a refugee.
December 23, 2015: Explosion at Istanbul's second airport
A cleaner was killed in an early morning attack on Istanbul's second airport, Sabiha Gökçen International Airport. The Kurdistan Freedom Falcons claimed responsibility for the attack. It stated that the bombing was in response to the Turkish government's military actions against the Kurdistan Workers' Party (PKK).
December 1, 2015: Parcel bomb in Istanbul
Five people were injured when a "parcel bomb" was planted near Istanbul's Bayrampasa Metro station during the city's evening rush hour.  No groups came forward to claim responsibility for the attack.
October 10, 2015: Suicide bombing in Ankara
103 people were killed and 250 wounded when two suicide bombers targeted a peace rally in Ankara. The protestors had gathered together to stand against violence between the Turkish authorities and the PKK. A bomb exploded behind dancing protesters. The attack was the deadliest in Turkey's history. ISIS cell members Yunus Emre Alagoz and Omer Deniz Dundar were identified as the attackers.
August 10, 2015: Bomb explodes in Istanbul
Seven people, including five police officers were injured as a result of a bomb explosion at a police station in Istanbul. The Istanbul governor's office said that the PKK were behind the attack.
July 20, 2015: Suicide bombing in Suruc
32 people were killed and over 100 injured in the town of Suruc by a suicide bombing, making it the second deadliest attack in 2015. Those hurt and killed were activists planning to travel to Kobane, Syria, to rebuild the town. Suicide bomber Seyh Abdurrahman Alagoz was an ethnic Kurd from Adiyaman and reportedly had links to ISIS.
June 5, 2015: Bombing in Diyarbakır
The bombing at a pro-Kurdish People's Democratic Party rally in Diyarbakır, killed four people and injured over 100. The attack occurred two days before parliamentary elections in Turkey. No one has claimed responsibility for the attack.
January 6, 2015: Suicide bombing at Istanbul police station
Diana Ramazova, a female suicide bomber, detonated her vest at a police station in Istanbul, killing one officer and injuring another. The Marxist-Leninist Revolutionary People's Liberation Party–Front claimed responsibility for the attack.
Leone Lakhani contributed to this story.