NATO Weighs In After Erdogan, Putin Meet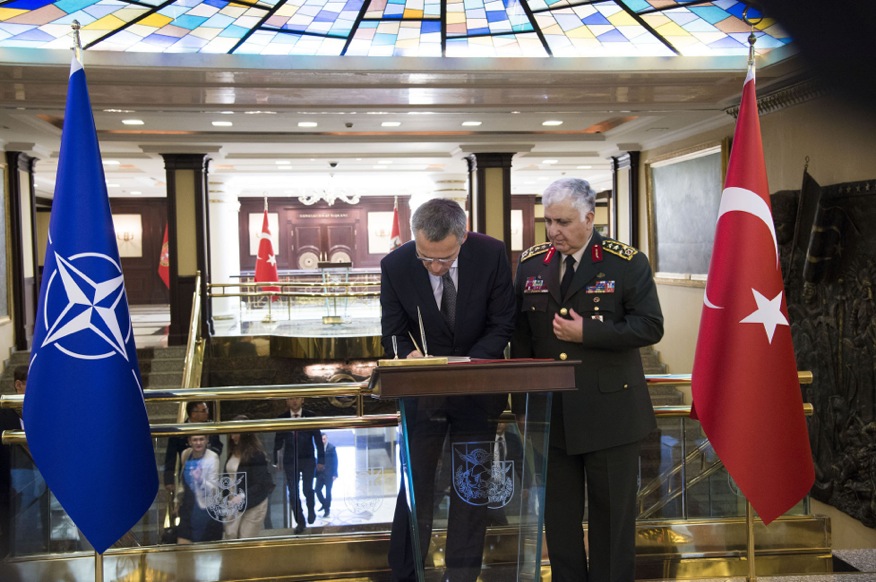 Following Turkish President Recep Tayyip Erdogan and Russian President Vladimir Putin's meeting this week in Russia, NATO issued a strong statement making clear it views Turkey as a "valued ally" whose membership is "not in question."
One day after Tuesday's meeting in St. Petersburg — where the two leaders highlighted efforts to renew their strained relationship and indicated a joint effort to find common ground in the Syrian crisis is in the cards — NATO released a statement noting it "counts on the continued contributions of Turkey and Turkey can count on the solidarity and support of NATO."
The remarks were in response to "speculative press reports regarding NATO's stance regarding the failed coup in Turkey and Turkey's NATO membership," according to the statement.
"Turkey is a valued Ally, making substantial contributions to NATO's joint efforts. Turkey takes full part in the Alliance's consensus-based decisions as we confront the biggest security challenges in a generation," the statement read. "Turkey's NATO membership is not in question."
Meanwhile, Erdogan's spokesman Ibrahim Kalin told reporters in Ankara on Wednesday that "there is no argument that Turkey should not remain a member. It is something important. We are a strong member."
Tuesday's meeting in St. Petersburg — Erdogan's first foreign visit following the failed July coup in Turkey — aimed at helping to repair ties between the two countries following Turkey's downing of a Russian warplane along the Turkish-Syrian border last November. Erdogan sent Putin a letter in June apologizing for the incident, which Putin at the time called a "stab in the back" and caused relations between Moscow and Ankara to sour.
After Tuesday's meeting, the two leaders said they were well on their way to fully restoring their bilateral relationship and were focused on renewing economic ties stifled by sanctions imposed after the downing of the jet. The visit comes as Turkey's relations with the West and the United States have frayed following the failed coup and Erdogan's sweeping crackdown in response.
Soner Cagaptay, the director of the Turkish Research Program at The Washington Institute, told The Cipher Brief that Putin and Erdogan's meeting needs to be looked at from both a pre- and post-failed coup perspective.
Before the plot, according to Cagaptay, the main driver to restoring ties with Russia from Erdogan's perspective, stemmed from his desire to de-link Russia and the Kurds. Turkey views the Kurdish groups in both Turkey and Syria as terrorists, while the Kremlin has supported Kurdish forces in Syria. Putin, meanwhile, sought to maintain Russia's policy of never completely alienating Turkey to the point the country would completely go into the fold of NATO, of which Ankara is a member. The post-failed coup dynamic is "very different," Cagaptay said.
"In a nutshell, I think Turkey is traumatized. Erdogan is scared. The mood is dark, angry, and the country feels abandoned by its Western allies because, for example, [U.S. Secretary of State John] Kerry hasn't made it there yet. And Putin was the first head of government to call in and to give Erdogan his well wishes," he said. "Putin sees this trauma, and he wants to use it."
Erdogan, who repeatedly called Putin his "dear friend" during Tuesday's press conference, said that as a result of their meeting, relations between Russia and Turkey "can finally be restored to the level that we used to enjoy before the crisis." He said the countries were set to put in place two significant energy projects, and Putin noted Russia was on its way to removing bans related to tourism and imports of Turkish agricultural products.
"We will see the two countries rebuild their economic ties, which is going to be the bedrock of the relationship. That's needless to say, and in the next few days you will see Putin offering more deals to Erdogan, kind of carrots dangling in front of his eyes — trade, tourism, construction, energy," Cagaptay said.
Erdogan also noted that the two were interested in promoting further defense industry cooperation. Turkish foreign minister Mevlut Cavusoglu told state-run news service Anadolu Agency on Wednesday that Ankara's interest in expanding its defense sector cooperation with Russia and beyond NATO countries was not a "move against NATO."
"Turkey wanted to cooperate with NATO members up to this point," Cavusoglu said. "But the results we got did not satisfy us. Therefore, it is natural to look for other options. But we don't see this as a move against NATO."
In addition to lifting bans related to tourism, investment, and trade, Erdogan and Putin said they would hold a future discussion specifically focused on the Syrian crisis. A Turkish delegation was in Russia on Thursday for talks on the issue.
A key sticking point between Erdogan and Putin has been on Syria, with the Turkish president long saying Syrian President Bashar al-Assad must be removed from power, while Russia has backed Assad both politically and militarily.
Putin said he and his Turkish counterpart had agreed to "discuss in detail all the issues related to the crisis in Syria and how to solve it." Putin said that although it was clear the two country's "outlook at how the Syrian crisis should be managed were not always in line with each other," he and Erdogan had agreed on Tuesday to hold another meeting to try to find common ground on the Syria issue.
"As for coordinating our attitudes and our positions, I believe it is possible if only because we have a shared objective — and that is resolving the Syrian crisis," Putin said, adding he hoped that common goal would provide the chance to "look for a mutually acceptable solution" in Syria.
Whether Russia and Turkey "can come to terms 100 percent politically is in question," Cagaptay said, and "that's primarily because in Syria they disagree vehemently."
"If Erdogan wants Russia to de-link with the Kurds, I don't know if Putin will abandon the Kurds entirely, who are now so crucial to maintaining Assad's hold on western Aleppo," Cagaptay said. "And at the same time, Russia's condition in Syria would be of course that Turkey would dial down its support to the anti-Assad rebels. And I don't know if Turkey is ready to dial down completely because that would mean that east Aleppo could fall into the hands of the Assad regime."
At the press conference, Erdogan also highlighted that Putin reached out to him in the wake of the failed coup, saying "the fact that President Putin called me on the phone was very important from a mental perspective."
"It was this kind of psychological support. We also saw it as support from Russia to Turkey," Erdogan said.
Erdogan has laid the blame for the July 15 attempted overthrow on Turkish cleric Fethullah Gulen, who has lived in the U.S. since 1999.   Gulen denies the charges. The failure so far by the United States to extradite Gulen as requested by Turkey, and the suggestion by some Turkish officials that U.S. influence was at play in the coup attempt, has led to faltering U.S.-Turkish relations. And the purge by Turkey in recent weeks — with authorities arresting and detaining thousands of people for alleged connections to the coup attempt — has been widely criticized by many in the West.
Erdogan, meanwhile, praised Putin for his "friendship" after the coup failed and said "both countries are committed and determined to getting our relationship to its pre-crisis level, or even to a better position."
"We have the political will for it, and I believe public opinion in both our countries would like us to do that," the Turkish president said.