State of Play Salon Series: Hunting the King of Cocaine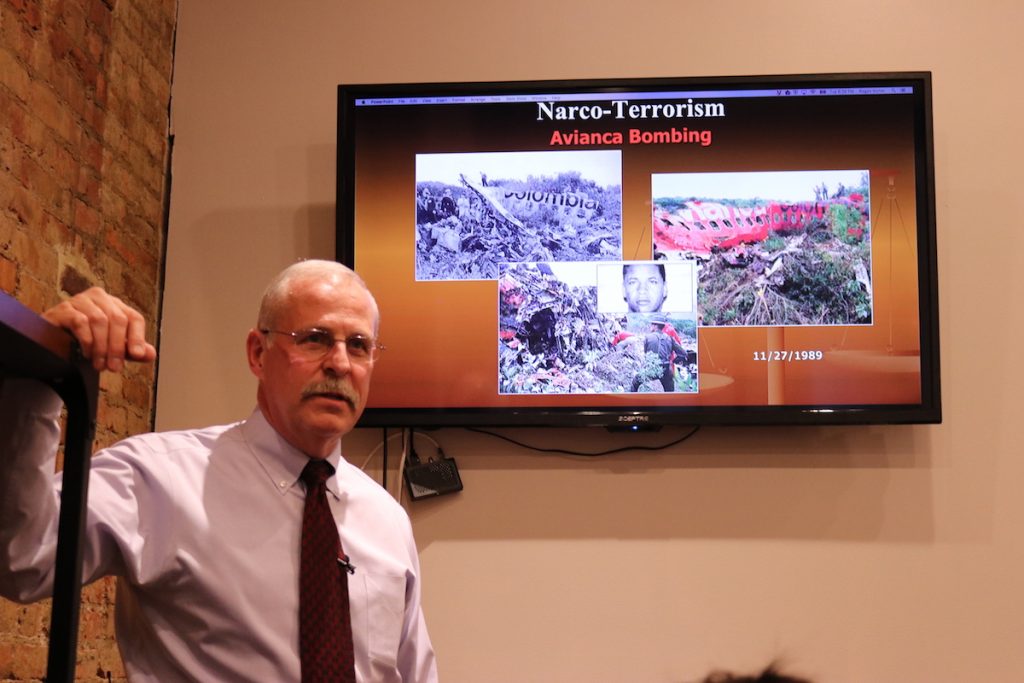 Colombian drug lord Pablo Escobar was one of the world's most notorious narcotics traffickers, and Steve Murphy was one of two U.S. drug enforcement agents who brought him down. Working with his DEA partner Javier Peña and a special Colombian police unit, known as the DIJIN, Murphy was also instrumental in dismantling the powerful Medellin Cartel.
Speaking at The Cipher's Brief's "State of Play Salon Series" event on Tuesday, Murphy explained how he became part of "the largest criminal manhunt in law enforcement" for the "world's first narco-terrorist," until Escobar's death in December 1993, when he was killed in a gun battle.
Dubbed the "King of Cocaine" as the head of the Medellin Cartel, Escobar was one of the most powerful criminals in history, supplying up to 80 percent of the cocaine smuggled into the United States by the mid-1980s.
Describing Escobar's lavish lifestyle, including homes with gold-plated bathrooms and exotic animals roaming acres of land, Murphy said Forbes magazine named the Colombian drug lord the world's seventh richest man, with an estimated of worth between $8 billion and $30 billion.
To avoid being tracked by law enforcement, Escobar kept his abundance of cash, buried in the ground or in as many as 800 properties, according to Murphy.
Escobar's rise and fall was traced in the fictionalized Netflix series "Narcos." Murphy and Peña – both consultants on the show – were depicted in the series, which he described to the The Cipher Brief in December.
Rising from an impoverished childhood in Colombia, "Pablo grew up as a campesino [farmer]," said Murphy. "His dad was a farmer. His mom was a school teacher … He grew up in very poor conditions."
Escobar projected a "Robin Hood" persona, gaining a grassroots popularity by taking care of the poor, but it's an image with which Murphy takes issue. "He built housing. That's true. He built clinics. He built soccer fields. He literally had his guys passing out cash," said Murphy. "That's good stuff, if that's as far as it went. But it wasn't."
Instead, Murphy said Escobar was a brutal killer and "master manipulator," using these same neighborhoods as recruiting grounds for his sicarios or assassins. Murphy said his team estimated that "Pablo, at times, had as many as 300 to 500 sicarios in his employment."
Escobar's terror campaigns killed between 10,000 and 15,000 people, according to Murphy. "He wanted credit for what he did. And one of the things when he killed people is he wanted body count," said Murphy.
In the late 1980s, Escobar turned his wrath on his enemies and waged war on the government to stop legislation that would allow extradition of Colombians to the United States, his biggest fear.
"It was unbelievable the lengths of violence this guy was willing to deploy to impose his will on everybody else," said Murphy. Escobar went on to order a series of terror attacks that targeted Colombian politicians, officials, and journalists, including the bombings of an Avianca plane and the headquarters of Colombia's secret police in 1989. He even brought together a group of drug barons called "The Extraditables" whose motto was "I prefer a tomb in Colombia to a jail cell in the United States."
The final straw for the public, Murphy said, was the brutal assassination of popular Colombian presidential candidate Luis Carlos Galán because he sought the extradition clause. The death of Galan was a turning point, said Murphy, "because this is where the Colombian public started to go against Pablo."
To stop the violence, the Colombian government under President Cesar Gaviria reached what was deemed "A Deal of Lifetime" with Escobar in June 1991, under which Escobar surrendered to the government. In return, the threat of the extradition language was lifted. Escobar was also allowed to build his own luxury prison, called "La Catedral," and he could pick his guards. He was also allowed to choose his fellow inmates and he forbade Colombian law enforcement officials from coming within a two-mile radius of the prison.
Murphy described the prison as "a joke", with its custom-built beds, color-coordinated curtains, Jacuzzi tubs, state-of-the-art hi-fi systems and millions of dollars worth of fine art.
Escobar's was meant to serve a five-year sentence, but after a year he escaped when authorities attempted to move him to a more standard prison.
On Dec. 2, 1993, Lieutenant Hugo Martinez of the Colombian National Police, using handheld directional technology, located Pablo Escobar in his hideout in Medellin. The scene is mapped out accurately in Narcos, Murphy said, except for Escobar's actual death.
A firefight did ensue, as shown in the series, in which Escobar tried to escape across a series of rooftops. He and his bodyguard were shot and killed. Murphy, though, was not there – he arrived after Escobar was dead.
What really happened has been debated by Escobar biographers. Escobar's son, Juan Pablo, claims his father committed suicide by shooting himself in the head. Murphy disputed that, saying Escobar's head wound showed none of the gun residue that would have been present in a suicide or close-range shooting..
Another theory suggests American snipers shot Escobar. Murphy also disputed that, saying he and all the American special forces were together at the police base. Still, questions persist over how Escobar was shot so accurately from afar. Murphy believes Escobar was killed during the fire fight by Colombian National Police.
For his part, Murphy and his wife – who never left Colombia, as shown in the series – returned to America with two Colombian girls they had adopted. Today, Murphy and Pena have a company called DEA Narcos, under which they lecture on drug trafficking trends and security-related challenges around the world. They have received numerous awards for their efforts in the fight against Escobar, although Murphy is quick to emphasize, "People like to say 'you guys are true American heroes.' We're not heroes. We're professional law-enforcement career officers," said Murphy to end the night.
"The true heroes  are the Colombia National Police, because they had to continue to live there and face the dangers – not just them, but their families too," he added. "The other heroes of this are all the innocent victims, who simply were in the wrong place at the wrong time and were just killed by circumstances."
For more details on the rise and fall of Pablo Escobar, which parts of "Narcos" were truly accurate, and what really happened the day the "King of Cocaine" was killed, you can listen here to Part 1 and Part 2 of our detailed 15 Minutes podcast with Steve Murphy.
Leone Lakhani is an executive producer and reporter at The Cipher Brief. Follow her on Twitter @LeoneLakhani.