No Resolution on Venezuelan Crisis As Asylum Seekers Flee to U.S.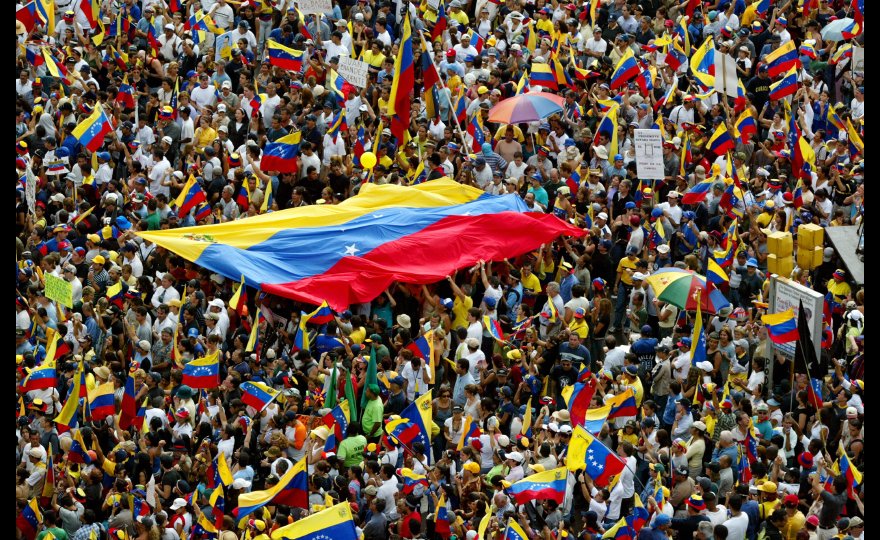 As Venezuela spirals into economic and political chaos, the Organization of American States (OAS) has failed for a second time in just one month to reach a resolution that would condemn the current Venezuelan regime led by President Nicolas Maduro. 
At least 73 people have died in anti-government demonstrations since April, including a teenager who was fatally shot during mass protests in Caracas on Monday, and more than a thousand have been injured.
Venezuelan Foreign Minister Delcy Rodriguez left Monday's OAS summit in Mexico, saying, "Not only do we not recognize this meeting, we do not recognize any resolution coming out of it." Venezuela announced its intention to withdraw from the OAS in April, a process that would take two years.
The United States has made clear the OAS should play a major role in sorting out Venezuela's crisis. In a briefing in April, State Department spokesman Mark Toner said, "The OAS as a body can have, we believe, a constructive influence on Venezuela, on Maduro, on the Venezuelan Government, in urging it to respect its own constitution and fulfill its democratic commitments to its people."
At Tuesday's OAS general assembly meeting in Mexico, U.S. Deputy Secretary of State John Sullivan reiterated this, saying, "The OAS has a critical role to play. … The United States supports the establishment of an action-oriented contact group of governments in accordance with the principles of the OAS charter and in the spirit of the democratic charter."
That "contact group" would mediate Venezuela's political and economic crisis.
But on Monday, only 20 states, including the U.S., voted for a draft resolution on Venezuela. 23 out of the OAS's 34 members must vote in favor to pass the draft.
The United States, Mexico, Canada, and several South American nations issued a statement expressing their "disappointment" at Monday's vote.
The Caribbean nations have been some of the most reluctant to vote against the Maduro regime in the OAS, since they have long relied on cheap oil shipments from Venezuela.
The OAS resolution would not be a cure all to Venezuela's myriad problems. "Exactly what follows from such a declaration?" former U.S. Ambassador to Venezuela Patrick Duddy asked in an interview with The Cipher Brief.
But even without the details worked out, OAS Secretary General Luis Almagro stressed, "Venezuela needs an international humanitarian channel that provides drugs and food to the Venezuelan population."
The country's economy plummeted with the fall in global oil prices a few years ago, given that more than 90 percent of its export revenue comes from oil. That and alleged economic mismanagement by the Maduro regime have led to skyrocketing food and medicine shortages.
The most recent data from Citizenship and Immigration Services shows more than 8,300 Venezuelans requested asylum in the U.S. in the first three months of 2017, compared to only 3,507 in the first quarter of last year. Venezuela last year overtook China as the nation with the most citizens seeking asylum in the United States.
Venezuelans are also fleeing in droves to Colombia – a country facing its own set of internal issues, from implementation of the peace deal with the FARC rebels to the rebel ELN insurgency to clamping down on enormous volumes of cocaine production.
"It's Colombia that has felt and will likely feel the brunt of the crisis and likely collapse of the failed Bolivarian project in Venezuela," wrote Evan Ellis, a research professor of Latin American studies at the Strategic Studies Institute of the U.S. Army War College.
Colombia is one of America's strongest allies in the region.
Venezuela's turmoil heightens concern about drug trafficking from South America to the United States. "I look at Venezuela as basically a failed state. I look at it as a country that is a narco state," Mike Vigil, the former head of operations at the DEA, told The Cipher Brief.
And there's growing evidence of a terror-narcotics nexus emerging in the country as it edges toward the brink of collapse. "There's a linkage to Hezbollah," noted Vigil, and there are accusations that members of terror groups like Hezbollah work with the Venezuelan military to transport cocaine through the country and onto the United States. About 200 metric tons of cocaine transit Venezuela per year, with about two-thirds going to the United States, Vigil said.
Meanwhile, Russian and Chinese influence in Venezuela and the surrounding region continues to grow. Russia has been keeping Venezuela afloat by providing loans to pay for its debt, and China is "Venezuela's largest source of external funding," said Duddy.
"China has also replaced the U.S. as Brazil and Chile's largest trading partner," he said. And Russia is moving into countries like Cuba, as it sees the U.S. retreating from the region. On June 16, President Donald Trump announced a rollback to the Obama-era opening of relations with Cuba.
This creates the "possibility of Cuba turning away from the U.S. and to Russia or China instead," retired Marine Brigadier General Stephen Cheney told The Cipher Brief – which could have implications for how the situation in Venezuela plays out.
Kaitlin Lavinder is a reporter at The Cipher Brief. Follow her on Twitter @KaitLavinder.