Trump Lashes North Korea, Slams Iran Nuclear Deal in U.N. Speech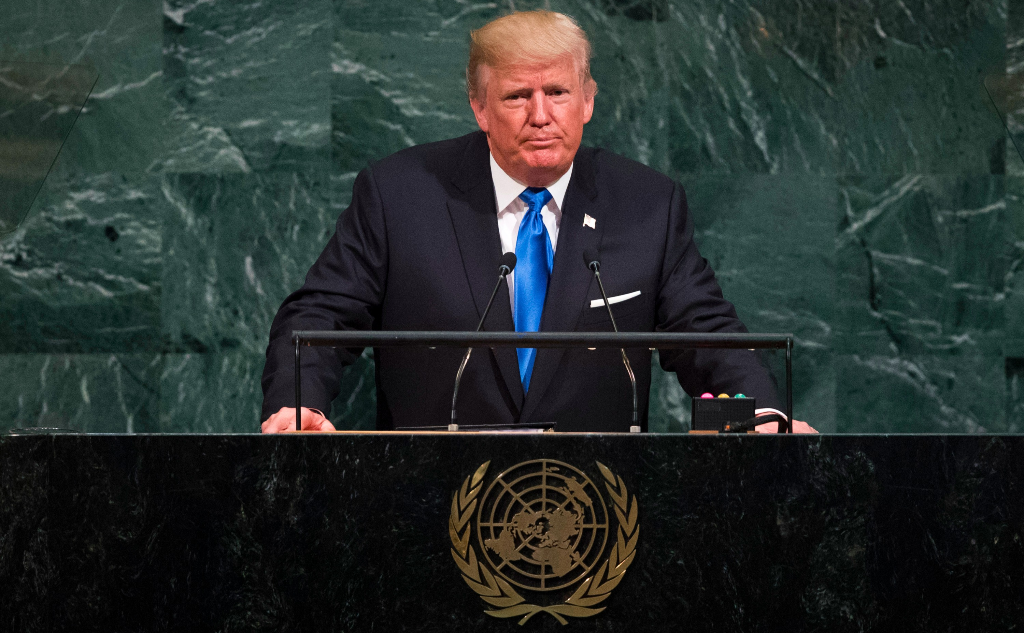 President Donald Trump used his debut address at the United Nations General Assembly to threaten that the United States would have "no choice but to totally destroy" North Korea if forced to defend itself or its allies and to criticize the Iran nuclear deal as an "embarrassment" to the U.S.
"I suspect the speech played well with the president's core supporters because of its fidelity to the America First theme and its generally tough tone," former Acting Director of the CIA John McLaughlin told The Cipher Brief. "But he has to be careful with a broad global audience to strike a more balanced pose if he cares at all about his international standing."
The president made sovereignty a central theme of his speech, presenting it as the basis for international cooperation. "As president of the United States, I will always put America first, just like you, as the leaders of your countries, will always and should always put your countries first," he said.
McLaughlin said he heard Trump's comments as "an awkward attempt to make America First fit with the idea of international cooperation."
"I think it was the wrong tone to strike," he said. "We are at a point when America cannot solve major problems on its own, though major problems cannot be solved without the U.S. The priority needs to be on alliance leadership and alliance management."
Given the importance the president placed on sovereignty, it was notable that Trump did not call out Russia for its meddling in the 2016 U.S. election or in other elections in the West. The U.S. Intelligence Community has assessed that Russian President Vladimir Putin ordered a cyber and influence campaign aimed at interfering in the U.S. election and boosting President-elect Donald Trump's chances.
"If sovereignty is so important, we should take seriously all efforts to undermine it," John Sipher, a Cipher Brief expert who retired in 2014 after a 28-year career in the CIA's National Clandestine Service, said. "His continuing and consistent failure to address the issue will create ongoing problems for our foreign policy, and continue to confuse our allies whose sovereignty is also being attacked."
McLaughlin pointed out, however, that Trump not raising the issue is "consistent with his overall reluctance to say critical things about Russia, so no surprise that he did not call out Russia for interfering in our election."
The president directed much of his speech to what he called "the scourge of our planet" — "a small group of rogue regimes that violate every principle on which the United Nations is based."
Trump, who dubbed North Korean leader Kim Jong-un a "rocket man" on a "suicide mission for himself and for his regime," said the world must isolate the Kim regime "until it ceases its hostile behavior."
"The United States is ready, willing and able. But hopefully, this will not be necessary. That's what the United Nations is all about. That's what the United Nations is for. Let's see how they do," he said. "It is time for North Korea to realize that the denuclearization is its only acceptable future."
North Korea recently conducted its sixth and largest nuclear test and has launched a number of ballistic missiles. The country's most recent missile launch occurred last week, flying over Japan landing in the sea. North Korea's state news agency quoted Kim as saying North Korea wants military "equilibrium" with the U.S.
According to McLaughlin, "Trump was correct to put North Korea on notice of serious consequences if they continued on their current path. But his warning went too far."
"What he said is the kind of thing that a president can think, but it's better to imply it than to say it," McLaughlin said. "I'm sure it was jarring, and not in a good way, for delegates to hear a President of the United States threaten to destroy another country. It will feed the impression of a President who could miscalculate, or trigger miscalculation in North Korea, or just behave recklessly – not what the world needs to hear from a leader with this much power."
In August, Trump said that If Pyongyang continues to threaten nuclear action, "they will be met with fire, fury, and frankly, power the likes of which this world has never seen before." While Trump's comments then were interpreted as the U.S. potentially taking preemptive steps, his administration has sought to dial that back and emphasize that the U.S. would only respond to a North Korean attack.
The president also described the Iran deal as an "embarrassment" to the U.S., saying, "I don't think you've heard the last of it. Believe me." Trump has twice certified that Iran was in compliance with the agreement, but Tuesday's comments have raised doubts he may not do so again at next month's deadline.
McLaughlin said that he doubts the deal is dead, however.
"There is no great enthusiasm for it among Trump's senior advisors but even Defense Secretary Mattis has said we should not break out of it, recognizing, I believe, that Iran would then have every reason to press ahead with a more robust nuclear program for which the Trump administration would rightly be blamed," he noted.
"Moreover, Trump's credentials for criticizing a hard-won deal are not great, considering that he has yet to strike a deal on anything himself, even health care, but has mostly been pulling out of them – the Paris Climate accord, the Trans Pacific Partnership, for example," he added.
During his time at the podium before other world leaders, Trump touched on a series of other topics — most notably Syria, terrorism, the turmoil in Venezuela, and migration.
"Major portions of the world are in conflict, and some, in fact, are going to hell. But the powerful people in this room, under the guidance and auspices of the United Nations, can solve many of these vicious and complex problems," the president said.
With regards to the Syrian conflict, Trump said that "we seek the de-escalation of the Syrian conflict and a political solution that honors the will of the Syrian people."
"The actions of the criminal regime of Bashar al-Assad, including the use of chemical weapons against his own citizens, even innocent children, shocked the conscience of every decent person. No society can be safe if banned chemical weapons are allowed to spread. That is why the United States carried out a missile strike on the air base that launched the attack," Trump said.
Trump praised the U.S. for its "big gains" against ISIS, saying that "our country has achieved more against ISIS in the last eight months than it has in many, many years combined." The U.S. and its allies "are working together throughout the Middle East to crush the loser terrorists and stop the reemergence of safe havens they use to launch attacks on all of our people," according to Trump.
He called "long-term uncontrolled" migration "deeply unfair to both the sending and the receiving countries" and also promoted refugee resettlement in or near their home countries.
The president also highlighted the "disastrous rule" of Venezuela's Nicolas Maduro, saying the U.S. has "taken important steps to hold the regime accountable" and is "prepared to take further action if the government of Venezuela persists on its path to impose authoritarian rule." Trump called on "every country represented here today to be prepared to do more to address this very real crisis."
"This situation is completely unacceptable and we cannot stand by and watch," the president said.
Mackenzie Weinger is a national security reporter at The Cipher Brief. Follow her on twitter @mweinger.