Treasury Pick Will Track Russian Money Laundering, Even Into Trump Circle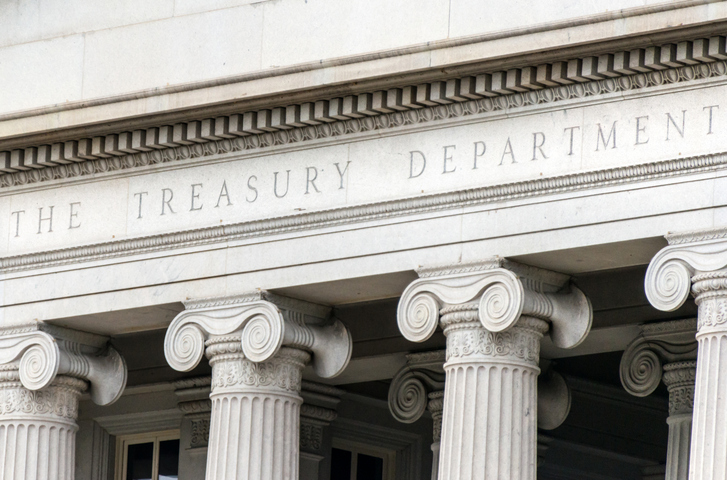 CIA veteran Isabel Marie Keenan Patelunas, the Trump Administration pick to be assistant treasury secretary for intelligence and analysis, told Senate Intelligence Committee members Wednesday she would follow financial intelligence relating to Russia even if it leads to President Donald Trump's circle.
Patelunas was responding to a question from Sen. Ron Wyden (D-OR) about whether she would make it a priority to investigate Russian efforts to move funds illicitly, even if the intelligence points to a connection to Trump's business, family or campaign.
"I will take intelligence wherever it goes," she said during an otherwise largely perfunctory confirmation hearing.
The Treasury Department position, heading the Office of Intelligence and Analysis, is a key element of the government's financial intelligence apparatus and is responsible for collecting, analyzing and disseminating intelligence related to activities such as criminal money laundering and financing of terrorist groups.
Patelunas, a member of the Senior Intelligence Service, has worked at the CIA since 1989.  She has held management positions for 15 years, serving as director of the President's Daily Brief Staff in the Office of the Director of National Intelligence, was deputy director of the CIA's Office of Middle East and North Africa Analysis, and director of the Advanced Analysis Training Program.  She also worked at the National Counterproliferation Center and the Weapons Intelligence, Nonproliferation and Arms Control Office.  Since April, Patelunas has been chair of the CIA's Publication Review Board.
In answers to written committee questions, Patelunas provided some insight into where her future priorities would lie.
When asked what terrorist organizations are of most concern to OIA and about actions she envisions taking if confirmed, Patelunas said she believed "ISIS and its branches" and al Qaeda and its affiliates are the office's main concerns, although it is looking at other terrorist groups in Afghanistan and Pakistan, such as the Taliban and Haqqani Network.  In addition, she said she understood that OIA closely follows Iran's IRGC Qods Force, Hezbollah, and Hamas.
"Identifying funding networks that support these groups is a unique intelligence discipline, requiring the right mix of smart analysts, training, tools, and information," she wrote.
She also wrote that she plans to review existing analysis of charities that raise money for terrorists, and "if necessary, conduct a comprehensive evaluation of how charities may be involved in supporting terrorism."
Patelunas also told the panel she would make sure OIA analysts focus both on financial networks associated with national security threats and "laundering methodologies and financial technology more broadly" to alert officials to potential vulnerabilities with such nontraditional payment forms as virtual currencies.
Paul Pillar, who held a variety of positions during 28 years in the Intelligence Community, said most of the work of the office Patelunas will head at Treasury is done "without the complications of policy controversies or public attention," but that may not be the case with Russia and Iran dominating the headlines.
"Possibly a more politically delicate set of issues in which that office could be involved would be sanctions against the likes of Russia and Iran – how effective they are, what goes in to determining just who and what should be sanctioned, etc.," he said. And in the months ahead, Pillar said there could be "more attention to where the remnants of ISIS get their support. "
Leslie Ireland, who held the same Treasury position in the Obama Administration, praised Patelunas, saying she is "thrilled" with the nomination.
"I had the pleasure of working with her over the years at CIA and always viewed her with the utmost respect. Izzy's deep experience leading analysis will be critical to OIA."
Looking ahead, Ireland said Patelunas must "come up to speed quickly on cybersecurity issues," pointing to Treasury's need to protect against outside threats to its IT and payments systems, and malicious insider threats.  In addition, since Treasury is responsible for cyber security and critical infrastructure protection for the financial industry, she said she would encourage Patelunas to expand, to the extent possible, her office's cyber analysis capabilities in conjunction with Treasury support to the sector.
Patelunas is expected to be approved by the committee next week.
Steve Hirsch is a senior national security editor at The Cipher Brief.