Pompeo Says Nothing 'Untoward' in Meeting Russian Intel Chiefs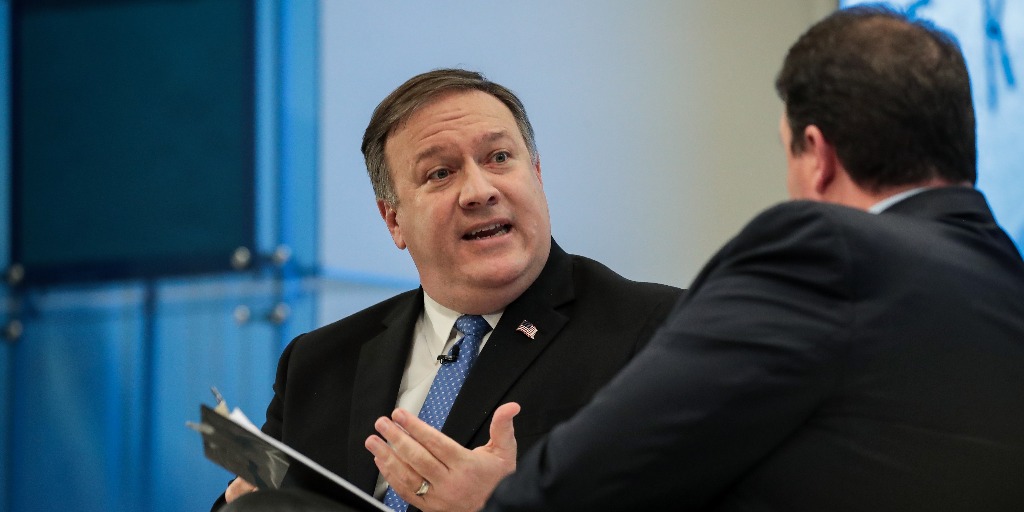 CIA Director Michael Pompeo told Democrats that there is nothing "untoward" about meeting with Russia's senior spy chiefs, following reports that he did just that last week.
Russian media reported that Pompeo met with Sergey Naryshkin, chief of Russian foreign intelligence who is currently sanctioned by the U.S. Treasury Department – after Russia's Ambassador to the U.S. Anatoly Antonov revealed to Russian state media that the Russian spymaster had visited.
U.S. Ambassador to Russia Jon Huntsman also confirmed that Pompeo met with his 'Russian counterparts'— without naming names – and no denials have been issued.
So Democratic lawmakers want answers. "The Trump administration must immediately come clean and answer questions. Which U.S. official did [Naryshkin] meet with? Surely, he didn't come here alone," Senate Minority Leader Chuck Schumer said to reporters this week.
In the midst of broader concerns about the Trump administration's willingness to adopt a harsh stance toward Russia and Vladimir Putin—and its decision not to enforce sanctions on key Russian officials despite an overwhelming congressional vote in favor—Schumer and other Democrats are concerned about the substance of any meetings that took place between senior U.S. intelligence officials and their Russian counterparts.
Pompeo's response to Schumer's inquiries in a letter shared with The Cipher Brief doesn't confirm the controversial meeting in question took place, but instead talks about why U.S. intelligence officials "periodically meet" counterparts from its Russian "adversary."
"I am writing to you in response to your press conference Tuesday where you suggested there was something untoward in officials from Russian intelligence services meeting with their U.S. counterparts. Let me assure you there is not."
"We periodically meet with our Russian intelligence counterparts…to keep America safe. While Russia remains an adversary, we would put American lives at greater risk if we ignored opportunities to work with the Russian services in the fight against terrorism."
"When those meetings take place, you and the American people should rest assured that we cover very difficult subjects in which American and Russian interests do not align. Neither side is bashful about raising concerns relating to our intelligence relationships and the interests of our respective nations."
Pompeo did not address whether the topic of Russian election interference was raised in these meetings, something which President Trump has sought to downplay but the CIA director continues to mention as a threat. The CIA declined to comment, and the Russian embassy in Washington did not immediately respond to requests for comment.
You can read Pompeo's full response to Sen. Schumer, hosted on The Cipher Brief, here.
Brian Garrett-Glaser is the content manager for The Cipher Brief.