Who Runs the West? Merkel Wins Again but Far Right Surges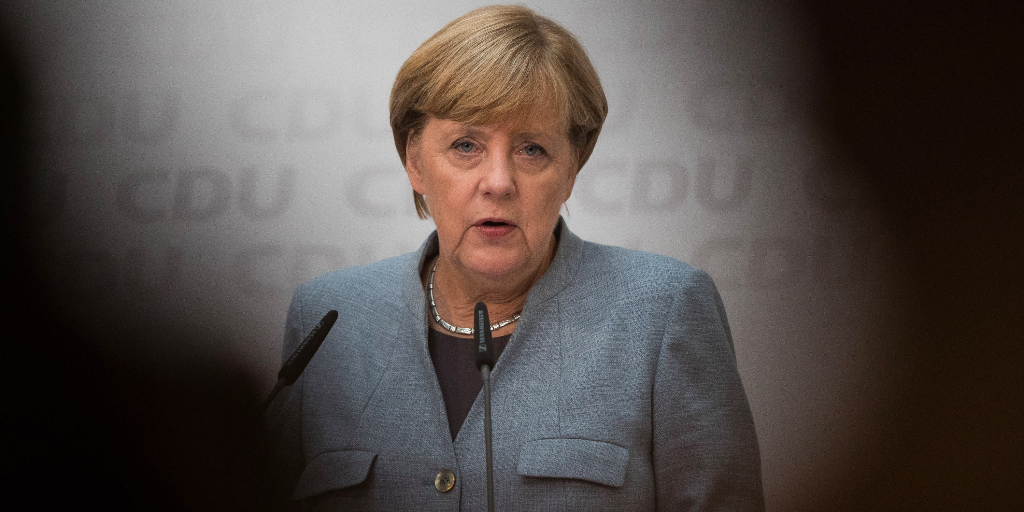 Germany's national elections on Sunday will go down in history as the event that, for the first time since WWII, brought a far-right, anti-immigrant, and, according to some, 'neo-Nazi' political party into the country's national decision-making body – the federal parliament.
The Alternative für Deutschland (AfD) came in third behind Germany's two largest parties – the Social Democrats and the Christian Democrats, who have been ruling in a coalition government under Chancellor Angela Merkel for the past five years. The AfD got around 13 percent of the vote, procuring an estimated 94 of the 709 seats in parliament.
Merkel's Christian Democratic Union (CDU) and Christian Social Union (CSU) alliance remained the largest party, giving Merkel the mandate to lead for a fourth term – but the party performed at its worst since 1949, getting just over 30 percent of the vote. The Social Democrats (SPD) also performed poorly, at just over 20 percent.
"Yesterday's result came as a surprise to most people, many here were shocked… For the first time since the early 1950s a right-wing party sits in the German Bundestag [parliament]," Dagmar Pepping told The Cipher Brief on Monday.
"Keep in mind [the parliament] is the building that Hitler and the Nazis sat in during Germany's darkest times," said Pepping, who is a radio journalist at Germany's largest broadcasting service, ARD, and covers the AfD extensively.
"The establishment here [in Germany] seems somewhat in shock or at least stunned," said former CIA Acting Director and Cipher Brief Expert John McLaughlin. "On the one hand Chancellor Merkel will retain power, but her CDU party is down nine points."
The Social Democrats have taken themselves out of the running to be a coalition partner with the CDU/CSU, which Merkel needs to run the government, since her party did not receive an absolute majority. Now, it looks like a so-called 'Jamaica' coalition is the most likely. This is where the CDU/CSU (whose traditional party color is black) would rule with the business-friendly Free Democrats (yellow) and the Greens – making up the colors of the Jamaican flag.
"It will be difficult to negotiate such [a] coalition," said McLaughlin, "but assuming it can be done, such a government is likely to lean toward stances that are pro-Atlantic, pro-EU, and skeptical of Russia. Overall, reassuring."
The AfD has the closest political ties to Russia. Already, there's an online conspiracy campaign linked to the AfD and "driven by anonymous troll accounts and boosted by a Russian-language botnet" that are warning about "election fraud."
And, while it doesn't look like Russia had a huge hand in effecting the election results, "there is evidence of some [Russian] efforts in eastern Germany to help AfD as well as efforts with the 2 million Russian speakers in Germany, and they may have had some impact in the east where AfD came in as the second party with almost a quarter of the votes," said Stephen Szabo, a senior fellow at the American Institute for Contemporary German Studies.
Merkel's CDU and the Greens, on the other hand, are quite hard on Russia.
While Merkel may remain tough on Russia, favoring sanctions until the Ukraine issue is resolved, experts told The Cipher Brief Merkel will likely have to move right on issues like immigration.
"A majority of the German people is not satisfied with the way Chancellor Angela Merkel and her coalition handled the refugee crisis," explained Pepping. "That is why both parties – Merkel's Christian Democrats (CDU) and the Social Democrats (SPD) – lost votes in such a huge way. Many people who didn't vote before turned out for the AfD this time, more than one million votes."
In 2015, Merkel decided to open Germany's borders to undocumented migrants and refugees, most from the Middle East, letting in more than a million refugees.
"Merkel will have to shift to the right both to address the concerns of those CDU/CSU voters she lost to AfD and due to increasing pressure from the CSU to stabilize the right," said Szabo. "This means a tougher position on immigration and asylum."
Merkel on Sunday night said she would listen to the people who voted for the AfD and work to win them back "by solving problems, by taking up their worries, partly also their fears, but above all by good politics."
Compounding concerns over migration are increasing worries about internal security.
Germany saw a wave of terror attacks last year. A truck plowed through a Christmas market in Berlin in September, killing 12 people and injuring 48 others. The Islamic State, also known as ISIS, claimed responsibility for the attack. Last July, a string of terror attacks swept across Germany – from an axeman hacking passengers on a train in Wurzburg to a gunman who went on a deadly rampage in Munich, killing nine people and injuring at least 20 others.
"Many AfD supporters are afraid that they will lose prosperity and security if politics don't change in Germany," said Pepping. "To sum it up: The AfD is the political voice of fear in Germany."
Merkel has already shown her support for increased defense spending, but not all parties in Germany are on board. Her old governing party and the second largest party in Germany, the Social Democrats, ran against Merkel's pledge to boost defense spending to two percent of GDP, compared to its current 1.2 percent. NATO member states agreed to the two percent figure in 2014, and U.S. President Donald Trump has demanded all NATO members reach this goal as soon as possible. Right now, only the U.S. and five other NATO members meet that target.
Still, "the CDU is likely to keep the defense ministry and the trend toward more defense spending is likely, as the FDP will be more open to this than the SPD; the Greens will not be happy but will go along," said Szabo.
Of course, there is always the possibility that the most likely governing coalition – the 'Jamaica' coalition – won't work out. In that case, "Merkel will try to coax the Social Democrats into another coalition," said Pepping. Either way, Germany may not have a new government before Christmas, because negotiations "will be very complicated," she said.
With the AfD's surge, and the CDU/CSU's and SPD's demise, hope remains with Merkel. "I really hope that this shock will animate people here to get engaged in politics again and to show the right-wing fraction of the AfD that Germany's political system is strong, and that our democracy can survive this little earthquake," Pepping said.
"This is clearly a vibrant democracy," said McLaughlin, "and Merkel will remain the most influential leader in Europe – maybe in the west, given Trump's failure so far to establish much credibility or trust in Europe."
Trump has been openly vocal in criticizing Merkel over her refugee policy, and the two have had a lukewarm relationship at best. Trump has yet to tweet or call to congratulate Merkel on her election win.
Merkel, although critical of Trump, has been cautious in her rhetoric. "She understands the German interest in a relationship which is the ultimate guarantee of German security and in which Germany has a major economic stake; Germany can't afford a major break with Washington," said Szabo, adding that Sunday's election outcome means the level of rhetoric on Trump coming from across the political spectrum in Germany will "probably ease somewhat."
"It is more difficult for Merkel to take the high road with a right-wing party sitting in the [parliament]," he said. "The expected tougher line on immigration and refugees and on internal security will force the German government to lower its critique of Trump."
Merkel is going into this government "as a weakened leader who will gradually get weaker," said Szabo.
Kaitlin Lavinder is a reporter at The Cipher Brief. Follow her on Twitter @KaitLavinder.