NATO Regroups Against Renewed Russian Aggression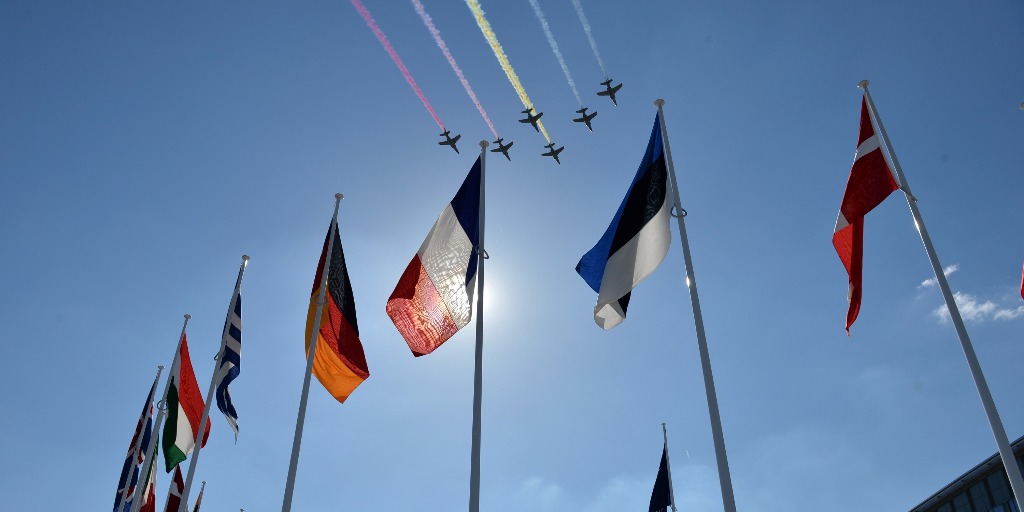 NATO allies have agreed to sweeping restructuring to speed response to any danger – with Russia's invasion of Ukraine in 2014 and continued expansionism in mind.
"We have seen a much more assertive Russia," said NATO Secretary General Jens Stoltenberg at a press conference on Wednesday, following a morning meeting of NATO defense ministers in Brussels. "We have seen a Russia which has over many years invested heavily in their military capabilities, modernized their military capabilities, which are exercising not only conventional forces but also nuclear forces, and which has been willing to use military force against a neighbor, Ukraine."
The restructuring represents a recognition that NATO's enemies have evolved, shifting back to the original reason the alliance was established: to offset Russia. After the Cold War ended, NATO had shifted focus to projecting stability abroad, in places like Afghanistan and Libya, as opposed to maintaining readiness for conventional war at home.
The new command structure will include a transatlantic command and a logistics command based in Europe. The first is meant to ensure open sea lanes and lines of communication between North America and Europe, in an ocean that has seen a resurgence in Russian submarine activity. The logistics node is intended to improve the movement of military forces and equipment across European countries, where regulation and lack of infrastructure can make rapid cross movement difficult.
"The idea is that the command structure now has to be a warfighting command structure," a former senior NATO official told The Cipher Brief.
In addition to the two new commands, NATO defense ministers also agreed to create a new cyber operations center to bolster cyber capabilities and integrate cyber into NATO planning and missions, in a nod to the rising threat from cyber actors, including Moscow.
The restructuring is an about-face from a 2011 strategic review, when NATO went through "a major downsizing of the structure based on the assumption that we were mainly going to be doing expeditionary operations," said the former NATO official, who requested anonymity due to continuing involvement in the matter.
There are now less than 7,000 people stationed at seven NATO commands, compared to 22,000 people at 33 different commands at the end of the Cold War.
That could change with the restructuring, adding as many as 2,000 more people, according to the former NATO official.
The idea did not win fans among former NATO officers.
"What was always missing in NATO? Capabilities," said Brigadier General Jarosław Stróżyk, NATO's Deputy Director of the Intelligence Division in the International Military Staff from 2010 to 2013. "You don't gain capabilities by creating new commands."
"I do believe we need command structure focused on some of these new problems, but I do not believe in any way, shape or form that NATO command structure should grow," said former NATO Supreme Allied Commander in Europe (SACEUR) General Philip Breedlove, who served in that post from 2013 to 2016.
"I would support at a minimum just repurposing existing structure," he told The Cipher Brief. "Optimally I think a lot of people would say we need to downsize" – although he did emphasize the importance of NATO refocusing on the Atlantic, as "we have seen a resurgence in Russian submarine activity, investment in their fleet that works in the Atlantic, we have seen them shadow our carriers, et cetera."
The Russian embassy in Washington did not immediately respond to requests for comment, but NATO's restructuring announcement got a frosty reception in Moscow.
"This is a bad signal," said retired Colonel General Leonid Ivashov to RT on Wednesday. He said it could indicate NATO is preparing to target Russia.
"This is the danger," said Ivashov, a former defense official who now heads the Moscow-based Academy for Geopolitical Problems. "The Americans want Europe and Russia to battle each other in the European theater."
Other proposed changes include beefing up command and control for air and maritime operations through the existing component commands, while at the same time preserving the capacity to do expeditionary operations, said the former senior NATO official.
"Our military commands will now flesh out the details, and the results of the work will be presented to defense ministers next February," said Secretary General Stoltenberg. The goal is to procure final approval at the next NATO defense ministerial in February and then launch the new commands and capability upgrades.
At the same time, more than half of the European Union member states are expected to sign on to a new joint defense pact that will allow signatories to pool military logistics and crisis response troops and cooperate on weapons development.
EU states that want to join the defense pact are expected to give formal notice on November 13 at a meeting of European foreign and defense ministers.
"23 out of the 26 nations of the EU and NATO are common. So, any money spent in those nations to make their militaries more capable is a boon to both," said Breedlove.
But he added, "If a European Army was to begin to start to try to replicate all of the NATO stuff and spend that money that way, it's money lost that should have been invested in overall capabilities and readiness."
Kaitlin Lavinder is a reporter at The Cipher Brief. Follow her on Twitter @KaitLavinder.