Trump Threatens North Korea with "Fire and Fury"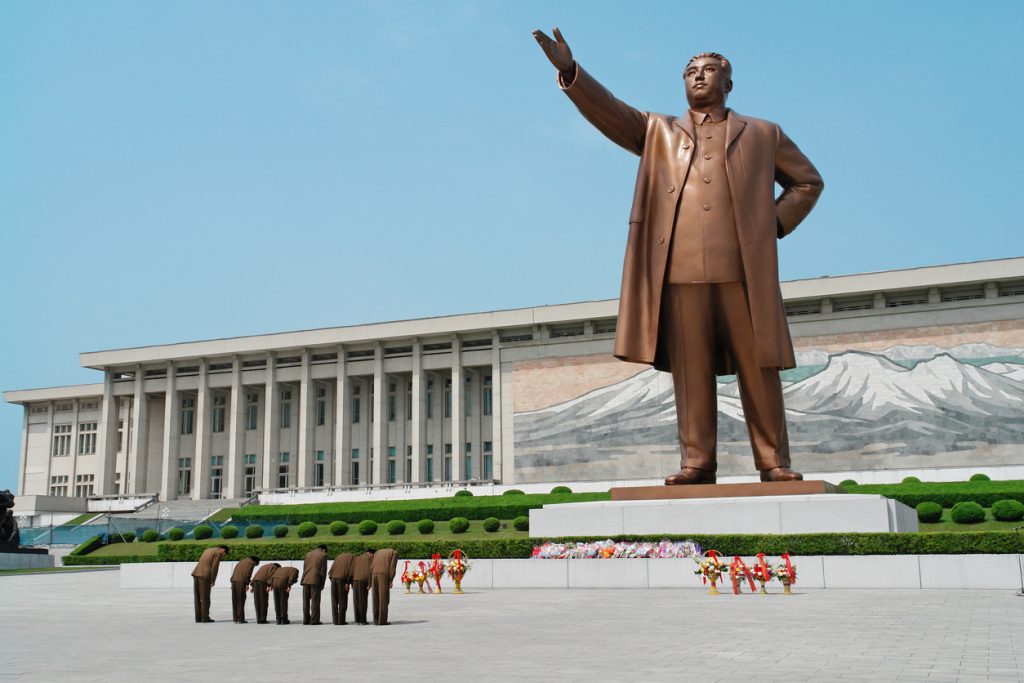 President Donald Trump vowed to respond to North Korea with "fire and fury" if the rogue nation continues to threaten the United States. Speaking to reporters at the Trump National Golf Course in Bedminster, New Jersey on Tuesday, Trump said "North Korea best not make any more threats to the United States." If Pyongyang continues to threaten nuclear action, the president said, "they will be met with fire, fury, and frankly, power the likes of which this world has never seen before."
In response, the North Korean government matched Trump's rhetoric, threatening an attack of "enveloping fire" on the U.S. island territory of Guam, which houses thousands of U.S. forward deployed troops.
The statement was quite specific: "Andersen Air Force Base in which the U.S. strategic bombers, which get on the nerves of the DPRK and threaten and blackmail it through their frequent visits to the sky above south Korea, are stationed and to send a serious warning signal to the U.S."
But the threats were not limited to Guam. "It is a daydream for the U.S. to think that its mainland is an invulnerable Heavenly kingdom," the statement by the Strategic Force of the North's Korean People's Army read.
Trump's comments came as news reports circulated that a U.S. intelligence assessment has concluded North Korea may have the capability to put a nuclear weapon on a missile, in what experts say was an "inevitable" conclusion.
The Washington Post reported Tuesday that an assessment by the Defense Intelligence Agency has determined North Korea has developed a miniaturized nuclear warhead that can fit inside its missiles. The Post cites a July 28 DIA document that read, "The IC [intelligence community] assesses North Korea has produced nuclear weapons for ballistic missile delivery, to include delivery by ICBM-class missiles."
The DIA analysis also followed another U.S. intelligence assessment that raised the total number of nuclear weapons in North Korea's arsenal to up to 60, the Post reported.
Japan's Defense Ministry also issued an annual threat assessment on Tuesday stating that "it is possible that North Korea has already achieved the miniaturization of nuclear weapons and has acquired nuclear warheads."
Former Acting CIA Director Michael Morell told The Cipher Brief that the DIA's assessment was "not at all surprising to me." And retired Admiral Sandy Winnefeld, former Vice Chairman of the Joint Chiefs of Staff, noted that while it is "unfortunate" North Korea has continued down this path, "this new assessment was inevitable" — and "is probably conservative, as it should be."
Morell, who has previously said the U.S. should assume that North Korea can today hit the continental U.S., as well as Alaska and Hawaii with a nuclear weapon, said the reason he has held this belief for some time is "because the North has had workable nuclear devices since 2006, and they have had ballistic missiles for even longer."
"They have the technical skills to miniaturize the devices to fit on a missile and they have the time to do so. Not a rocket science conclusion. No pun intended," he wrote in an email.
The key question now, according to Morell, is "the reliability of the missile and the warhead." It's probably not high, "But would you want to bet a U.S. city on that?" he asked.
"This is what makes any military action against North Korea so risky — what if the North can detonate a nuclear weapon over Chicago right now?" he said.
This DIA assessment suggests that North Korea might be able to do so, he noted. This, and the "prospect of a second Korean War and the inability of getting everything in one single strike is what takes military action off the table," he said.
Morell and Winnefeld recently wrote in The Cipher Brief that the U.S. needs "to change the fundamental objective of our policy, because North Korea will never willingly give up its program. Washington's belief that this was possible was a key mistake in our initial policy thinking. The U.S. objective needs to shift from denuclearization to deterring the North from ever using or proliferating its nuclear weapons."
Winnefeld noted that he still holds to the points he and Morell have made, notably that North Korea will never give up its program given it is the regime's "only insurance policy."
"They will never use these weapons unless the regime is threatened, so leave them to stew in their own juice," he said.
This also comes on the heels of a wave of diplomatic activity over the weekend. On Saturday, the United Nations Security Council unanimously adopted a resolution strengthening sanctions on North Korea in response to its ICBM tests conducted on July 3 and July 28. U.S. Ambassador to the UN Nikki Haley called it a "gut punch to North Korea." Winnefeld said the sanctions were a "solid move."
"We should not acknowledge North Korea's program and should continue to make them pay a heavy price for their efforts, lest others be tempted to do the same," he said.
On Monday, Secretary of State Rex Tillerson kept the door open for talks with North Korea, if the country stopped its recent missile tests.
"The best signal that North Korea could give us that they're prepared to talk would be to stop these missile launches", Tillerson told reporters in response to a question about what preconditions North Korea would have to meet in order for the U.S. to come to the negotiating table.
Mackenzie Weinger is a national security reporter at The Cipher Brief. Follow her on Twitter @mweinger.