Trump Calls Tillerson's Talks with North Korea a Waste of Time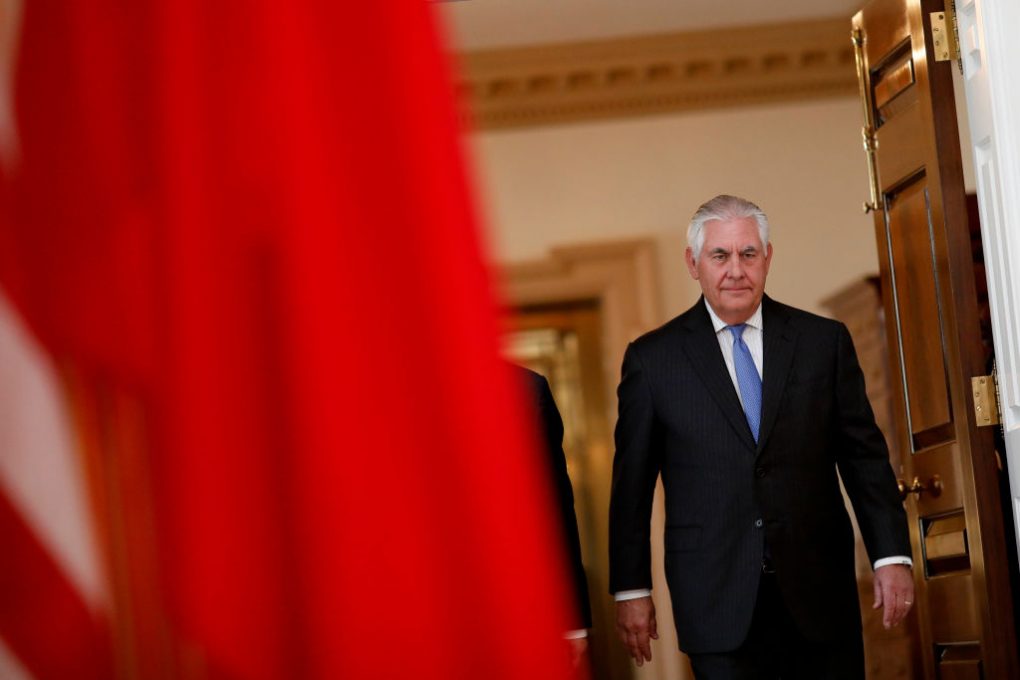 President Donald Trump called negotiations with North Korea a waste of time Sunday morning, directly contradicting Secretary of State Rex Tillerson's statement only one day prior.
"I told Rex Tillerson, our wonderful Secretary of State, that he is wasting his time trying to negotiate with Little Rocket Man…" Trump tweeted.
The U.S. Secretary of State revealed Saturday that Washington is in direct communication with Pyongyang — and that his diplomatic priority was to defuse the danger of a nuclear crisis on the Korean peninsula.
"We have lines of communication to Pyongyang. We're not in a dark situation, a blackout," Tillerson told reporters. "We have…three channels open to Pyongyang. We can talk to them, we do talk to them."
From Diplomacy to Fire and Fury
Ambassador Joseph DeTrani, the former special envoy for Six Party Talks with North Korea and the former director of the National Counterproliferation Center, told The Cipher Brief Sunday morning that "it's not surprising that the U.S. has "direct channels" to Pyongyang.  It would be surprising — and tragic — if we didn't."
But the President then followed up his morning tweet with one more telling Tillerson to "…save your energy Rex, we'll do what has to be done!"
Trump and North Korean leader Kim Jong-un have been in a tit-for-tat of heightened rhetoric for months now. In an early September speech at the United Nations General Assembly (UNGA), Trump called Kim "rocket man" saying he is "on a suicide mission for himself and for his regime," and adding "if it [the United States] is forced to defend itself or its allies, we will have no choice but to totally destroy North Korea."
Kim responded by threating to launch a hydrogen bomb over the Pacific Ocean.
Indeed, the threat from North Korea, James Clapper, Former Director of National Intelligence told The Cipher Brief over the summer, "has been profoundly and unnecessarily amplified by our own ill-advised rhetoric, which only serves to promote hyperventilation."
On Saturday, Tillerson seemed to be aiming to address that exact issue: "I think the most immediate action that we need is to calm things down…they're a little overheated right now," he said. "Obviously it would help if North Korea would stop firing off missiles. That would calm things down a lot."
Back to Diplomacy Once More
State Department spokesperson Heather Nauert confirmed the channels of communication with Pyongyang, but noted that "despite assurances that the United States is not interested in promoting the collapse of the current regime, pursuing regime change, accelerating reunification of the peninsula or mobilizing forces north of the DMZ, North Korean officials have shown no indication that they are interested in or are ready for talks regarding denuclearization."
Based on his Sunday morning tweets, the President agrees. And, as if to expel any lingering doubts, Trump tweeted on Sunday afternoon: "being nice to Rocket Man hasn't worked in 25 years, why would it work now? Clinton failed, Bush failed, and Obama failed. I won't fail."
In terms of negotiations, Trump isn't wrong, according to Michael Morell, Cipher Brief expert and former Acting Director of the CIA. He told TCB earlier in the summer that the U.S. has "tried diplomacy for 25 years without success." But crucially, he noted, "we owe it to ourselves and to our allies to try at least one more time."
However, as he and Admiral Sandy Winnefeld, the former Vice Chairman of the Joint Chiefs of Staff wrote in the Cipher Brief, "the U.S. objective needs to shift from denuclearization to deterring [North Korea] from ever using or proliferating its nuclear weapons."
The necessity of the complex diplomacy required to reach either the denuclearization of the Korean peninsula, or a contained and deterred Pyongyang, comes at a time when the Trump Administration's commitment to the State Department has been questioned – given massive proposed budget cuts and the lack of key appointments – and the President's tweets cast a shadow on his views of diplomacy's efficacy.
DeTrani said the tweets' long-term consequences may outweigh the short-term ones: "President Trump undermining the Secretary of State isn't helpful, but it's not a fatal blow," to the situation with North Korea. Rather, it "dampens any hope that greater creativity will be introduced to help ensure that future negotiation could be more productive."
But is that a blow the U.S. can afford with such high stakes? "This will be the most important decision the President will make during his time in office," Morell told the Cipher Brief. "North Korea will be the defining issue of this presidency."