Tillerson to Focus on North Korea Crisis on Latest China Trip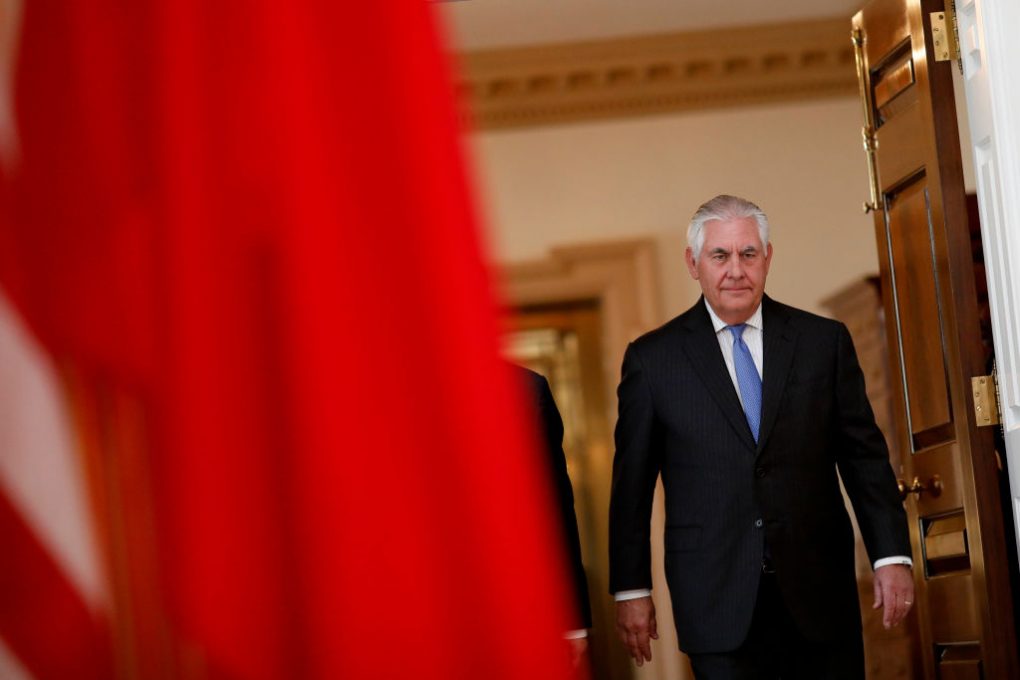 Secretary of State Rex Tillerson heads to China this weekend for the second time since taking office in February, where he will meet with his counterpart, Chinese Foreign Minister Wang Yi, and other Chinese leaders. The trip's intended purpose is to prepare for President Donald Trump's state visit to Beijing in November – but other pressing issues, like North Korea and trade policy, will also top the agenda.
Trump and North Korean leader Kim Jong-un have been in a tit-for-tat of heightened rhetoric over the past few months. Trump at the United Nations General Assembly (UNGA) earlier this month called Kim "rocket man" who is "on a suicide mission for himself and for his regime," adding "if it [the United States] is forced to defend itself or its allies, we will have no choice but to totally destroy North Korea."
Kim responded by threating to launch a hydrogen bomb over the Pacific Ocean. North Korea is considering testing "an unprecedented scale hydrogen bomb" over the Pacific, North Korean Foreign Minister Ri Yong Ho told reporters in New York after Trump's UNGA speech.
Pyongyang conducted its 6th nuclear weapons test on September 3rd, and 12 days later, North Korea launched its second missile over Japan, just days after the United Nations Security Council (UNSC) imposed new sanctions against the North on September 11th.
China, Pyongyang's only major ally who accounts for around 90 percent of the North's foreign trade, voted in favor of the UNSC sanctions and so far is adhering to them. China has long been reluctant to take such action against the North, and holds veto power in the UNSC.
China has told North Korean companies operating in its territory to shut down by early January, as it implements the sanctions. Beijing has already banned textile trade and limited oil exports.
"China has taken tremendous steps in the right direction," said State Department spokeswoman Heather Nauert on Tuesday.
But Bonnie Glaser, director of the China Power Project at the Center for Strategic and International Studies, told The Cipher Brief that although "the Chinese have come along fairly significantly toward the direction of what the Trump Administration wants China to do on North Korea… on paper," the real question is whether "these actions they've taken and the things they've agreed to do will be implemented, whether they will be enforced."
Glaser said she expects Tillerson to bring up the issue of enforcement during his visit to Beijing this weekend.
Additionally, "he might also talk about what the U.S. and China should do in the event that Kim Jong-un does something dangerous going forward," like detonating a hydrogen bomb over the Pacific.
Tillerson may bring up "crisis response or contingency planning with China on North Korea," said Glaser – something the Obama Administration tried through intelligence, diplomatic, and military channels, without much progress.
Tillerson will also likely talk with the Chinese about getting the North Koreans to sit down with the U.S. for "exploratory, official discussions," said Ambassador Joseph DeTrani, the former special envoy for Six Party Talks with North Korea and the former director of the National Counterproliferation Center.
"I think Tillerson will emphasize U.S. willingness to meet with the North Koreans, requiring only that they don't launch missiles or conduct nuclear tests during these discussions," DeTrani told The Cipher Brief. "I think China will embrace this proposal and suggest that the U.S. pursue this independent of China. If that fails, however, China would then do its best to broker talks between the North and the U.S., as they did in April 2003."
Beyond North Korea and Trump's state visit in November – which will come just after China's 19th Party Congress, where Chinese President Xi Jinping is expected to receive the mandate to continue leading the country – the other major topic of discussion will be trade.
"The priorities of this [U.S.] administration have clearly been on trade and economic issues on the one hand and North Korea on the other," noted Glaser.
Trump has been openly vocal about his dissatisfaction with China's large trade surpluses with the United States. And last month, Trump ordered an investigation into whether China wrongly pressures companies into handing over their technology in exchange for access to China's massive market of consumers.
When Trump met with Xi during an informal summit at Mar-a-Lago in April, the two leaders agreed on a 100-day plan for trade talks. But that turned out to be "mostly inconsequential," said Graham Webster, a senior fellow at the Paul Tsai China Center at Yale Law School.
U.S. Commerce Secretary Wilbur Ross, after visiting China this week, said although there has been some progress, the U.S. and China need to tackle "bigger things and more difficult things" on trade.
Tillerson is expected to reiterate U.S. trade concerns to the Chinese – namely, the desire for better market access, less protectionist policies, and protection of intellectual property rights.
Disputes over territory in the South China Sea could also crop up this weekend, but that doesn't appear to be part of Trump's diplomatic priorities.
"Up to now, the Trump Administration has downplayed the SCS [South China Sea] as an issue while trying to get China to do more on North Korea," Mike Chinoy, a senior fellow at the U.S.-China Institute at the University of Southern California, told The Cipher Brief.
Chinoy said he doubts Tillerson will say much about the South China Sea "except making a perfunctory reference to freedom of navigation – if indeed he does that."
The focus, instead, will remain on North Korea and Trump's November visit.
Kaitlin Lavinder is a reporter at The Cipher Brief. Follow her on Twitter @KaitLavinder.