Pence Says U.S. Patience with North Korea is Running Out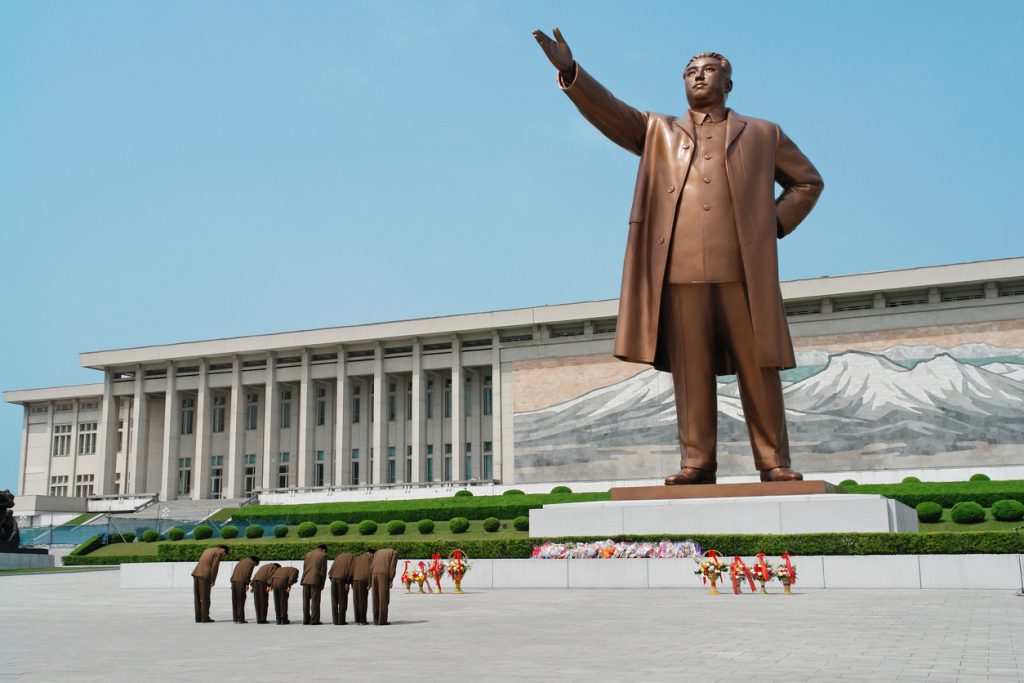 U.S. Vice President Mike Pence visited the Demilitarized Zone (DMZ) separating North and South Korea on Monday and warned Pyongyang the "patience" of the U.S. "has run out."  His comments come a day after North Korea conducted a missile test that failed when the missile blew up almost immediately, according to U.S. Pacific command.
The missile was launched from a submarine port. While it may have been indicative of a new type of missile, it does not appear to be a long-range Intercontinental Ballistic Missile (ICBM) or a particularly disruptive display of new capability.
In an interview with the BBC, North Korean Vice-Foreign Minister Han Song-Ryol took a defiant stance.  "We'll be conducting more missile tests on a weekly, monthly and yearly basis", he said.
Speaking with reporters at the DMZ , Pence said President Donald Trump was hopeful that China would be able to pressure North Korea to abandon its weapons program, while declaring "the era of strategic patience is over" regarding U.S. policy towards the country.
"President Trump has made it clear that the patience of the United States and our allies in this region has run out and we want to see change. We want to see North Korea abandon its reckless path of the development of nuclear weapons, and also its continual use and testing of ballistic missiles is unacceptable."
Pence later issued a joint press statement alongside acting South Korean President Hwang Kyo-Ang, where he reiterated the United States' "unwavering support" for the country.
"The United States commitment to South Korea is ironclad and immutable," Pence said.
North Korea did not conduct what would have been its sixth nuclear test this weekend, as experts had expected, to coincide with the 105th birthday of founding North Korean leader Kim Il-sung. North Korea's progress, and the war of words that has followed, has created the highest level of tension on the peninsula in recent memory.
This assessment of North Korea's capabilities featured heavily on the Mar-a-Lago Summit between U.S. President Donald Trump and Chinese President Xi Jinping last week where North Korea's missile and nuclear programs were one of the primary topics of conversation.
No bilateral course of action emerged from the summit, however Trump ordered the USS Carl Vinson Carrier Strike Group to head to Korean waters as a show of force and U.S. determination to deter any future nuclear or missile tests.
On Tuesday, Trump tweeted that China would get a better trade deal with the United States if it cooperated with the U.S. on confronting North Korea's nuclear program. A second tweet soon after stated that North Korea was "looking for trouble" and the U.S. would go it alone if necessary.
That evening, Trump called Xi to discuss options for stopping any further advances in North Korea's missile and nuclear programs. Xi stressed the need for peaceful options.
On Wednesday, Japan announced it would send its own vessels to join the Carl Vinson in conducting military drills.
Also on Wednesday, the Chinese state-run newspaper Global Times released an editorial saying that China would cut off oil supplies to North Korea if it tested a nuclear weapon.
With tensions rising, here is what we know about North Korea's missile and nuclear programs.
Missile Program
North Korea has deployed or is developing more than a dozen different missile types that vary in range, payload size, launch vehicle, and fuel type. Several of these have the range to strike South Korea and Japan, where the U.S. has stationed tens of thousands of troops, while only a few can reach U.S. military bases on Guam.
Only the largest, the Taepodong-2, is thought to have the range to reach the West Coast of the United States.  Only a few missile types are thought to be capable of carrying a nuclear payload, however experts believe North Korea has never tested a reentry vehicle that would enable a nuclear weapon attached to a long-range missile to survive atmospheric reentry to strike its target.
The long-range Taepodong-2 would have to be fired from a stationary launch facility. Some medium range missile types are launched from mobile vehicles, and one type, successfully tested in 2016, can be launched from a submerged submarine. Both are believed to be capable of carrying a nuclear payload. These are particularly worrisome because the mobility offered by such platforms makes detection prior to launch more difficult and shortens reaction time.
North Korea has shown advances in developing solid fuel rocket engines. While this is technically more difficult, it is advantageous as it shortens the time necessary to prepare for launch and is essential to successfully deploying its road-mobile and submarine launched missiles.
The United States and its allies are most concerned about the mobile missile types, particularly those that can carry a nuclear weapon.
Nuclear Program
North Korea has previously tested five nuclear devices. Seismic activity analysis indicates each test had a larger explosive yield than the one before it. The most recent test in September of 2016 had a yield between 20 and 30 kilotons—as much as twice the yield of the Hiroshima bomb. While unconfirmed, North Korea has announced it has miniaturized a nuclear device so that it can be placed on a rocket, and that it is capable of testing a thermonuclear device, a much more powerful type of nuclear weapon.
North Korea has a self-contained fuel production cycle for both plutonium and highly-enriched uranium (HEU), the two most common materials for nuclear weapons. North Korea can mine its own uranium domestically, and use its enrichment facilities to produce either nuclear material. While sanctions are in place to limit North Korea's access to certain equipment and materials necessary for enrichment and weapon making activities, North Korea has proven adept at circumventing them.
North Korea is estimated to have 10 plutonium-based nuclear weapons. Whether it has produced any HEU weapons is unknown. By 2020, nuclear experts estimate North Korea will have between 20-100 nuclear weapons. Variability in the estimates comes from several unknowns, such as the efficiency of North Korea's enrichment processes and the amount of material required for each weapon.
Conclusion
The arsenal that North Korea has amassed is the result of decades of slow, steady progress that has occurred in spite of negotiations, sanctions, and general international outrage. North Korea has persevered, and its pace of development in both missile and nuclear development appears to be increasing. In recent months, the U.S., China, South Korea, and Japan have been more vocal in their objections, and as this past week has shown, are willing to take stronger action.
If North Korean leader Kim Jong-un responds positively to the United States' show of force and China's promise to cut fuel delivery and backs down from further testing, the international community must determine how to secure progress towards denuclearization, although Cipher Brief experts former acting CIA Director Michael Morell and former Vice Chairman of the Joint Chiefs Admiral James Winnefeld believe this is impossible, and the effort should be towards preventing North Korea from using its weapons or proliferating nuclear technology. The international community has been down this road before, and North Korea has "relapsed." If Kim decides to go ahead with a nuclear test, then we must ask: what is he willing to do next, and what measures will be required to stop him?
Will Edwards is an international producer at The Cipher Brief. Follow him on Twitter @_wedwards.