African Migration: Scourge or Solution?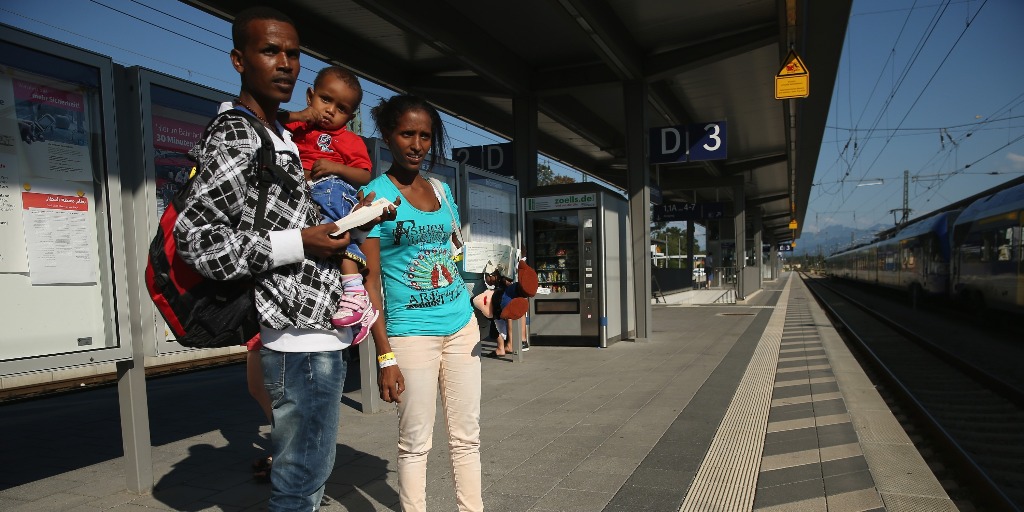 Marrakech, MOROCCO — Most African migration is taking place inside the continent, despite the headlines that give the impression that Africans trying to flee their struggling home countries in waves are on their way to Europe, according to a report by the Rabat-based OCP Policy Center.
But the growing use of cellphones and the spread of internet coverage, combined with Africa's projected struggle to build industrial capacity to provide jobs, spells future waves of migration north, according to attendees at the Atlantic Dialogues conference in Marrakech, where the paper was released.
A surge of almost a million refugees together with migrants in 2015 caused a surge of panic in overwhelmed European countries, noted OCP Policy Center study author Abdelhak Bassou. When Turkey shut down its borders, the smuggling network shifted its resources to the more open African coast, where thousands of would-be African economic migrants — and Libyans who wanted to escape the unstable aftermath of Moammar Gadhafi's ouster — were also waiting for a way north, Bassou writes. That confluence produced a surge of African migration: 335,158 migrants reached the southern shores of Europe in 2016, including 315,000 Africans.
But 2017 figures are on track for an ebb from that high figure. Between January and November 2017, just 150,000 migrants reached Europe's southern shores, with only 100,000 taking the African route from Libya to Italy – the route African migrants usually take.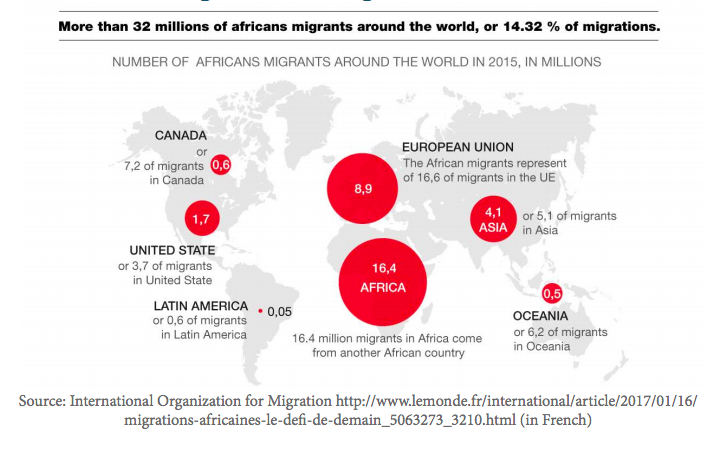 Image: OCP Policy Center
Still, more migration happens within the continent, as African migration makes up only 10 percent of global migration. The report says 80 percent of African migrants stay within the continent, with countries that take in the most including South Africa, Côte d'Ivoire, Nigeria, Kenya and Ethiopia.
"Only 12 percent migrate toward Europe, 6 percent toward Asia and North Africa, and 2 percent" to the rest of the world, Bassou writes.
There will come a time when Europe may actively seek those migrants, however, as its own workforce shrinks.
"Fertility rates in Europe are 1.5 children [per]mother in the best-case scenario, with Germany, Spain or Portugal around 1.3," said Paulo Portas, a former foreign minister of Portugal. "The minimum you need to replace generations and guarantee your future economy is 2.01.
"Sub-Saharan demographic fertility rates for 2016, 5.6 children per mother," representing an opportunity, "not a risk" to Europe, he added.
Europe's population is projected to fall by 2050, from 742 million to 716 million, while Africa's population is set to rise from 1.2 billion to 2.5 billion during that time, the report says.
Europe is not re-populating fast enough to support its economy, Portas said. So it will need Africa's workforce to power the economy – and he thinks they'll want to go. "In 2020, you will have 700 million smartphones in Africa. So life expectations will rise, and this will accelerate migration."
"Europe has two options: become a museum, or open [its] mind and look at Africa," he said.
One problem for the African continent is that many young Africans think opportunity only exists overseas, said Aminata Toure, former prime minister of Senegal. And Europe will want the most skilled and most educated among them, luring away the very African brain trust needed to build the economy and infrastructure, and provide jobs for the population boom that's coming.
"I think it takes a lot of work to be done within Africa to show that the response is not going to Europe," Toure told The Cipher Brief. "You do have a lot of fantasy about Europe and America–the grass is always greener across the ocean. They are looking for economic prospects, like the Irish who crossed the ocean to go to America."  She said African nations have to fund viable projects for young people
But, "I think technology is going to help them to stay home," she said, noting the wave of industrialization anticipated from Chinese and other foreign investment.
Kimberly Dozier is the executive editor of The Cipher Brief. Follow her on Twitter @KimDozier.