Expert Commentary
UK Elections Will Test May's Get-Tough Stance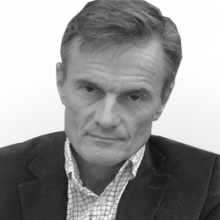 Nick FishwickFormer Senior Member of the British Foreign Office
The weekend's London attacks is the third in the UK this year and came as the UK was still reeling from a suicide bombing in Manchester on May 22nd that left 22 people dead. In March, four people were killed in London after a man rammed his car into pedestrians on a bridge near the Houses of Parliament, before fatally stabbing a policeman outside. Security in the UK has been tight since the Manchester attack, and as Britons prepare to vote in Parliamentary elections on June 8th. The Cipher Brief's Leone Lakhani asked Nick Fishwick, a former senior member of the British Foreign Office, about the mood on the ground, and the steps British investigators would be taking.
The Cipher Brief: These attacks come just after Manchester, which was very different type of attack, an actual explosion. These appear to follow the "lone wolf" or "lone wolves" pattern. How do counter-terror investigators deal with all these different types of attacks? Is it even possible to guard against all of them?
Nick Fishwick: The situation is still developing here so we don't know that this attack was "lone wolf," though it does not appear to have been part of any kind of network linked to the Manchester attack. On Sunday, at least twelve people were arrested in east London so we have to see how big a network was behind this attack.
Obviously lone wolf attacks present different sorts of challenges. They may kill fewer people but are harder to spot from a well-organized plot. It is clearly not possible to stop all sorts of attacks in a free society, but that does not mean nothing can be done. One part of Britain's counter-terror strategy is to prepare our response to attacks, and this actually worked very well.
The alleged murderers were themselves killed within eight minutes of the attacks starting, and the emergency services did brilliant work in minimizing death and injury. It is possible for potential lone wolves to be spotted by vigilant members of the public before they do any damage; the police and MI5 monitor have foiled several developing terrorist conspiracies. But they can't stop everything.
TCB: What types of steps would British investigators be taking now?
NF: A fast-paced investigation will be in progress, hence the arrests on Sunday. The police will be looking for accomplices, why the killers did what they did, how they planned it. Any evidence of overseas support or connections will be looked at, as will any sign that the killers had come to the attention of the security authorities in the past. There will, of course, be anxiety that another, related attack may be planned, and there is nervousness about the security of our elections, which are due to take place this Thursday, June 8. Rightly, the Prime Minister has said the elections will not be stopped by this incident. So the police will be looking again at any suggestion that there might be another attack.
TCB: The UK has been on high alert since the Manchester attack on May 22nd, with ongoing investigations. Are these the type of attacks that would be expected?
NF: "Expect" is an odd word in this context. Arguably, if you were able to expect an attack you should be able to prevent it. From another angle I think we vaguely expected that some serious terrorist attempts may have disrupted the 2012 Olympics, but there weren't any.
But I agree that the Manchester attack shook people, far more than the attack on Parliament in March. It reminded us that the security authorities can't keep us safe indefinitely, and that the sort of attack we have been seeing in France, Belgium, Germany, and Turkey can happen here too. Unfortunately, there is a small minority of violent extremists in Britain who want to kill innocent people and destroy our way of life. It's a fact we have to live with.
TCB: Would there now also be counter-intel/terror coordination and cooperation with other countries including the U.S., given Manchester police's frustration with U.S. media leaks about investigations into that attack?
NF: I am confident that there will be full cooperation with our U.S. friends, as with European and other allies. Clearly leaks must be avoided. The identities of the murderers have so far been kept secret, and that I think has helped the pace of the police investigation so far. 
Incidentally I have to say that while President Trump's prompt message of support for the UK after the attack was very much appreciated, his attack on the Mayor of London today was unbelievably crass.
TCB: Over the past 2-3 years, we've seen lone wolves attacking soft targets with easily obtainable weapons – vehicles, knives. After so many instances, have we made any progress in combatting the lone wolf phenomenon? Is this the new normal?
NF: As I said earlier, this may well not have been a lone wolf attack (depending on how you define that). But clearly ISIS – I assume this was somehow ISIS-inspired – supports self-generated attacks without the overseas training and support we used to see in some al Qaeda attacks. And lone wolves can be really difficult to spot, which is why we need the support of the public, including people in communities where violent extremism might be noticed and neutralized, before it's too late.
A final point is that our counter-terrorism strategy is going to come under the political microscope after the election is out of the way. Mrs. May clearly wants to toughen up our existing approach while the Labour opposition wants to review the strategy and has been arguing that the "war on terror" has not worked. So, one way or another there will be changes after June 8. I hope the changes will be carefully considered and not panic reactions. Britain will stay true to its values.