Trump and Merkel Show Solidarity but Differ on Trade, Security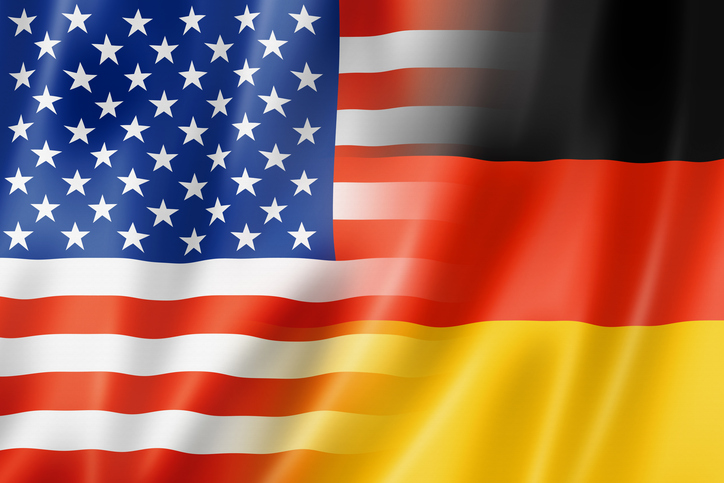 U.S. President Donald Trump and German Chancellor Angela Merkel met face to face for the first time Friday during Merkel's visit to Washington. In a joint press conference following the meeting, Merkel said she always maintained it is better to talk with each other than about each other, and "I think our conversation proved this."
Although the two leaders pronounced their common commitment to security and prosperity, differences in how to approach this agenda were clear.
On immigration, Trump said the focus must be on national security, commenting, "Immigration is a privilege, not a right. And the safety of our citizens must always come first." Trump has criticized Merkel heavily for her open-door refugee policy when she opened Germany's borders to Syrian refugees in 2015.
He also said both countries "must continue to work together to protect our people from radical Islamic terrorism and to defeat ISIS." Germany has been the target of ISIS-inspired attacks over the past year, and takes part in the U.S.-led anti-ISIS coalition.
Germany has, over the past few years, been stepping up its leadership role in European defense, increasing defense spending by 8 percent last year. Germany plans to reach the 2 percent of GDP on defense spending goal set by NATO by 2024, something that both the Chancellor and the President noted during the press conference.
Merkel went further, and remarked that defense and security have many different dimensions, not just military. "Defense and security have a lot of different assets and facets to it. On the one hand, it's supporting missions in Africa, for example.  It's also promoting development assistance …"
The Trump Administration wants to significantly cut funding to foreign aid and international development programs. The Administration budget proposal released Thursday calls for a 28 percent cut to funding for the State Department and other international programs to help pay for a $54 billion increase in military spending next year.
On economics, Merkel pointed to how much the two countries benefit from each other, bringing with her an economic delegation and making clear her belief in the benefits of free trade. "We, the Germans, owe a lot to the United States of America, particularly as regards the economic rise of Germany. This was primarily due to the help through the Marshall Plan [after World War II]" she said. She added that all free trade agreements have brought more jobs to Germany and benefitted both sides, such as the 2011 EU-South Korea FTA.
Trump said that Germany has done very well in trade deals with the U.S., while America has received the short end of the stick. "It's not exactly what you call good for our workers," he said.
But he added, "I don't believe in an isolationist policy, but I also believe a policy of trade should be a fair policy. … I'm a free-trader, but I'm also a fair-trader … On trade with Germany, I think we're going to do fantastically well."
Trump didn't mention anything about trade with the EU, and the now dead in the water Transatlantic Trade and Investment Partnership (TTIP).
A senior administration official noted before today's meeting that the U.S. has not formulated a final position on TTIP, because it is looking at other trade issues first and waiting for confirmation of the Trump Administration's pick to be U.S. Trade Representative, Robert Lighthizer. The official also said Europeans won't be pushing TTIP in light of planned European elections this year, including the German federal elections in September.
Merkel, however, expressed a desire to have a free trade agreement with the United States, noting the potential benefits to both sides. But she made clear that Germany devolves trade matters to the EU and an EU-U.S. trade agreement – that is, TTIP – would qualify as a bilateral one.
Merkel and Trump both said they would talk more about the economic partnership over lunch.
Cyber issues did not come up during the press conference. But a senior administration official said before the meeting the topic would be discussed because Trump is interested in strong cyber defense, in coordination with the German government.
Trump did point out that, "As far as wiretapping, I guess, by this past administration, at least we have something in common perhaps." It was revealed in 2013 that the Obama Administration tapped Merkel's cell phone, according to leaked documents from former NSA contractor Edward Snowden.
Kaitlin Lavinder is a reporter at The Cipher Brief. Follow her on Twitter @KaitLavinder.