The African Migrant Crisis: The EU Takes Action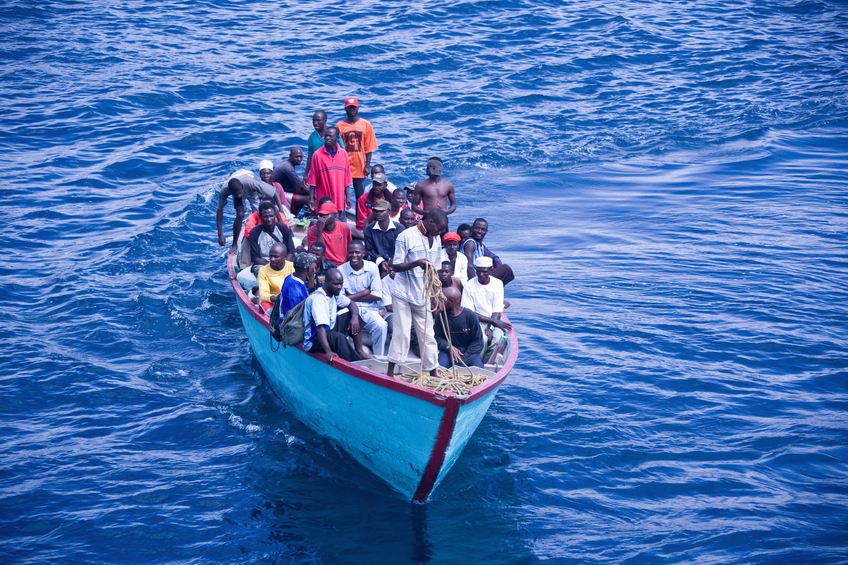 More than 160,000 migrants and refugees arrived in Italy this year, compared to just over 142,000 during the same time last year. Of those taking the Central Mediterranean route from northern Africa to Italy, 3,755 have died at sea, according to the International Organization for Migration (IOM). That's more deaths than from all Mediterranean routes combined last year.
"There is a lot of pressure now and a lot of initiatives from European governments to ensure that the people coming through from Africa, the overwhelming majority of whom are probably not entitled to asylum, does not become a systemic flow," the IOM's spokesperson for the Director-General, Leonard Doyle, told The Cipher Brief. 
To meet this goal, the European Union (EU) is strengthening border security, allocating additional development aid to Africa, and entering into partnerships with African countries to manage migration and its root causes. 
As of August 28, the EU had given Italy nearly 10 million euros in emergency funding from the European Commission's Internal Security Fund (ISF), which allocates money for border and visa management and police cooperation and crime prevention.
Just last month, the new European Border and Coast Guard Agency was officially launched, replacing Frontex and creating a rapid reserve pool of at least 1,500 border guards. The agency's executive director, Fabrice Leggeri, said in a statement, "It [the agency] will now also be able to offer operational support to neighboring non-EU countries who ask for assistance at their border." Some of these neighbors are likely to be African.
Countries in northern Africa, the Horn of Africa, and the Sahel region and Lake Chad area are already receiving extra EU help, in light of the heightened migrant flows to Europe. The EU Emergency Trust Fund for Africa was set up last autumn and will provide 1.8 billion euros to "support the most fragile and affected African countries," says the European Commission.
The fund's purpose is to promote "economic and equal opportunities, security and development," according to the Commission, in an effort to address the root causes of instability that often lead to irregular migration.
In addition to working on underlying causes, the EU is attempting to increase migrant and refugee return rates and combat illicit smuggling networks by entering into formal partnerships with some African countries – Ethiopia, Mali, Niger, Nigeria, and Senegal – and expanding engagement with others, like Tunisia and Libya. 
Kate Hooper, an associate policy analyst with the Migration Policy Institute (MPI), explains, "Cooperation on addressing smuggling and trafficking activities and border enforcement will likely be a priority for the compacts with Niger and Mali; while facilitating returns and investments to expand livelihood opportunities probably will be a priority for Ethiopia, Nigeria, and Senegal, which are key countries of origin and transit for migrants and refugees."
The EU hopes to conclude the formal partnership deals sometime next year.
An October assessment report from the European Commission on these partnerships is positive. "Partners have recognized that migration is now at the heart of the EU's external priorities. This is now translating into concreate progress," the report notes. 
Niger is taking action to combat migrant smuggling, Senegal and Mali are working on migrant identification missions, "concrete cooperation" has begun with Ethiopia, and Nigeria and the EU are in negotiations on a readmission agreement for irregular migrants, according to the report.
Some EU member states are also working bilaterally in Africa. For example, Nigeria has separate readmission agreements with the United Kingdom, Spain, Italy, and Austria.
Germany's Interior Ministry has proposed the EU adopt an Australian-style asylum system, in which migrants are intercepted at sea and sent back to Africa for processing. "The goal must be to remove the basis for people-smuggling organizations and to save migrants from the life-threatening journey," commented an Interior Ministry spokeswoman.
In addition, Berlin last week committed to raising its contributions to the UN refugee agency by 61 million euros, in an attempt to stop would be migrants and refugees from crossing the sea.
However, heightening border security, sending migrants back to Africa, and increasing development aid may not work. "There is a sense in many political circles in Europe that what's happening today is just the beginning of a much bigger movement that could reach Europe tomorrow," Philippe Fargues tells The Cipher Brief.
Fargues, who is the founding director of the Migration Policy Centre at the European University Institute in Florence, explains that Africa's population is expected to be four times as big as Europe's in 2050. And as development progresses, more people will be looking to migrate.
"Migration will grow, not be contained, because people will have more education and money. Education offers opportunity and money offers the means for migration," says Fargues. 
While EU efforts may reduce deaths at sea and curb the flow of migrants for now, Europe faces a growing problem of managing migration from Africa. 
Kaitlin Lavinder is a reporter at The Cipher Brief. Follow her on Twitter @KaitLavinder.