Russia Meddles in Western, Northern Europe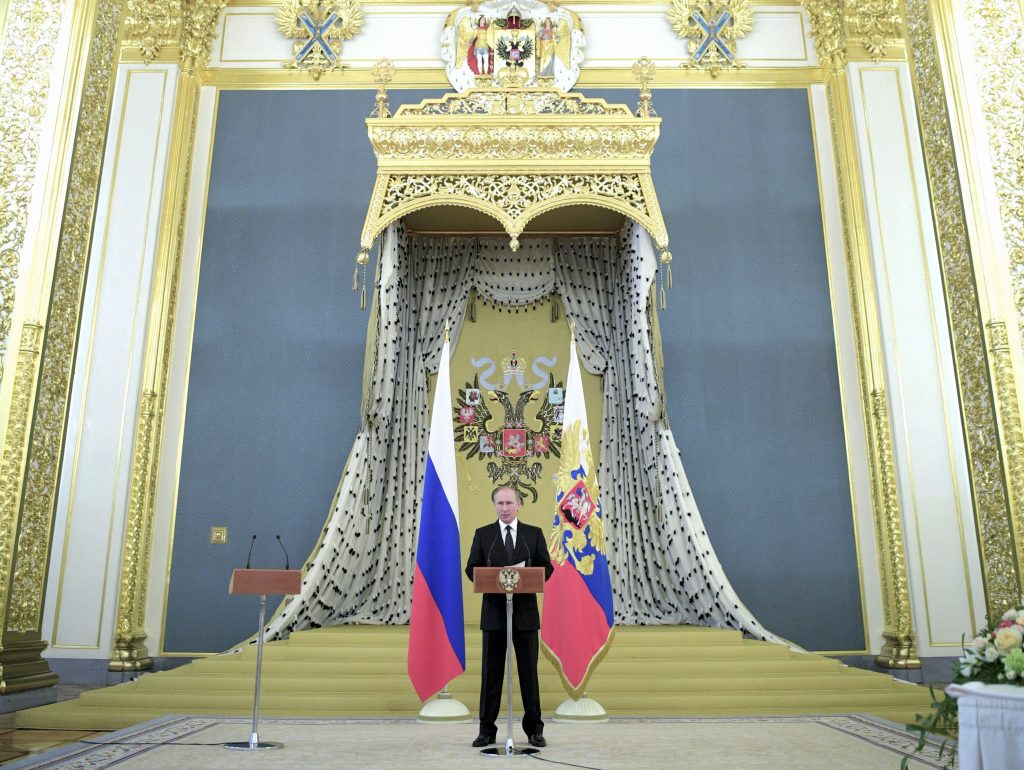 Russia has increased its meddling in European countries outside the former Soviet bloc recently. Moscow's support for populist parties – including France's National Front, Italy's Five Star Movement, and Britain's UK Independence Party – has shown tangible results. During the French presidential election this year, for example, centrist candidate – and now French President – Emmanuel Macron's campaign was hacked, leading to an outcry from those who accused Russia of orchestrating the attack.
"The most important thing is that we recognize the reality of what we deal with, [Russian President Vladimir] Putin, and we recognize that he is trying to break the North Atlantic alliance," U.S. Defense Secretary James Mattis said at his Senate confirmation hearing.
"Russia is more capable of interacting from a position of strength with individual European countries than it is with Europe as a collective or the transatlantic community as a collective," deputy director of the Russia and Eurasia program at the Center for Strategic and International Studies (CSIS) Jeffrey Mankoff told The Cipher Brief.
Russia's GDP is less than 10 percent of the U.S. GDP, and much smaller than any of its European neighbors – one reason why Russia has long tried to divide NATO members and use propaganda and covert influence to mold public opinions, according to Senator Tom Cotton (R-AR), who recently spoke at a CSIS event on Russian influence and intervention in Europe.
"We are aware that Putin is trying to weaken the EU and the institutions," said Senate Foreign Relations Committee Chairman Bob Corker (R-TN). "He's done the same thing in Italy and other places."
"Realism is the name of the game" in Italy, former Italian Senator Gianfranco Pasquino said. "Poor in terms of energy resources, Italy significantly relies on gas produced and exported by Russia, and it has been unable to reduce its dependence on this source of energy," said Pasquino, who is also professor emeritus of political science at the University of Bologna.
Some analysts call Italy – which at one time had the largest communist party outside of the Soviet bloc – the soft underbelly of the EU, pointing to former Italian Prime Minister Silvio Berlusconi's close relationship with Putin and the Five Star Movement's and far-right Northern League's ties to Russia. Still, Pasquino says, the situation is more complicated. "It would be wrong to believe that Italy is soft on Russia and condones the behavior of its autocrat Vladimir Putin. At the same time, Putin is aware that Italy needs to have thriving commercial relations with Russia. He also knows that there are supporters of Russia in Italy." 
In Germany, which also has commercial ties to Russia, the far-right Alternative for Germany (AfD) party – suspected of having links to Russia – has gained ground during the past year, now holding seats in 11 out of 16 state parliaments.
At the same time, support for the AfD plummeted from 15 to 10 percent in February, prior to federal elections set for September. Likewise, support for France's National Front (FN) and the Dutch far-right Party for Freedom (PVV) has dropped in the past year, with both FN leader Marine Le Pen and PVV leader Geert Wilders losing their countries' federal elections.
This is likely partly due to the fact that Russia's relative success in infiltrating Europe's – and America's – politics has brought to light the broad "nature and scope of Russian activities" in these Western liberal democracies, said Mankoff. "We have been rediscovering them more recently."
German lawmakers last month passed a law to crack down on hate speech on social networks by imposing fines of up to $57 million on social media sites that fail to remove illegal or slanderous content, including defamatory "fake news."  
France and Britain have reacted to fake news by getting Facebook to disable thousands of automated fake accounts used to influence voters around election times. Facebook has now doubled the number of monitors who remove defamatory posts to 6,000 people.
And Sweden has launched a nationwide school program to teach students to recognize Russian propaganda, while the country's Defense Ministry has created new units to find and counter Russian attempts to interfere in Swedish society.
But Russia's goals in the West are nothing new, experts tell The Cipher Brief.
"There has always been Russian propaganda, false information, attempts to smear people — that's nothing new," said former Swedish Prime Minister Carl Bildt at a recent cybersecurity conference in Estonia.
"The aims have not changed," said former Estonian President Toomas Hendrik Ilves, when The Cipher Brief asked him about Russian political meddling and cyber mischief in the West.
"The Soviet Union, of course, was trying to constantly do these things," he said in a podcast interview, recounting how, in the 1980s, the Soviets published an article alleging the CIA invented AIDS in an obscure communist newspaper, and "ultimately it became a story in Europe."
What is new, said Ilves, is that "the Soviet-era propaganda didn't work; this stuff is working."
Russia's digital sophistication allows it to now hack and release documents of political candidates or infiltrate the network of the German Parliament, which Russian officials have denied doing, while fake news proliferates across Europe.
Russia is the only country with a national strategy to confront and potentially destroy NATO and the only country constantly exercising for total war against the West, according to Marko Mihkelson, who chairs the Foreign Relations Committee in Estonia's parliament, and who added that Russia has not changed since the breakup of the Soviet Union.
Zapad 17, a major Russian military exercise scheduled for this September, is expected to bring around 100,000 troops close to Europe's eastern border.
The U.S. and its European partners in NATO must watch these exercises closely, said Evelyn Farkas, the former U.S. deputy assistant secretary of defense for Russia, Ukraine, and Eurasia, at a recent Atlantic Council event with Mihkelson and other European leaders.
Coming out of Zapad 17, Farkas said she would like to see a continuation of the West's strong deterrent posture and a more permanent NATO presence in Eastern Europe.
The U.S. and other NATO allies sent rotational troops to Poland, Latvia, Lithuania, and Estonia this year.
Russia's influence and military activity across the U.S. and Europe – including major U.S. allies outside of the former Soviet bloc – are "a threat to the stability and prosperity of the West writ large," said Mankoff, adding, "It's a dereliction of duty for Western leaders to not accept the consensus of well-informed observers and analysts that this activity is happening, that it's directed at the disruption of transatlantic and intra-European ties." 
Kaitlin Lavinder is a reporter at The Cipher Brief. Follow her on Twitter @KaitLavinder.