Trump and Xi Click But National Rivalries Simmer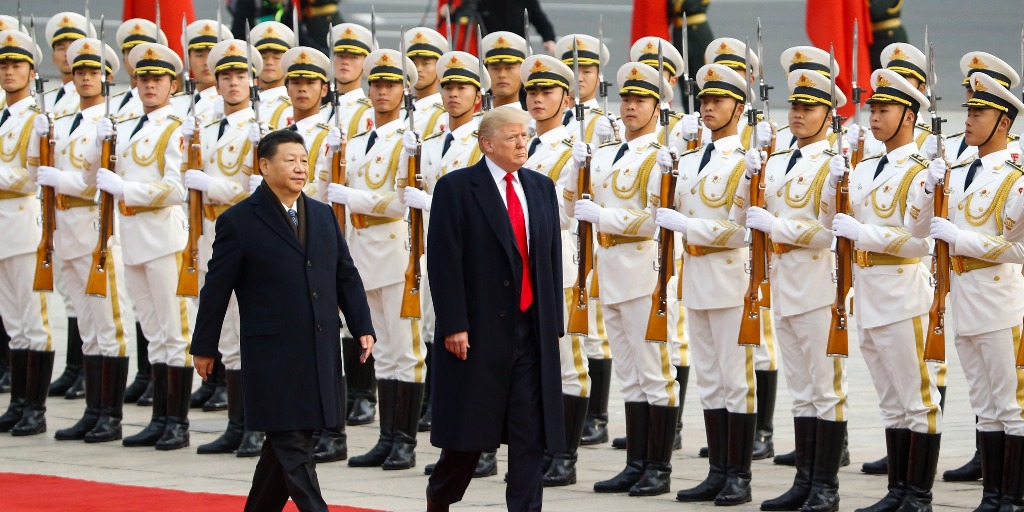 U.S. President Donald Trump responded to a flamboyant welcome by Chinese President Xi Jinping with effusive praise, as the two leaders presented a united front in the face of a belligerent North Korea. However, inconsistent statements on trade and other key issues in the relationship reflect a seemingly incoherent U.S. strategy toward China.
Positive leader-to-leader relations between Trump and Xi appeared to override the simmering great power rivalry between the United States and China. The two leaders share similar burdens of global economic leadership as well as promises to their people to return their countries to a status of a – in their view – bygone "greatness."
Trump's apparent "more flies with honey than with vinegar" approach to Xi involves regular and excessive praise – last week calling him "a powerful man," stating, "I happen to think he's a very good person."
"People say we have the best relationship of any president [to] president, because he's called president also," Trump continued, "now some people might call him the king of China. But he's called president."
Despite warm personal interactions, the security and economic scorecard remains the same. Neither side made significant concessions on major issues challenging the relationship: the South China Sea, trade, cybersecurity and North Korea. The two leaders face very different domestic situations, and each wants to appear strong to his citizens. which ultimately influences their priorities. Trump leaves behind in Washington a stalled legislative agenda and an administration under the cloud of the ongoing Russia investigations while Xi is, domestically, stronger than ever.
Special Counsel Robert Mueller's Russia investigation team issued indictments of two individuals associated with Trump's presidential campaign last week, including his former campaign manager, Paul Manafort, and a guilty plea from a campaign worker.
The recent 19th Party Congress of the Chinese Communist Party cemented Xi Jinping's power, selecting him for another five-year term, stacking the Politburo Standing Committee with like-minded officials and enshrining Xi's "thought" in the constitution – an honor previously only bestowed to Mao Zedong and Deng Xiaoping.
Despite the divergent domestic situations, Gordon Chang, the author of The Coming Collapse of China and Cipher Brief expert, believes China's economic fragility gives the U.S. an advantage.
On North Korea, Trump achieved a key goal: unity with Beijing – in appearance at least. Trump continued to elevate China as critical to stopping the nuclear threat emanating from Pyongyang. But despite Xi's rhetoric toward North Korea, the lack of enforcement – both in terms of will and capability – on the Chinese side remains.
"I know one thing about your president: if he works on it hard, it will happen," Trump said to a crowd of Chinese officials. "There is no doubt about it."
China has long been a patron of the Kim regime in Pyongyang. However, in recent months, China has agreed to shut down banking transactions between the two countries, impose stricter financial controls and end coal trade entirely.
Xi also reportedly chose not to bring up the U.S. Terminal High Altitude Area Defense (THAAD) missile defense system's placement in South Korea – a previously contentious issue for Beijing.
Meanwhile, the North Korean leadership is perhaps at its most volatile. Despite Chinese indications that its patience is running out and harsh international sanctions, Kim Jong-un continues to escalate the country's nuclear and missile tests.
According to reports, the North Korean government attempted to assassinate Kim's nephew in China – another sign that the young leader's power may be in question, forcing him to eliminate all perceived challenges to him.
That Kim would attempt such a move, in China – and, critically, during Xi's 19th Party Congress – shows a level of recklessness and desperation that Xi will undoubtedly note with concern.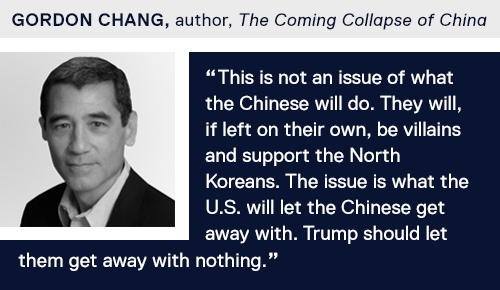 Trump's comments on trade suggest a broader incoherence in policy toward China. Trade plays a key role in the U.S.' Asia strategy as a whole and underpins Trump's call for a "free and open Indo-Pacific," code for mitigating Chinese expansionism in the South China Sea. However, trade is a major point of divergence among Trump's closest advisers, leading to conflicting positions.
Trump uses trade as both an incentive and a threat to cajole China's cooperation on North Korea.
On the campaign trail, Trump had harsh words for Chinese trade practices. However, Thursday in Beijing, Trump blamed the U.S. for the trade imbalance: "Right now, unfortunately, it is a very one-sided and unfair [relationship]. But – but – I don't blame China. After all, who can blame a country for taking advantage of another country for the benefit of its own citizens? I give China great credit…but in actuality, I do blame past [U.S.] administrations for allowing this out of control trade deficit to take place and to grow. We have to fix this because it just doesn't work … it is just not sustainable."
Xi and Trump announced $250 billion in trade deals across multiple industries, from jet engines, auto parts and liquefied natural gas to beef. However, these agreements are a staple of major foreign leader visits and not guaranteed.
This is an unprecedented moment in U.S.-China relations. A distracted U.S. appears to be withdrawing from the world – just as Xi Jinping promotes his "third era" in China and builds an international profile of a stable alternative global leader. Xi's vision for China aggressively pursues not just a modernization of all aspects of Chinese culture, but invites China's population to aspire to be a leader, rather than mere participant, in the international system.
An Op-Ed in the People's Daily, the official newspaper of the Chinese Community Party, recently read, "whether or not the U.S. actually remains a good role model for the world, people increasingly believe that the U.S. is, at the very least, no longer the world's only role model. This is in part because of the decline of the U.S. and, in part, because of the rise of China."
From his major speech at Davos in 2016, articulating the advantages of global trade, to the opening of China's first overseas military base in Djibouti, to China's continuing pursuit of its "One Belt, One Road" initiative, it is clear Xi is painting on a global canvas.
Xi's proposed "new type of great power relations" envisions shared global leadership but requires U.S. acceptance of Chinese "core interests."  Many believe this means China wants a lowered U.S. presence in East Asia to allow Beijing to establish dominance in its near abroad.
China's "core interests" have not been openly defined by Beijing, which caused the Obama Administration to hesitate to embrace the concept; they are likely policies the U.S. has historically opposed, involving the status of Taiwan, Tibet or the South China Sea.
However, history apparently isn't everything: in a statement that shocked China watchers, Trump Chief of Staff John Kelly stated China had "a system of government that has apparently worked for the Chinese people."
If the U.S. is accepting of China's authoritarian government, it raises the question of whether the Trump administration will be less interested in pushing Beijing on foreign policy issues it doesn't consider critical to the U.S.—such as Tibet or Taiwan.
What's next? Even after a successful foreign visit by Trump to Beijing, the United States still faces the larger puzzle – which international challenges should it allow or even encourage China to tackle, and which should remain firmly in U.S. hands?