Trump in Japan: Rips Trade but Boosts Security Ties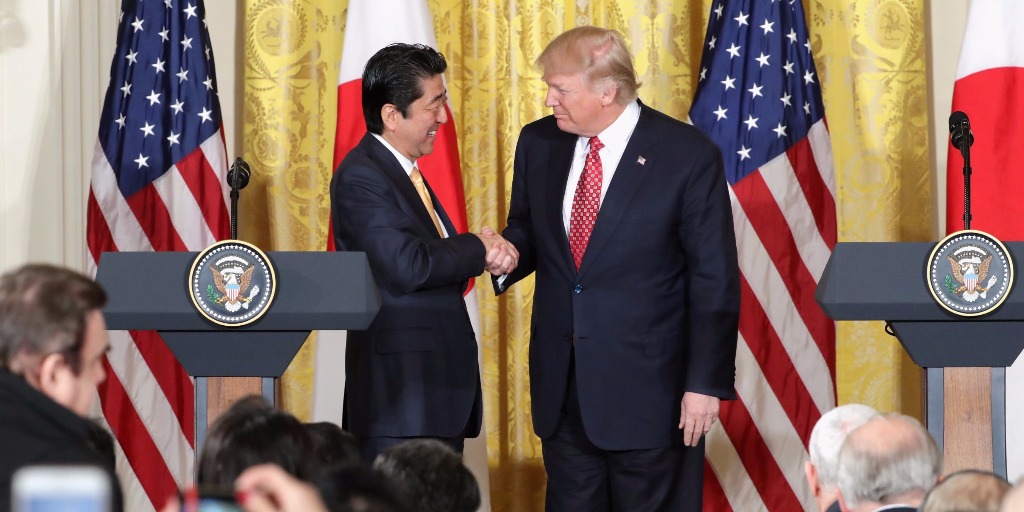 U.S. President Donald Trump and Japanese Prime Minister Shinzo Abe both used Trump's visit to Japan to bolster confidence in the U.S.-Japan alliance as the "cornerstone" of regional peace and security. Focus on the North Korean threat, as well as shared interests in the face of Chinese expansionism, allowed the two leaders to smooth over rough edges in the relationship – namely, economic and trade ties. The question remains whether the overtures of this visit are simply symbolic or set to be bolstered by specific policies or cooperative agreements.
Japan is the first foreign stop on Trump's Asian tour, an important gesture for Tokyo showing that Trump is prioritizing the alliance.
Approximately 50,000 U.S. troops are stationed in Japan. Trump met with them and their Japanese counterparts upon his arrival Sunday.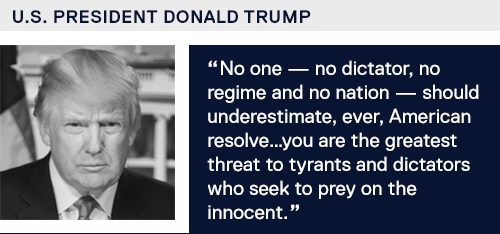 As expected, the threat posed by North Korean nuclear and ballistic missile tests dominated the discussion between Trump and Abe. North Korea is the most destabilizing security threat in the region – one where both Trump and Abe appeared to agree on the need for unity, a firm hand and enhanced defense cooperation.
Trump noted Japan did not shoot down a North Korean ballistic missile that was fired over the Japanese island of Hokkaido this September and expressed an expectation that Japan might not be so restrained in the future.
Due to Article 9 of Japan's constitution, which prevents it from building an offensive military, Japan could only intercept the missile if it directly threatened Japanese citizens.
However, Abe favors a hard line against North Korea, and this position helped him win a solid two-thirds majority in the lower house of Japan's parliament in a snap election held this October. He has a strong mandate to continue to expand the Japanese military and potentially even amend Article 9.
The Trump Administration is similarly focused on the North Korean threat, as demonstrated by the recent deployment of three carrier groups to the Asia-Pacific.

Bilateral trade and investment issues proved an uncomfortable sticking point in the conversations between Trump and the Japanese. Trump's decision to withdraw the United States from the Trans-Pacific Partnership (TPP) free trade agreement created friction between U.S. and Japanese trade negotiators. Discussions over additional economic sanctions against North Korea provided a better turf for mutual agreement.
Despite the established manufacturing presence of Japanese carmakers in the United States, Trump said to a gathering of Japanese business representatives in Tokyo, "Try building your cars in the United States instead of shipping them over," adding, "That's not too much to ask…Is that rude to ask?"
Trump also assessed the Japanese economy through a competitive lens: "I don't know if it's as good as ours. I think not, OK?…And we're going to try to keep it that way, and you'll be second."
Japan will likely try to use these meetings to advance the creation of a new multilateral economic and security partnership to counterbalance growing Chinese influence in the region. Abe has gone to great lengths to demonstrate the strength of the relationship after statements made by Trump during the 2016 presidential campaign suggested Japan was not adequately sharing the costs of the military alliance. An announcement of increased military sales and possibly the deployment of anti-ballistic missile systems in and around Japan may be forthcoming.
On the campaign trail, Trump said that the U.S. "should be prepared to walk away" from allies if they failed to contribute more to base costs, and he even suggested that Japan should develop its own nuclear deterrent, undermining confidence in the U.S. nuclear umbrella.
As president, however, Trump has taken a different tone, praising the alliance as the "cornerstone of peace and security in the Asia-Pacific region" and saying that the U.S. "stands behind Japan, its great ally, 100 percent" during a joint statement with Abe after the Norther Korean missile test in February.
Abe presented Trump with custom caps, designed to mimic the motto "Make America Great Again," that read "Donald and Shinzo Make Alliance Even Greater." Abe noted, "I believe there have been never been such close bonds" between two leaders.
Trump in turn will take the momentum from his meetings with Abe to his next stops in Seoul and Beijing later this week. His next moves will likely focus on the North Korean peninsula as well as stability in the Indo-Pacific region, particularly the East and Southeast China Seas. New commitments to free and open navigation in the Indo-Pacific region fit well into both the Trump Administration's strong focus on military deterrence against North Korea and China in East Asia, and the Abe government's desire to restore Japan's status as a "normal" military power in the region.
The U.S. deployed two new carrier groups – led by the USS Nimitz and USS Theodore Roosevelt – into the Pacific in late October. They join the USS Ronald Reagan – based in Japan – to make three total carrier groups in the Pacific during Trump's visit.
The U.S. Navy is planning to hold extremely rare, three carrier joint exercises.
Callie Wang is vice president of analysis at The Cipher Brief.