Murky U.S.-Pakistan Relationship Defined by Afghan War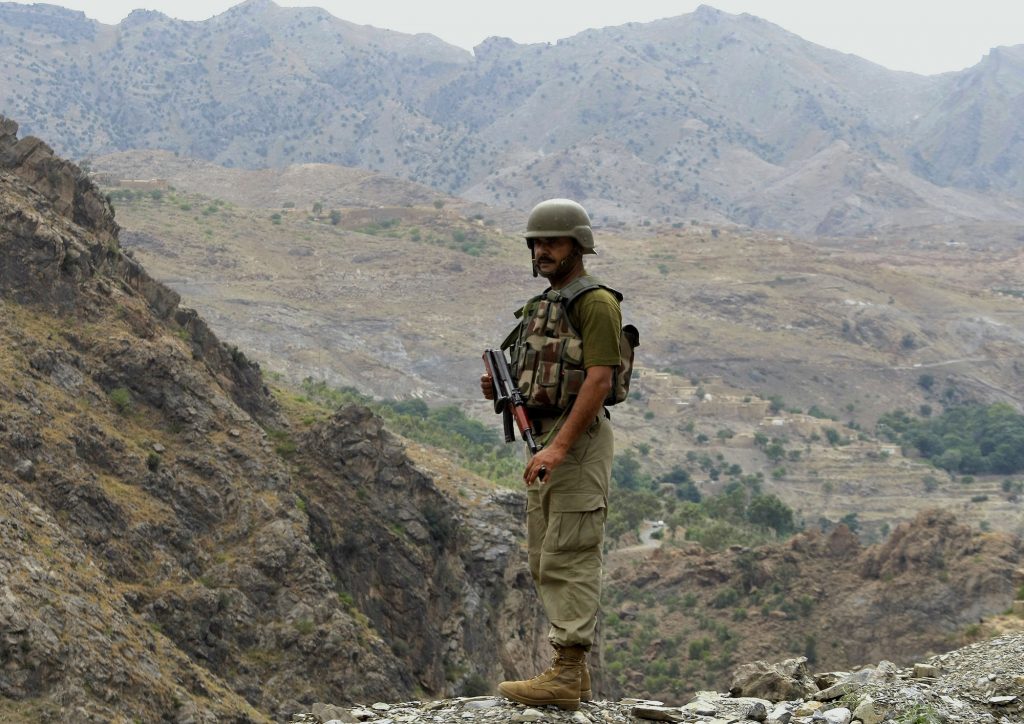 For the last 15 years, the U.S. and Pakistan have struggled to navigate the murky nature of their relationship as they strive to bring security to South Asia. Today, while U.S.-Pakistani ties are fraught with mistrust – stemming from questions over the Pakistani military's support for the Taliban, Pakistan's knowledge of Osama bin Laden's whereabouts before his death in 2011, and Islamabad's true desire to achieve a stable Afghanistan – Pakistan nonetheless remains an important U.S. counterterrorism partner.
Earlier this week, U.S. Senate Armed Services Committee members went to Pakistan to meet with Prime Minister Nawaz Sharif, to discuss regional security. At the meeting, Armed Services Chairman John McCain (R-AZ) said the U.S. and Pakistan "are united in our concern that the present situation in Afghanistan is not on a course for success" and that "close cooperation between the U.S. and Pakistan was essential for securing peace and stability in the region," while Sharif referred to U.S.-Pakistani collaboration as "essential."
U.S.-Pakistani security cooperation dates to the late 1970s and 1980s, when Washington funneled arms and money through Pakistan's Inter-Services Intelligence agency (ISI), to Afghan rebel groups fighting against the Soviet invasion of Afghanistan. A few years after the Soviet Union withdrew in 1989, a civil war erupted in the country as rebel militias vied for territorial control. Ultimately, the Taliban, which received substantial backing from ISI, emerged as the strongest of the pack and instituted an Islamist government in Afghanistan in 1996. Many extremist groups, including al Qaeda, were welcomed into the Taliban state.
U.S. troop deployments to Afghanistan in the aftermath of 9/11 drove the Taliban and al Qaeda out of the country and forced them to seek refuge in neighboring Pakistan. Although Pakistan has aided U.S. efforts to dismantle core al Qaeda, it has been accused by U.S. officials and experts of harboring the Taliban leadership and the group's deadliest faction, the Haqqani network, for the last decade and a half, despite persistent U.S. demands for Islamabad to destroy Taliban safe havens in Pakistan. These policies have led many in the U.S. to speculate about whether Pakistan should be labeled a friend or foe.
However, Pakistani officials, including current Pakistani Ambassador to the U.S. Aizaz Ahmad Chaudhry, insist that this is not the case, arguing that the Pakistani military has worked diligently to put the Taliban and the Haqqani network, "on the run" and has "eliminated all of their sanctuaries." In fact, Chaudhry contends that Pakistan's counterterrorism operations primarily in the Federally Administrated Tribal Areas, a mountainous region in northwest Pakistan where the Taliban established safe havens, have forced militants to cross the border into Afghanistan where they have developed new safe havens and triggered further instability in the country.
"Because these escaping militants could not be captured or stopped due to capacity constraints on the other side of the border [in Afghanistan], they established safe havens and sanctuaries inside Afghanistan," Chaudhry told the Cipher Brief. "The renewed wave of insurgency in Afghanistan is being driven from these internal sanctuaries."
Yet regional experts, such as Bruce Riedel, director of the Intelligence Project at the Brookings Institution, maintain that the Haqqani network still "operates as an extension of the Pakistani intelligence services."
"They receive safe havens and they receive sanctuary from the Pakistani intelligence service, and the Pakistani intelligence service often cooperates in the planning of operations with the Haqqani network, including planning of operations against American targets," Riedel told the Cipher Brief.
When asked about these accusations, Chaudhry responded, "It is totally an absurd suggestion, which does not even call for a comment. Pakistan's intelligence agency and our law enforcement authorities have played a critical role in decimating al Qaeda and other terrorist networks in the region."
Despite such refutations, Dan Markey, Cipher Brief Network expert and academic director of the Global Policy Program at the Johns Hopkins School of Advanced International Studies, believes that Pakistan's actions and policies have left American analysts "to conclude that Pakistan perceives strategic utility from its ties with the Haqqanis, a favored proxy force in Afghanistan."
"Fearing that unfriendly forces, perhaps even a pro-Indian government, would control Afghanistan, and assuming that the United States would eventually depart the scene, Pakistan has stuck by its traditional allies, and now, 16 years later, these same groups continue to provide Pakistan significant influence over Afghanistan's future, albeit only as a spoiler," writes Markey. "Pakistan's commitment to this proxy strategy is the principal cause of mistrust and tensions with the United States," he concludes.
Additionally, many in the U.S. have been dismayed by the Pakistani government's lack of willpower to force the Taliban to the negotiating table and end the ongoing military stalemate in Afghanistan.
In testimony before the House Appropriations Defense Subcommittee last month, Defense Secretary Jim Mattis said, "We're going to have to look at a more regional strategy, one that takes into account Afghanistan as part of South Asia, not look at it in isolation," possibly indicating that the U.S. may be looking to take a harder stance on Pakistan. One avenue could be slicing the amount of foreign aid that the U.S. provides Pakistan, which is currently positioned as the sixth-largest recipient of U.S. foreign aid, receiving nearly $1 billion annually.
U.S. Pakistani-relations have come to be defined by the enduring war in Afghanistan, the longest military engagement in U.S. history. The U.S. has spent significant blood, sweat, and tears working to bring stability to a country that has been mired in conflict for over 50 years, and many in the U.S. feel that Pakistan has undermined U.S. objectives in Afghanistan. A sign of any new approach by the U.S. may be revealed in the next few weeks when the Pentagon is expected to complete its review of U.S. policy in Afghanistan and the region.
Bennett Seftel is deputy director of analysis at The Cipher Brief. Follow him on Twitter @BennettSeftel.