Al Qaeda Thrives Across Weak West African States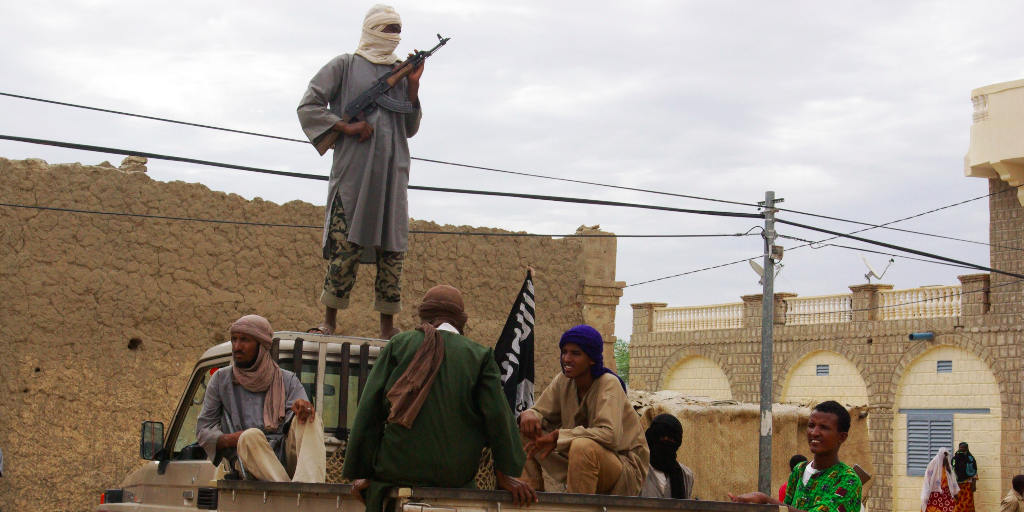 Earlier this year,  The Cipher Brief examined the deteriorating security situation across North Africa, contending that al Qaeda's regional offshoot, al Qaeda in the Islamic Maghreb (AQIM), was poised to wreak havoc and generate further instability throughout the Sahel. Over the past nine months, this appears to have been the case as AQIM has accelerated its operations and stretched its target set into new territories.
Last week, the U.S. evacuated more than 100 Peace Corps volunteers from the West African country of Burkina Faso, which has witnessed an uptick in extremist related activity since January. The announcement came one month after a mid-August terrorist attack on a prominent Turkish café in the Burkina Faso capital city of Ouagadougou left nearly 20 people dead, including foreigners from Kuwait, Canada, France, Lebanon, Nigeria, Senegal, and Turkey. Although no group formally claimed responsibility, the incident bears the hallmark of atrocities carried out by AQIM, which is known for targeting locations frequented by Westerners.
AQIM was created in January 2007 as a rebranding of the Algerian Salafist Group for Preaching and Combat. The group initially fixated its operations in and around Algiers, Algeria's capital, conducting more than 600 attacks against the Algerian government. Eventually, the Algerian army pushed AQIM southward, where it hijacked an ethnic Tuareg-nationalist rebellion in Mali and assumed control over the northern Mali region of Azawad in 2012. From that launching point, AQIM has orchestrated attacks throughout the Sahel region, including at several western hotels in Mali and in neighboring Burkina Faso.
Of all the al Qaeda affiliates, AQIM is most notorious for snatching foreigners and turning hostages into profit. Between 2008 and 2014, AQIM received approximately $91.5 million dollars in ransom payments, nearly three times the amount of the second largest total generated by al Qaeda's Yemeni offshoot during that same time span. AQIM's aptitude for hostage taking was enhanced after it relocated in northern Mali, a popular destination for western tourists and aid workers.
However, AQIM is not the only terrorist organization that has carved out a stronghold in northern Mali in recent years. Other jihadist groups, such as Ansar Dine, led by Iyad Ag Ghaly, and al Mourabitoun, led by Mokhtar Belmokhtar, have also taken advantage of Mali's political volatility to establish sanctuaries where they can organize, plan, and coordinate attacks. This March, the two groups, as well as the smaller but no less important Macina Liberation Front, merged into one entity called "Jama'at Nusrat al-Islam wal Muslimeen," or the Group to Support Islam and Muslims, under the leadership of Ghaly, and pledged allegiance to Taliban leader Mullah Haibatullah, al Qaeda emir Ayman al-Zawahiri, and the head of AQIM Abu Musab Abdul Wadud.
Wadud welcomed the unification on Twitter and Telegram, posting an audio message saying, "I take this opportunity to call on all jihadi groups to follow the example of their brothers in the Sahel and the Sahara, and to hasten to join together and achieve unity," according to the SITE Intelligence Group, which monitors statements released by extremist movements.
Although these militant groups had maintained their own varying levels of ties to al Qaeda, their union served an important purpose: it strengthened the al Qaeda network's operational capacity by bringing these factions under one umbrella where they could share resources. Furthermore, according to Michael Shurkin, Senior Political Scientist at the RAND corporation, the specific "inclusion in the group of Mali's Macina Liberation Front, which rallies some radicals in the Peul (Fulani, in English-speaking countries) ethnic group, underscores one of the most dangerous developments yet: violent extremism has taken root among the region's diverse ethno-linguistic communities and profits from and exacerbates inter-communal conflicts and resentments."
Efforts to beat back AQIM have been led by the French, who intervened in Mali in 2013 to prevent AQIM and its associated militias from capturing Mali's capital, Bamako. The French successfully halted AQIM's advances, killing many senior AQIM operatives, including former top military commander Abdelhamid Abou Zeid, and deployed a force of approximately 4,000 troops to northern Mali to deter another AQIM-led uprising.
"I want to underscore the importance of partnerships, in this case between the U.S. and France," explains David Shedd, Cipher Brief Expert and former Acting Director of the Defense Intelligence Agency. "France has played, and continues to play, a very important role in combatting AQIM."
"The French have stepped up to their responsibility to go after these Islamic extremist groups, which have the potential of reaching into Europe should they not be curtailed on the ground in Mali, Mauritania, Libya, and elsewhere in North Africa," Shedd continues.
However, patrolling northern Mali has taken a toll on the French government and military alike. In circumstances reminiscent of the U.S. in Afghanistan and Iraq, a weak central government in Mali has left the French to shoulder the burden of keeping an al Qaeda franchise under wraps. Whether the French will be able or willing to continue this counterterrorism mission is uncertain.
The lack of strong central governance in many countries in the Sahel is a key factor that has contributed to AQIM's flourishing. With these governments unable to hold territory or provide basic social services to many in need, AQIM has been able hunker down in ungoverned spaces.
"[AQIM's] expansion has occurred over the years because it has been able to successfully recruit and infiltrate within various ethnic groups that have legitimate grievances," Lieutenant Colonel Rudolph Atallah, who previously served as the Africa Counterterrorism Director in the Office of the Secretary of Defense, told The Cipher Brief last month.
"And with a youth bulge like there is in North Africa across the band of the Sahel, many of them are without jobs, and they can't seem to fit into society the right way where they can feed themselves, get married, and build a family," Atallah explained. "So these groups come in and recruit from within those pools."
Therefore, according to Shedd, an important starting point for the U.S. is to work with local governments and partners to address the root causes driving people to join terrorist organizations. Burkina Faso boasts one of the lowest literacy rates in the world, while in Niger, approximately 8 million of the countries 19 million citizens are without safe drinking water. Helping to provide education, healthcare, and even access to clean water could go a long way in suppressing the allure of terrorism.
"[We] need to enhance outreach with partner nations in that area so that improving civil society is a priority as part of the counterterrorism efforts," says Shedd. "That means coming in with education and other longer term efforts that address the grievances associated with some of the things that AQIM takes advantage of."
With the French growing weary and international counterterrorism efforts concentrated on defeating ISIS in Syria and Iraq, AQIM seems well positioned to carry on its spate of attacks essentially unchallenged. And until vital steps are taken to tackle problems and improve the lives of many in the Sahel, it appears that AQIM will continue to find abundant populations from which to draw support.
Bennett Seftel is deputy director of analysis at The Cipher Brief. Follow him on Twitter @BennettSeftel.