A Tale of Three Libyas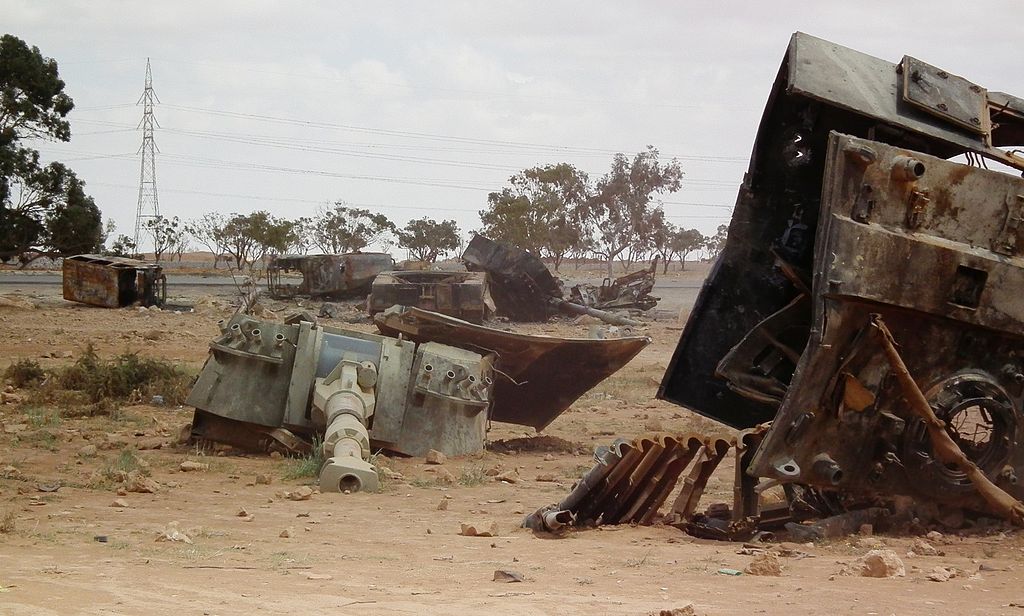 To put it mildly, circumstances on the ground in Libya are complicated. Mired in a state of conflict since former head of state Muammar Gaddafi was forced from power in 2011, Libya has become a battleground where several factions and militias have been jockeying for political and military control throughout the past six years.
On Tuesday, a glimmer of hope for peace emerged when Fayez al-Sarraj, head of the UN-backed government in Tripoli, met with Khalifa Haftar, a powerful military commander based in eastern Libya, in Abu Dhabi to discuss ways to extricate the country from its political quagmire and unify the Libyan people under one central government. During their two-hour conversation, the leaders agreed to hold new elections by March 2018 and discussed potential amendments to the UN agreement relating to the role of the Libyan National Army.
Political dynamics in post-Gaddafi Libya can be traced back to the aftermath of the country's June 2014 elections, when two rival governments were formed – one in Tripoli in western Libya and one in Tobruk in eastern Libya. In an effort to mediate between the two competing administrative bodies, the UN brokered an agreement that established a third government. As a result, today, there are three main governing entities in Libya – two in Tripoli and one in Tobruk.
The UN-backed government, known as the Government of National Accord (GNA), was created in December 2015 by the UN-brokered Libyan Political Agreement (LPA). It has been based in Tripoli since March 2016. Atop the GNA sits a Presidential Council consisting of a prime minister (Sarraj) and eight other influential members, which is supposed to serve the function of head of state in Libya's eventual official government.
The second government in Tripoli, known as the National Salvation Government, was founded in 2014 by political blocs that lost Libya's June 2014 elections. It calls itself the National Salvation Government and is headed by Khalifa Ghwell. Under the UN's LPA, it is slated to serve as a consultative legislative body known as the "State Council."
Finally, there is the House of Representatives based in Tobruk whose members were elected by popular vote in June 2014. After the election, the House of Representatives was internationally recognized as Libya's government and received the backing of the powerful general Khalifa Haftar, who leads the Libyan National Army.
Under the UN's LPA, the House of Representatives would become Libya's official legislative authority. However, members in the House of Representatives have twice rejected the GNA's proposed list of ministers and have instead endorsed an alternative government headed by Abdullah al-Thinni based in the eastern Libyan city of al-Bayda.    
"Libya remains a deeply divided and polarized country – one that lacks any representative or fully legitimate government," explains Mohamed Eljarh, Cipher Brief expert and former political consultant for Libya to the European Union.
"The failure of these three institutions to implement the Libyan Political Agreement has resulted in significant deterioration in living conditions and a precarious security situation where the risk of a full-fledged civil war and reemergence of violent jihadist groups, such as ISIS, is real," Elijarh says.
For his part, General Haftar is a highly influential figure in Libya, particularly as he and the Libyan National Army have protected Libya's critical oil rigs throughout the conflict and have helped push Islamist militants out of the city of Benghazi. However, it is interesting to note that it was not Haftar, but other militias and forces from the western city of Misrata, that were primarily responsible for driving ISIS out of its stronghold in the Libyan coastal city of Sirte.
In addition to spurring domestic turmoil, Libya's predicament has provided opportunities for foreign countries to dip their toes into the chaos and expand their influence in the country. Russia, for one, has sought further engagement in Libya by providing medical support to the Libyan National Army in an effort to win Haftar's good graces.
Resolving Libya's political crisis remains important to U.S. interests, but perhaps even more so to Libya's neighbors. One country that is particularly interested in helping to resolve the crisis in Libya is Algeria, which borders Libya to the west, and, after experiencing its own civil war in the 1990s, does not want to endure spillover effects or instability next door.
"Algeria genuinely wants to see a peaceful political resolution to the conflict," says Geoff Porter, Cipher Brief expert and President of North Africa Risk Consulting. "It blames the deadly 2013 terrorist attack on the Tigantourine natural gas facility at In Amenas on the collapse of governance in Libya after the 2011 revolution. It is also extremely concerned about the Islamic State's (ISIS) presence in Libya, even though it has been greatly diminished since the terrorist group lost its stronghold in Sirte in October 2016." 
Moving forward, while the Libyan people must ultimately sort out the internal situation, the U.S. and the international community must also play an important role.
"What the United States, Europe and the international community at large can do is to put in place mechanisms and guarantees to support the election processes and ensure they are transparent and fair," says Eljarh. "Most importantly, the international community, through the UN Security Council, must ensure that elections results are respected and protected."
With all of these factors in play, and the recent meeting between Sarraj and Haftar finally coming to fruition, perhaps Libya will finally realize a cohesive political settlement. But don't count on it yet. With so much division, Libya still has a long way to go.
Bennett Seftel is deputy director of analysis at The Cipher Brief. Follow him on Twitter @BennettSeftel.